Zack suggested we do a float Monday on Sunday afternoon. I thought about it for a minute, but really that's all it took. He typed something about the weather and kept repeating it throughout the day. Don't think I heard any of it. Best just to be prepared for any event going in when fishing in the cold. Zack picked a bridge, then I added another one. Turned out to be just the right distance.
We met at 10am and probably launched 10:30-10:45. Didn't take long as we each caught a small bass in an eddy. We fished a long, straight pool, smallmouth were in the slower boulder field. You couldn't see them, but you could make out where the bedrock cleared off. Each dark rock on the bottom was somewhat visible. I had sent Zack to hit the opposite bank, where he blanked while I pulled in 8-9 consecutive bass from 12"-17.5". I yelled at Zack to get his ass over to my side. He did in time to get a 17" and a 16"er. I landed the first rock bass in like 7 months. We moved on. The next pool was a way off. Deep. We eventually found bass to 14" in the middle of the pool on the drop off of a sand bar. I picked 3 and Zack 1 before we moved on.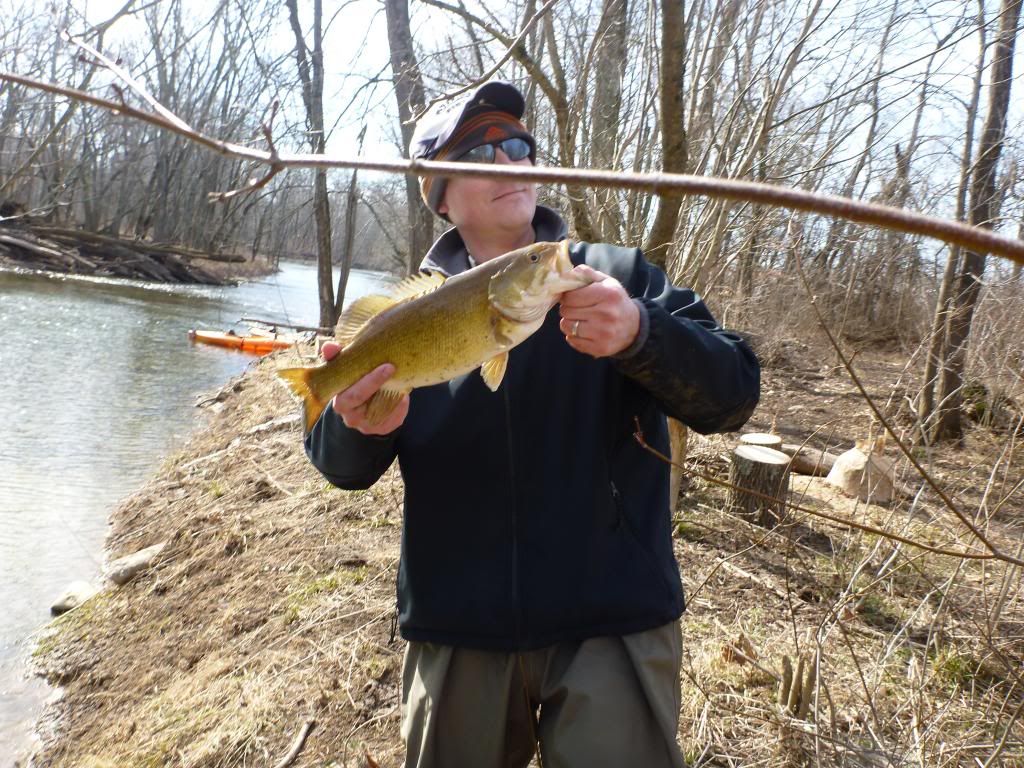 Below a stone bridge, far off tales of 21" smallmouth caught in the past peaked my interest. An area too deep to wade, definitely a staging area for the riffle above. The pool extended 300-400 yards. We worked over the head and Zack got the first fish on the less suspicious bank. I paddled over to snarf his spot like he is always doing, had a smallie hooked who launched 18" into the air in 40F water! Que a dink LMB. The large pool was hard to work because of strong, strong winds pushing us back upstream. We mostly paddled out from there.
At the very end, the pool riffled and bent nearly 90 degrees, right in that bend was a large swirling eddy. We parked our kayaks at the gravel bar and approached on foot. This really was the theme of the day as you could see so much better on foot from above than seated in a kayak. Zack circled around for better positioning, I fished dead down into the drop off and quickly was nailing 14"-15"ers like there was a lifetime supply. I pulled 12 bass from the spot over 20 minutes. Zack finally picked up a couple, not before questioning his manhood. Next pool, another 14" fish. Zack picked a 14"er in a small pool above the bridge.
We paddled down to another bridge, but it proved too difficult to fish from a kayak. There was 8'+ water down there and you had to fish ledges next to full current. We skipped through.
Downstream, I again led the charge out of the boat. Getting out of the boat above another eddy and fishing from shore, I picked up another 14"er and Zack followed in with a 17" fish. By now, the bass had gone from lethargic fights to putting up some nice runs. It was great.
Above another large pool, in a side slow area, I picked up a bass, as did Zack. Also snagged a turtle, by balancing the hook point on his shell.Turns out we were casting at the wrong angle. As I left after Zack, I threw along the current seam and was rewarded by another bass to hand.
We finally made it to the bend where Zack's Winter Cherry was first busted a couple years ago. It hadn't produced too crazy much since. Good spot, but not great like it was when I first found it. Certainly not worth nearly tromping a mile. However, put it at the end of a float? Icing on cake. Zack picked up a largemouth as I circled around to the other side (see picture) to cast along the current seam. Showing the fish injured bait as they would actually expect rather than as a matter of personal convenience. It took a few casts wading waist deep in current before I found one, and he turned out to be the fish of the day. This bass tore the river up in that fast current. Finally, some big girl love! 18.5".
Zack got a couple more and I picked two more from a spot Zack overlooked, even though I told him about it ahead of time. The second fish flopped under my kayak seat and took a good long while to dislodge in the middle of the river.
All fish were caught on 1/16th hair jigs. Would have expected a few more larger fish for the numbers, but really can't complain if we caught 1/3 as many smallmouth. Great size class of 14"ers coming up.
BT 34 Bass 33 SMB (18.5", 17.5", 3-4 15") About 15 14" fish 1 LMB, 1Goog and a turtle
ZP 13 Bass 1LMB (2-17", 16", couple 15"'s)
I think we caught like 6 bass while seated in our kayaks!