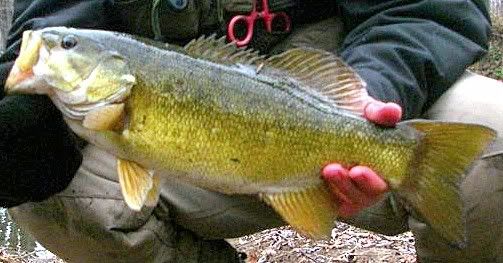 JB and I had hit a section of stream yesterday with good results once we hit my last pool.
Inspired by a bit of Float and Fly success I hit another section of stream where I figured to find some bronze. This pool is known as 'leaf pool'. It's been very hard to fish at times this year.
It holds a lot of fish and is large, the challenge is to find what part of a pool that big holds the fish.
The answer was everywhere. For the second time in three weeks, I hit double digits out of that pool. Fished only FnF this time, with some Johnny on the spot jigs in the mail from a buddy.
I'd catch a fish or two then the spot would die so I'd move to another side of the pool and catch a couple more, when that died out I went back and hit the first spot. Seemed the fish would spook after catching a couple, but were also holding there for a reason.
Started out with some smallish fish in the 9-12" range, hit one 15". I had been fishing just slow water and eddies when I decided to cast out in the main channel with a 3.5-4' leader-
whump
! The float ducked under and I knew immediately it was a bigger fish. It went 17, but felt like a whale on the set up from 25 yards out.
Finally missed a strike on FnF and lost a couple when I didn't keep enough pressure on them.
It was cold. Windchill in the low to mid 20's with sleet and Icy rain for a while! Ice was forming in my guides and my line started to freeze. Wasn't prepared for that.
As dusk came, caught fish on 5/7 casts from 13-15". Broke off on a log and desperately tried to retie in the near darkness to keep up with the frenzy only to make the next cast the first one into a tree of the day! That was it!
I ended up with 14 SMB in about 4 hours on about 17 float dunks. Pretty efficient technique.