Mike and I have been targetting high percentage holes where we caught hogs in the past. Most have been within easy walk. We fish up and down from these "hawg holes" then walk back to the truck and go on to the next.
Water clarity varied from stained 1' to ultra clear see to the bottom all on the same stream.
Baits used:Chatterbait,Hardnose Fluke, BZB, Sammy 100, Splashtail 90.
We hit the first hole around 9AM amidst the sound of distant gunfire. Thought it was still bow season, so somebody must be blasting squirrel. Mike and I hopped in the stream and saw a hunter get out of his stand.
Mike caught a couple about 12" on SPT 90. Good start. We hit a hole at the bottom of two stream branches near a Maple, with half a maple tree dangling across the hole. I got a 15" on SPT 90. Then threw back in with a 6" Rhino fluke. My cast was rewarded by this nice 18" who had been caught before. Thanks, catch and releasers!
We had sorted other pretenders. Mike worked parallel a rock wall and picked up a couple more dinks on that SPT 90.
We waded up to a hole I had hit some fish 2 months ealier out of, I got one off twig pile on chatter, another 17" on fluke, then a dink on fluke and a 12 on Sammy.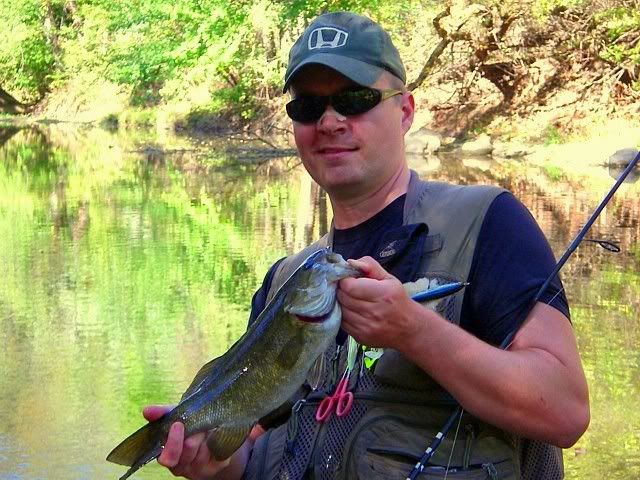 BT took the 7-5 lead going into the second quarter. We walked back to the truck to find a warning note from a police officer that we had tresspassed. I think the hunter called because he was upset about us....
Second quarter. A 5 mile truck ride. Mike led. He got this nice 16.5"er off the back of a pool on SPT 90.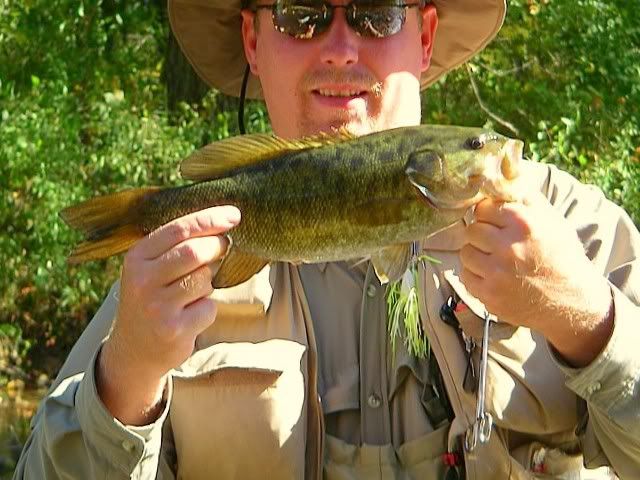 Here's Mike's victory dance:
We saw scads of good 16-19" bass, but could not get them active. Amazing how they hide under flat rocks through hole #2.
Mike got this bruiser on SPT90 at the back of our chief target, a long, wide shallow pool. It went 19" and is missing a huge part of tail. Nice fish!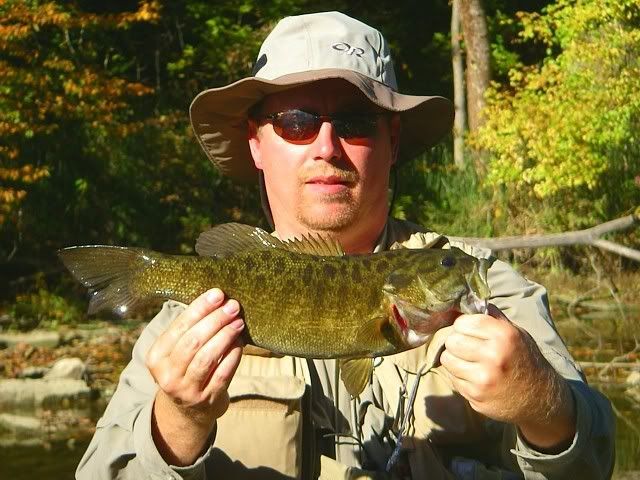 I managed 3 negligible fish to Mike's 2 nice one's. Then we were off another 10 mile truck ride to the next hole.
The third hole was a decent wade. I was getting bored when I had a sizeable fish strike Sammy and the fight was on! It went 18.25". Looks bigger. Photos can be so deceiving.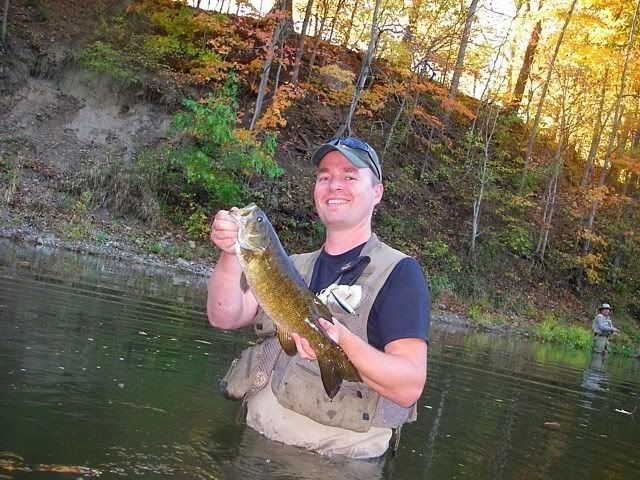 Here's fall river beauty: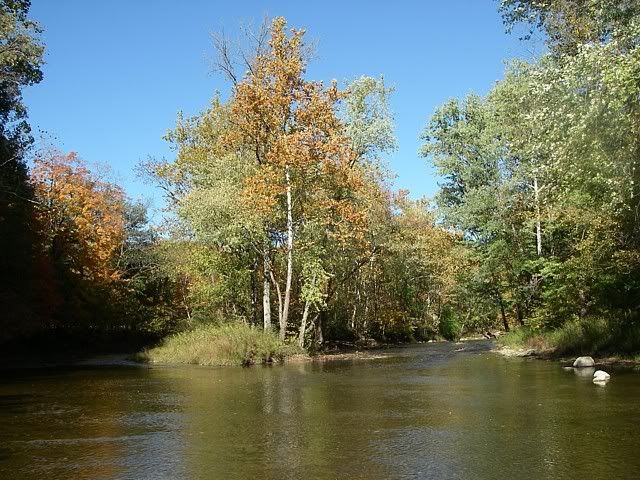 I had the nastiest strike ever on Sammy late. Mike commented it was a hawg when it hit. It made a 'Thwuck' like a beaver tail hitting water. Never seen a more viscious strike. Turned out it was only a 16".
Mike hit a couple more 14"'s and the day was over!
We didn't catch many, but had a lot of fun trying, and both caught nice fish.
BT 13 (18.25", 18, 17, 16)
Mike 10 (19, 16.5)