Had some chores to finish, took the day off from work. Figured I might try and wet a line later. Looked at the forecast. Nice and cold, 28F w/ winds up to 40 mph, but occasionally sunny too. Lots of layers helped, but damn was it cold!
Took my kayak but started on foot. A quick 15"er and then three more behind bridge piling, when I found the correct casting angle.
Went on with my float. Shelves and cracks are underwater structure that smallmouth love. Fished one pretty hard with wind trying to blow me upstream. Got a couple to 18.25" down from the shelf in the sun. Didn't take a picture of this fish as it was painfully thin and probably on its deathbed- skinny and a suction/piercing wound behind the head. Finally found the sweet spot with a float and fly drift fish. I followed this up with the hair jig along bottom for 5 more and couple pop offs. I liken this kind of fishing to fishing on the bottom deep in a lake, you have to stay slow and keep rod movements to a minimum or you move the jig too much.
Left and floated the rest of the stretch. Lots had been changed by recent high water. Much of the wood had been removed changing things quite a bit. Couldn't get anyone knocking down deep, then pitched into a shallower boulder hole near the current and hooked a 2' carp that came to hand. Got out and hooked a dink, which I saw strike the fly jig in front of me. Later had a 13" fish follow the jig back and pull away at the last second when he saw me. Just the carp and dink in that whole waste of time. Headed back up to my ledge where I picked 4 more including this fat 18.75"er on float and fly. That fat fish tore ass!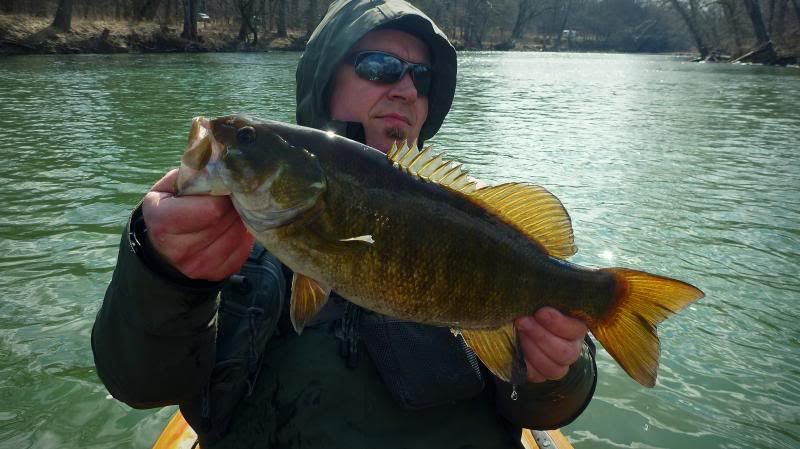 16 SMB (18.75", 18.25", 16.5", 2-15") 1 24" carp.