Decided to hit some water for a wade this afternoon. Wanted to hit a spot I knew attracted baitfish- hopefully catch half dozen SMB. While on the road, heard a forcast of 68 and 38 tommorrow. This could be a good day. Perhaps the pigs would strap bib on like they often do in summer before a storm?
It didn't start out very hot. I hit a very large pool with deep holes to 4 feet. The water temps were 47-48F. Didn't get a strike on fluke or jerks, but a couple casts did scare some fish in shallow water. Probably carp. Lots of minnows sunning on that slow bank too. Leaves were just bad enough to make treble hooks not an option :? . Water was clear but dark brown color to it. I could see down 3', but not make out very good detail.
About an hour in, I was tossing a 3/8 OZ white chatterbait along a waist deep pool to the slow side. Undulated the chatter a couple times before a slow retrieve. Smack ! Quite surprisingly, a fish nailed my chatter and took off on several powerful runs.
I saw it was big and it made a hellacious run for a boulder. I turned him just in time and got him heading towards shore and beached. When I gripped the fish, the Chatter easily fell out of the skin behind the upper lip! Whew!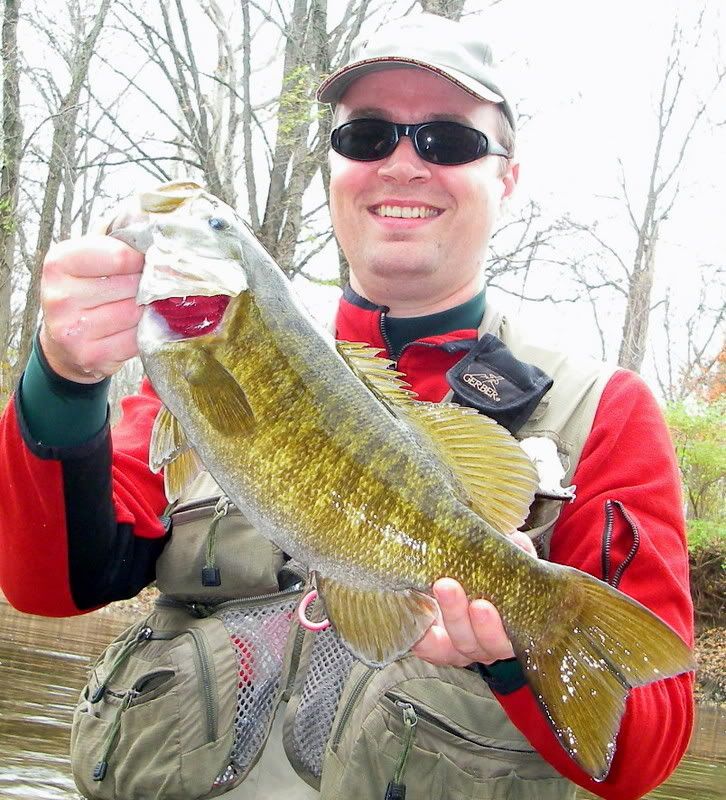 There was a midstream obstruction just upstream that I knew from a previous visit held lots of baitfish. 2 Casts later, after dragging the chatter over the laydown and undualting the bait a couple times on the drop, the bait got hit again. Like the twang of a bow, the strike was solid. I again saw the fish and it was again large. It went on several pissed off runs before I finally beached it on the opposite bank.
Pulling it out of the water my jaw nearly was in the water. It looked like the same fish. I had hooked it on the opposite side of the upper lip in the thin skin again. There was no hole where it had been hooked minutes before. Different fish ! Caught them both within 30 feet of each other.
Needless to say I was very excited after that. I had dreams of half dozen 20"+ fish. A couple more slaps and a couple follows, but no more fish. Probably was too amped up and failed to duplicate the retrieve. When the fishing failed to remain good I bailed early. So I went home after 3.5 hours with only 2 Smallmouth. Both in the 20-20.5" range.
Brenden