headed west today to take a looks see at two streams. Put in near town to try one hole. Water was 4' visibility and there was only one spot with more than that in depth. I pulled an 11" free lining a fnf jig on the bottom. That turned out to be the pattern. Let it sink, wait, flutter up off the bottom, let it sit, repeat. On the way to the next pool I stopped off at a second stream right along a road at a right angle bend. Kept with tight lining the fly jig.
SMB on the first cast, then a couple more with a couple hard fighters pulling free. Then I lost a couple of spotted bass. Got a larger one casting across a laydown and counting down the jig. A 1/16th hair jig with extra craft hair falls nice and slow. Tick. Pulled a chunky 14" Spot over the log and to me.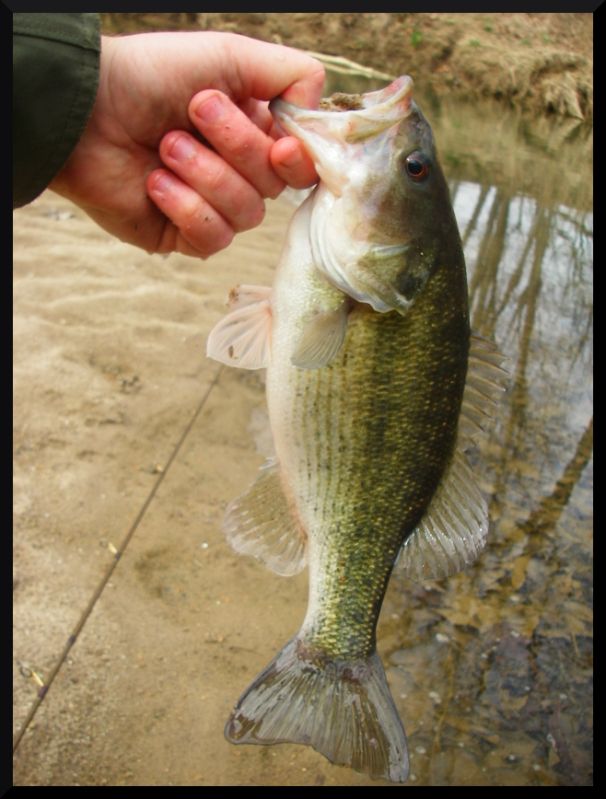 Tossed upstream of the laydown and got bit on the inside bend, as I was fighting the fish, a lady pulled up and asked me if I knew where any eagles nests were. I hid the fight from her and the fish got off. After she left a retrieve was getting followed by two good size smallmouth bass. I dropped the jig and saw the 16.5" inhale it instantly. Waited. Set hook. Nice fish about 16.5":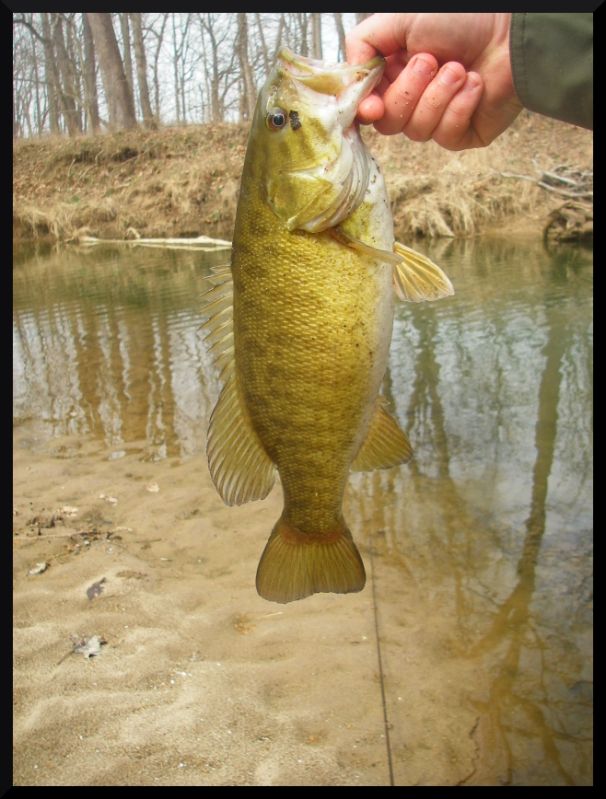 Few casts later I got his buddy a 15.75" smallmouth. I spotted a mink on the opposite shore. Took a couple of shots. This one was 'best'.
Managed to snarf up 6 tires from 3 different locations.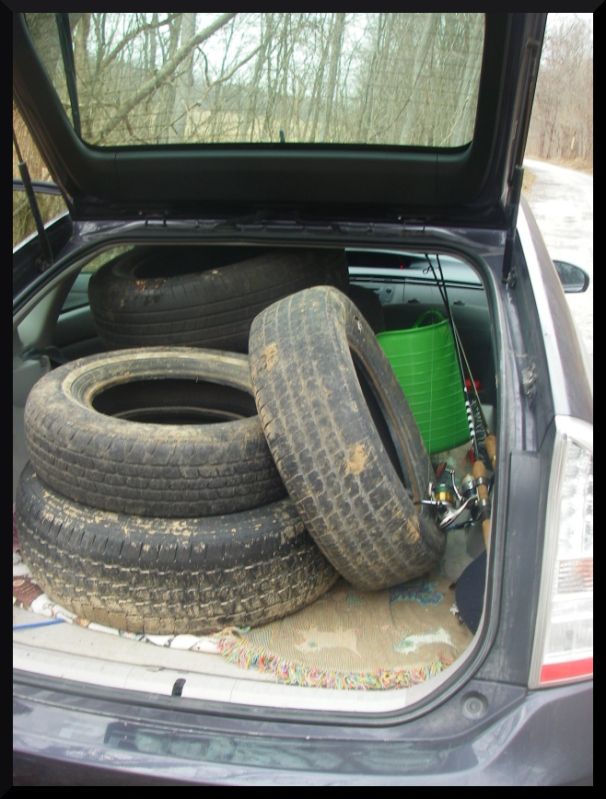 Hit another spot where I got a 13" freelining, then thumped like a bass, but a carp was fighting. Wasn't a carp. Ginormous for this little stream. Looked like my first 20" pig of the year. Thick, thick, thick. Measured short of 18"!! All blubber and no length. Great fish. Largest yet from there. Haven't fished it in 2 years...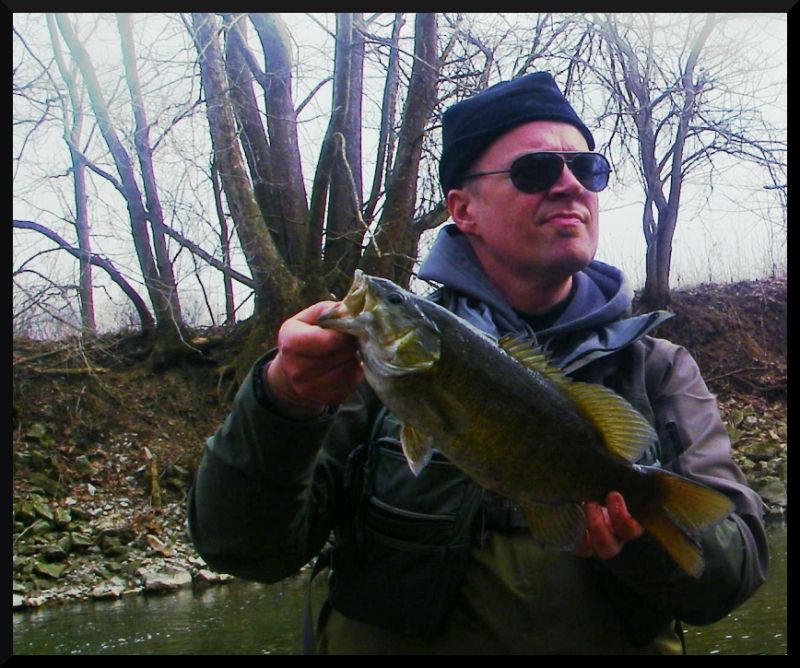 The spot I was heading to to find some Sauger/Piggie Smalls was filled in with silt to my dismay. Headed back to the bigger stream.
Went to a former killer spot check out the following pics to see how badly the stream is in decline. The second tree before and after. Granted the water is about 8-12" lower.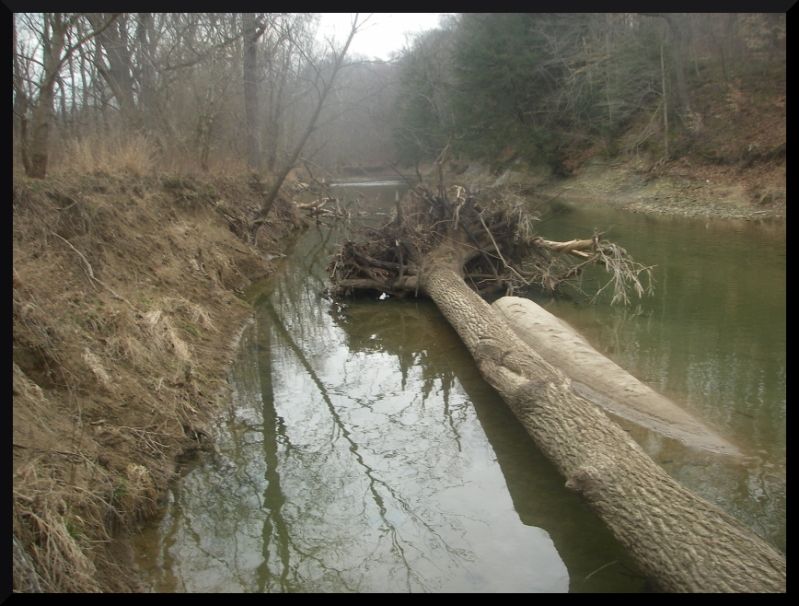 Mike's ginormous pig amoungst the big fish we caught there.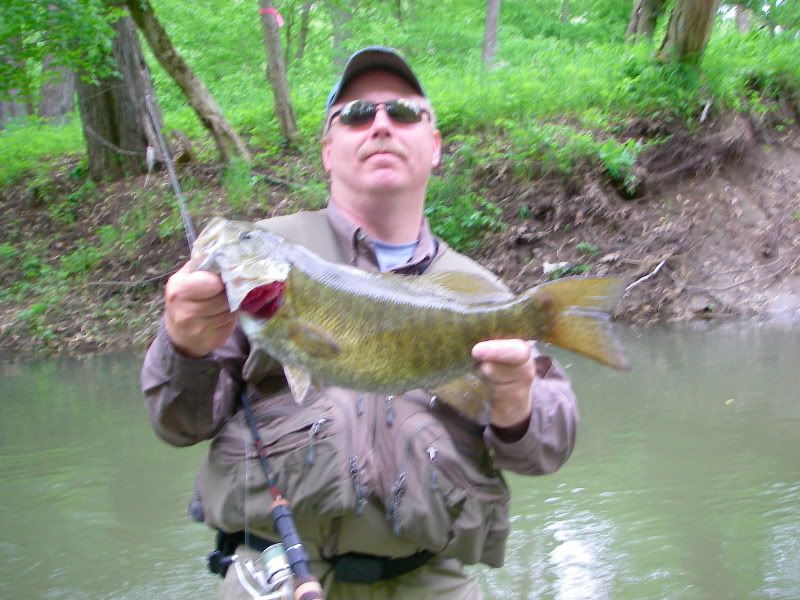 There just weren't any deep spots anymore.
I headed home with 12 bass 9SMB 3KY (17.75", 16.5", 15.75") in like 2 hours of fishing and lots of driving