Took my kayak to quick float some spots. Visibility was 12-14". Water was up higher than it has been in 6 months. Algae flushed onto all the dead willows, but seemingly off the bottom. Nice.
Wasted the first spot, either they weren't there yet, or not eating. There was a huge ice form on the eddie that I rammed my kayak into and pushed off to sea on the way out.
Took a while at the next spot. Float dunked within 30 seconds of landing, indicating the fish was attracted to the drop (or was right there). Big fish, maybe a carp? Just don't let it head shake free. Heavy on the noodle. Finally to hand. A big smile popped out when I saw the yellow fish. Another 20" smallie. The third lately measuring on the money at 20". I accidentaly snapped this pic, after which my camera battery depleted, so sadly no more pics. Thought I had charged it. Darn.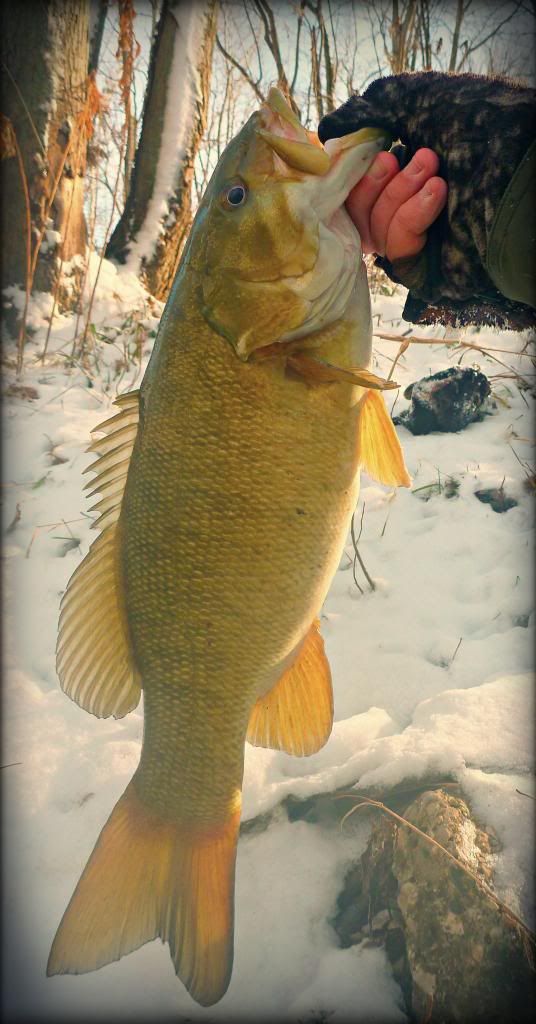 It took a lot of patience and water reading to get bit. 'Combing' would describe it. A 50 by 10 foot section of strike zone. The first fish came within 3' of shore on a long cast. The rest would be short casts and long drifts. I let the jig bounce and drag to slow the float. Some of the strikes were not dunks, but a slight change in direction indicating a bottom pick up. I also tried freelining hairjigs quite a bit. Not one bite. With the water colder now, I just couldn't keep it as slow as watching a float. Soon a 14"er, then a 15". I lost one on the surface that looked every bit 18"+. Then another 14-15"er. Weird. Looked at my hook to see it was the shape of a 'P' with only a small opening to hook MR. Bass. I had bent it up with forceps removing from the pig. After that fix everything came to hand incl a nice 16". Had burned the spot, so I loaded the yak back up and went to the next one.
This large pool was just how I like it, high. Didn't take too long before I had a thick 18"er to hand. Took forever to find the next about 6' down hailmary shot. 13". Left and tried one more mamouth pool.
Here it took awhile to find the sweet spot. When I did, a 13" and fat 17.5 gave fine tussles. Booked upstream in the yak to hit a couple slow bends. Kept hanging my line in trees on the backswing. Disaster. Probably wasted 20 minutes that way. Floated out. Loaded up in the car and set out again, trying to get the last bass and make double digits.
Managed the only dink of the day at my feet at dusk. I'll take it. 10 feels better than 9 after two lost fish early.
10 SMB 20", 18", 17.5", 16", 15", 2-14"