I was sick last weekend, so no fishing. Chomping at the bit all week. Figured for a long wade/bike shuttle, so I got up early and set out. Bike hidden, trudging upstream just before 8am. At the first riffle up from the bridge, I had a couple grabs on a spinnerbait near fast plunging current. Looked like a hell of a swirl with wood and roots breaking the current. I dropped a tube down in and was promptly rewarded with that tell tale "Thunk" that meant
nice fish
. Zigged and zagged, but it wasn't until it came near shore that I noticed it was a beast. Measure her to 19".
Just a warning, the quality of these pics are poor. I left the ISO setting on my camera set for darkness, so they're a little grainy. Also, there was rarely anything to set a camera on: one bank high and filled with brush, the other nearly always sloping gravel.
That was it for a while, lots of good habitat had filled in and there was an absence of fish. I did pick up a bunch of small dinks here and there, but mostly emptiness. Rain was promised and it stayed overcast until say 3PM. This was good as the big fish would probably be out and eating with the clear water.
I threw a LC Wander 75 on. A shimmying, sinking pencil bait that you can work like a fluke/senko. Almost immediately a success with a 16.5" fish exploding on it then a few others. The bait would be perfect subsurface search bait for the open flats, as long as I kept it away from wood. Should be easy enough with local knowledge and clear water. As the day went on and sun came out it became a patient tube slog. Lots of 6-8" dinks and very few 12-14" bass. But oh, those pigs! A tube into a certain famous rootwad picked a very familiar 18.5"er.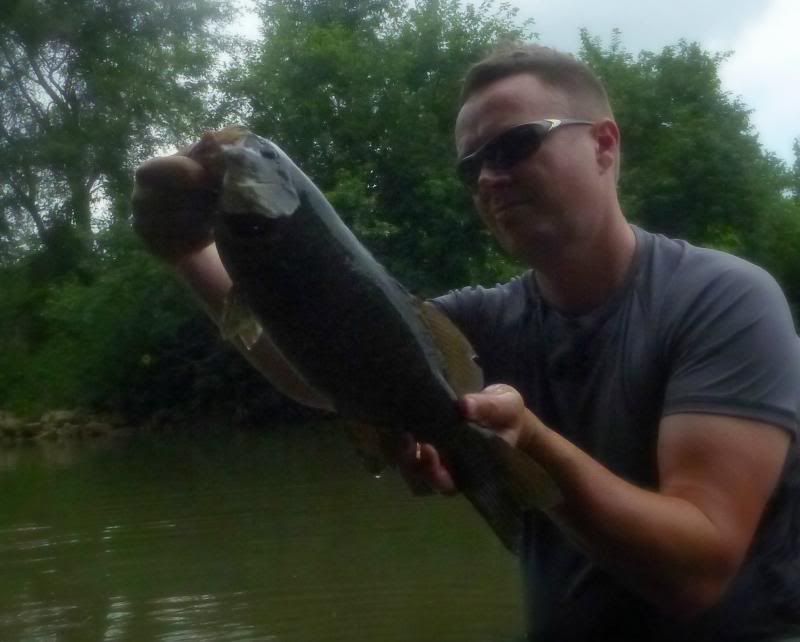 After the sun came out, it was the shade where the piggies lay in, or near wood, of course. Here's another 18.75" again on a tube. This fish came off an 's' curve with mamouth woodpile. He was sitting down there in the shade at the end of it waiting for a feeding, I snuck up on his side and climbed woodpile staying out of the sun. He couldn't see me because of his own cover. Had he been in the sunlight I wouldn't have gotten that close.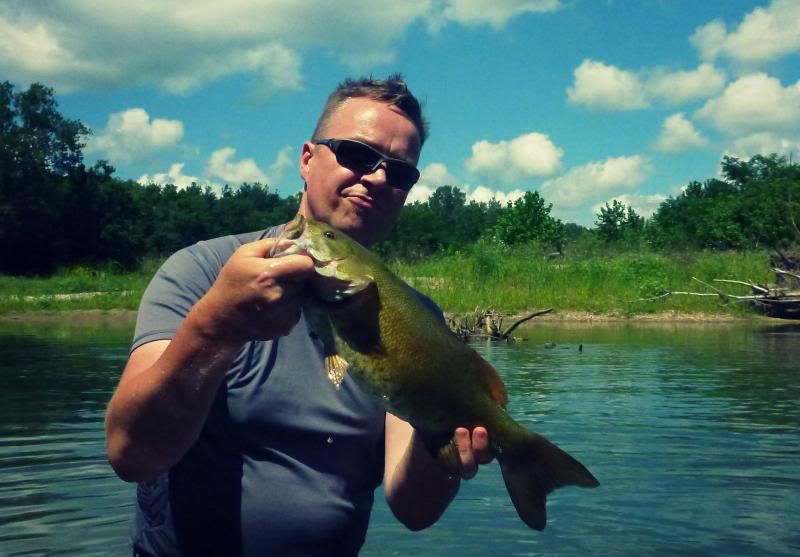 After this fish, I got on better water, or things heated up. Hard to say which on long death wades, just have to stay focused because the river can fool you. Slightly bigger dinks in the 8-11" range, a couple 15"'s, some buzzbait fish, 15" LMB, bass, bass, bass. Lolled up to a lay down and picked a strong 17" and several others on a tube, before I had a bigger fish pull off the tube. Suddenly I was up in the 40's from what had been a slow day number wise, a bite was expected on every cast.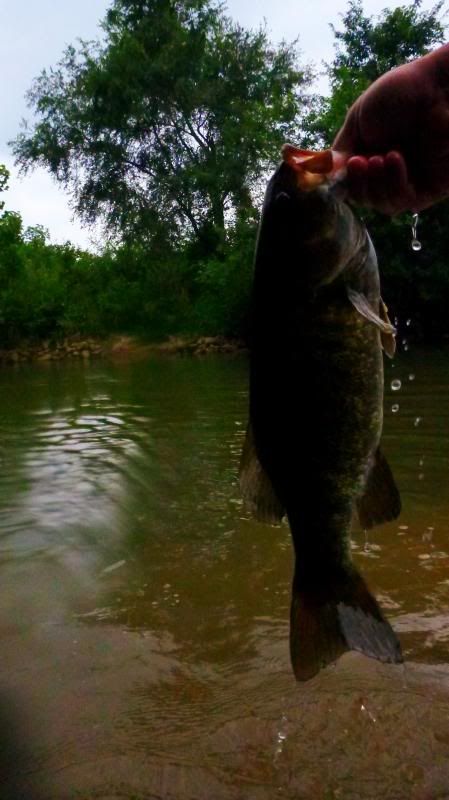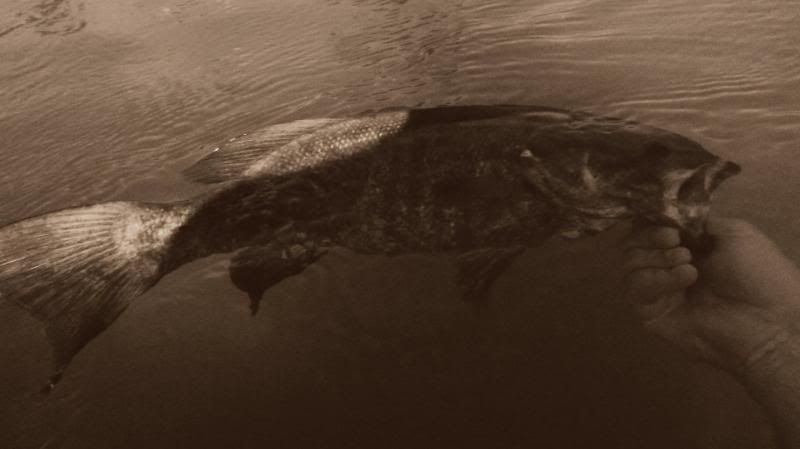 I decided to try a Sammy 100 after 6PM as shade had fallen on a large pool and I didn't want to get close and spook any hungry pigs. This turned out a terrific choice. I worked the bait far slower than normal in the slower wide pools. The first cast, "BOOM". Enormous destruction orginated from 35 yards away. Connects. What a fight. When this fish came to hand it was my 4th 18"+ smallmouth on the day at 18" exactly.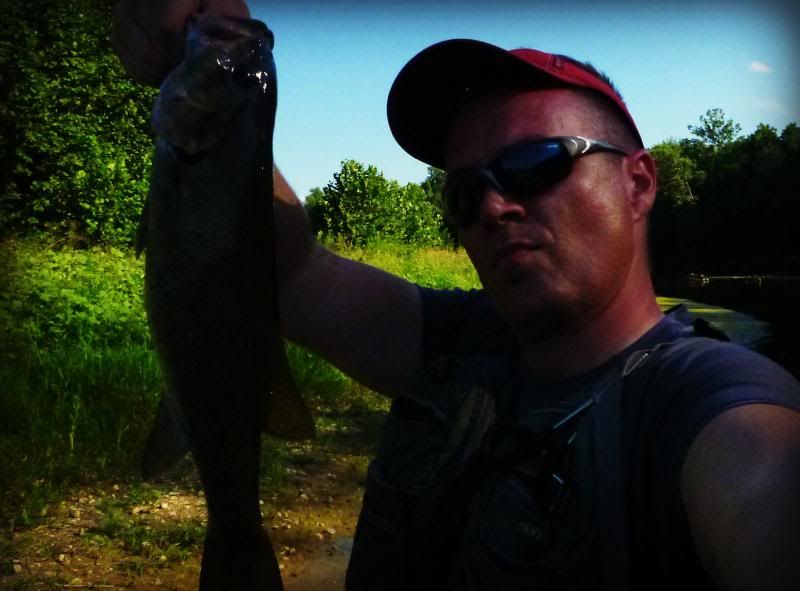 More action all the way up, I'm in the #50's now as everything is hitting the Sammy. The ability to go long was never better demonstrated on one fateful long pool, with an odd buried tree at the front of its length crossing the river perpendicular and poking out for about 12'. First cast resulted in a missed swipe. I was wide right of the center of the tree where I felt a walk over might result in a decent bass. Next cast was 40 yards and perfect. I walked Sammy ever so slowly over the middle of that submerged tree. The water erupted everywhere. Oooh. Then WOW. The bass made it 2' into the air and was impossibly thick for this flow. I was stunned by its airborne girth, immediately felt for pressure and stiff hooks. Sure enough, well hooked. I tried to keep it down, but the fish went up again. I shook my head with excitement. W.T.F. Like fighting a carp, the fish was everywhere. When I finally got her to the beach the Sammy popped out. I quickly slammed my foot down behind the behemoth to prevent escape. When I picked her up she was a sack of potatoes. Heavy. 21" on the rod, probably by weight the heaviest I've landed. She still wasn't done, when I was trying to photo her, Shaking her head 4-5 time to try and pry loose.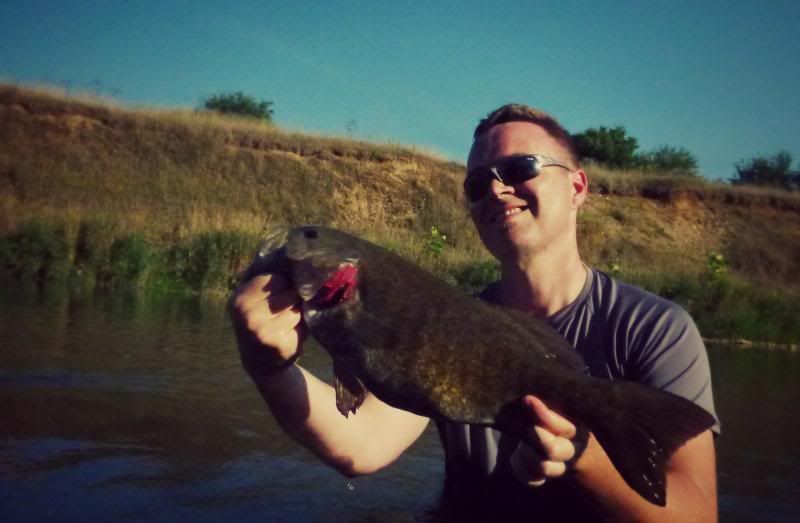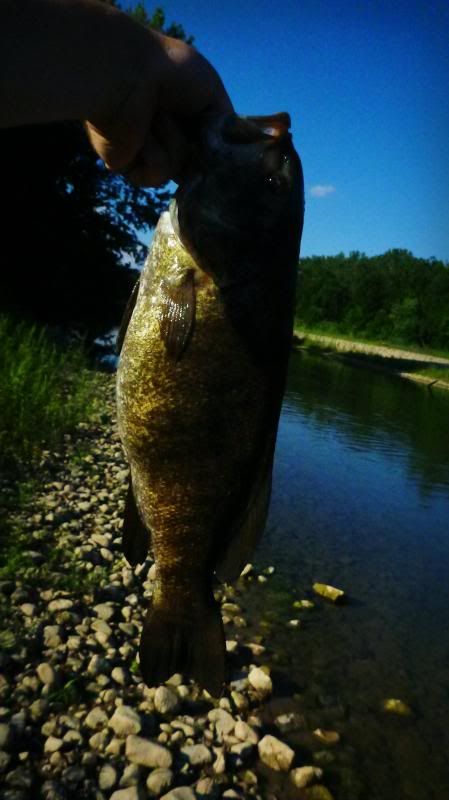 Picked a couple more dinks and couple of 15"'s until I ran into a trio of guys fishing worms. Only one more bass after that, but it was getting late. Headed to the bike and back to the car by 10PM.
63 Bass- 1 15" LMB 62 SMB ( 21", 19", 18.75", 18.5", 18", 17", 16.5", 4-15")
12.5 hours