I declared to Zack I'd Pig the next time out on FB. Swapped my days off from Friday to Thursday thinking the **** would be thrown in the fan on Friday. Eyed a stretch I started fishing last Fall. I've floated down to it in the past at much higher water, then dragged the kayak back to the start bridge. This time, I started walking up to the three major pools, pulling the kayak behind me. Predictably, this sucks. Water was super clear, I could see fish spooking ahead of me in the shallow water. Tried to be quiet. Just above a very public bridge I spooked a nice fish from under a rock. Mental. Note.
It was a mile and a half until I got to the first pool. I had counted 5 smallmouth on the way. They shot out from under rocks in 18" water as I came near. Mental. Note. A bald eagle swooped overhead, not timid at all. It was his domain and he came close to me as if to say, "Are you for real?" Temps were dropping, it drizzled intermittently. No rain coat, hope five layers of winter gear, fleece, fleece coat, winter coat, and waders will keep me warm. Then I thought, "Why is that Eagle in
that
Sycamore?" He's looking at fish with his mouth drooling. The eagle had picked my side of the pool for me. I soon climbed up the bank to see what he was looking at from 15' up. I spotted a slot along an eddy too shallow to hold fish in the clear water. Pockets of "gray" and an occasional flash from a sucker.
I tested shallow fnf, but no takers. There was a pod of carp, huddled together. As my eyes adjusted, was that a bass down from them? Yes. I threw a black jig and cranked it through the water until I let it drop just past where I thought the bass was. Wasn't long when the fish jetted out at speed, frantically looking for the small jig, then angled down, to suck it in. Draw!
Gotcha! 19.25" Sight fished winter smallie. The fish had come 5' or more to get it in 2.5' of water.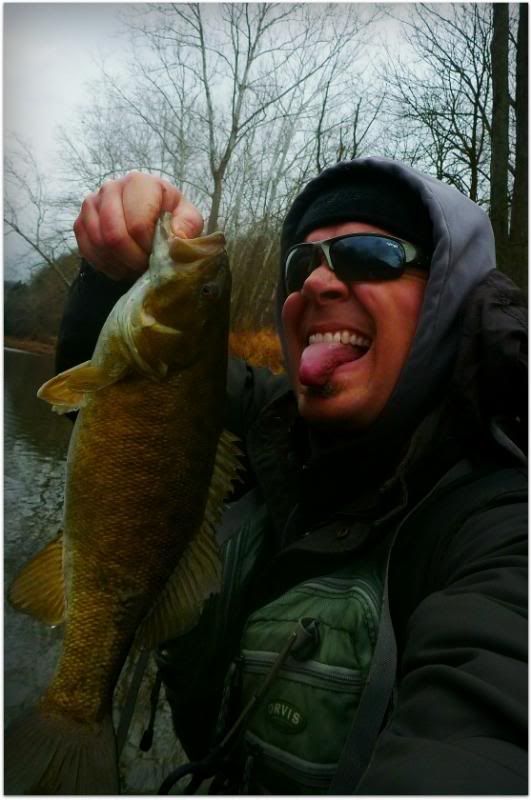 I went back to my yak to paddle up and fish along the length of the slot. This produced two 15.5"-15.75" and an actual dink. Now it was on. I need to try the next two pools. Another .5-.75 miles up. The first had a long deep slot along an inside bend below a creek inlet. Perfect right? Couldn't find anything there, despite fish there in warmer times. Thing is, if that eagle isn't checking out those fish, I may have walked up or paddled through them first. That damned bird gave me the idea to spy from the high ground first, then move in to fish.
The third pool, I abandoned the kayak for a huffed the high bank. Fell twice because of frozen ground beneath thawed ground on an extreme slant. I was jigging in front of a beaver hole when my jig found the gill plate of a 26" carp. Spot was too unwieldy for a picture. Nothing else biting in the slack. Hmm, could my smallmouth dreams be up there near the current in all those boulders? As I move up from boulder to boulder along the bank, I spot a large flathead wedged between two boulders, half eaten shad laying in front of his face. After a jillion tries, my hair jig connects below his lip and I drag him out of the rocks with an "Ummpf". The he opens a can of whoop-ass on my 8'6" noodle rod. I mean wow. Just wow. After like 5 minutes I get him on a boulder and measure at around 30". Probably one of the fish I caught last Fall 2012 at 28". Then I slip and fall again and he's gone.
Bruised but not battered.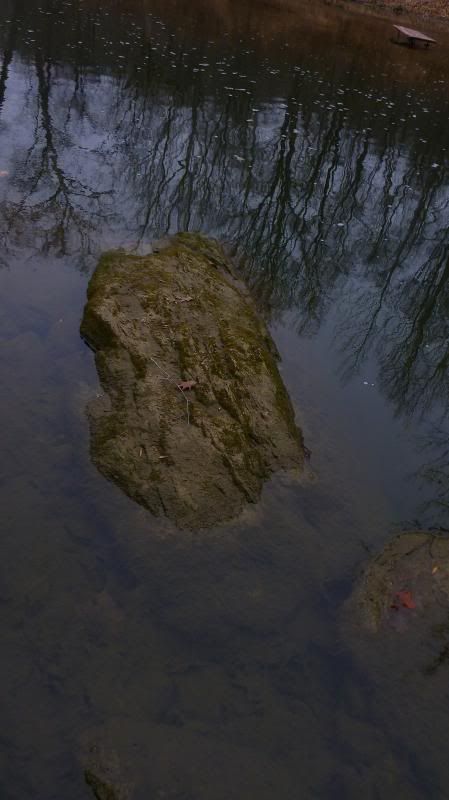 There's a large table sized boulder with a gap underneath that just looks too suspicious to me. The first retrieve with the jig get a solid thump and 18.25" smb to hand:
Then I dead stick in front of the boulder. Produces this 17.75" smallmouth, in quick succession, I cannot contain the happy any longer.
I worked up to above the pool, crossed, then worked from the other side, heading downstream on foot. Darting presentation. A thump and amazing fight alerted me the water temps must be well up in the 40's for a fish to go on 8 long powerful runs. Another 18" smallmouth bass:
Next cast gets hit by something big then rubs off the hook on a rock. Guess I hung on another carp as they were out on the prowl through there in subsequent casts. 20 or so casts along a ledge and I pull a 15.5"er to hand. Head back to the kayak for the 2 mile float back. I intend to hit the spots I've already caught fish, or spooked fish before I saw them. Nothing in Eagle Spot. I nail a 16" anchored downstream, then a 13" 20' further on. Both were from a shallow trench near the main channel but next to water slowed by rocky point. Mental Note on this new winter hole. The float back is comfy. I love kayaks for this, no slipping or bending ankles on worn studs, felt, and algae slime.
Now I'm approaching my bridge and tossing jig downstream. Remember that mental note fish in the beginning? I throw the light jig downstream, where I would be if I were him, and Bingo! Fish on. Didn't realize he was
this
nice. 17.75"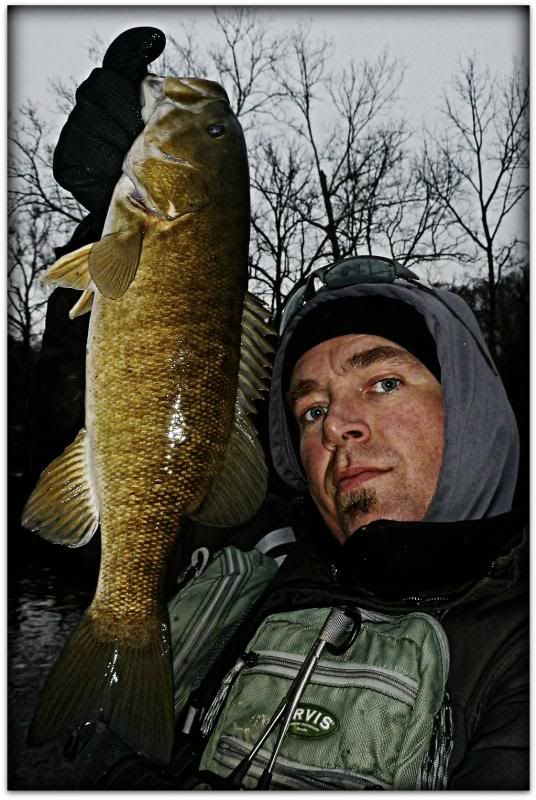 It's 4:45 when I get loaded up. I contemplate adding a couple more pigs above a second bridge, consider the 15-20 minutes it would take to drive and then walk to the spot. I drive home.
11 SMB (19.25", 18.25", 18", 2-17.75", 16", 3-15.5-15.75") 26" carp, 30" flathead