Matt and I waded far east on Wednesday 10/8. Getting started somewhere around 10. We
waded
, because you
had
to wear waders. I didn't initially, knees were burning it was so cold. Bad bail and no waders, deuce on the way, I headed back to the car to take care of all three. Always carry an extra reel in the car and baby wipes. Matt picked up three 13-14"ers on the tiny fluke fished slow. I had gotten a 14" on a Sammy before I left.
Morning was gone, the bite died before it even came. Bluebird skies and sunny. Worse, everything had been pushed around by Winter icebergs or something.
Matt started to pick up dinks on a slow spinnerbait after he lost one about 15", he had started a pattern. Kind of. I couldn't get anything going until my second buzzbait cast (closer to the woodpile this time) got annihilated by a big golden bass. Shocked us both as it seemed the sun had squelched the fishing. Well, that bass was in the shade and under wood pile. Matt added some more dinks on the spinnerbait at the next good hole. I finally got another Sammy fish in the middle of a large pool with three sets of laydowns down the other side. At the top of the pool, in some shade near the riffle. My Wake Crank first fouled, then as I tried to shake it normal and big sploosh and momentary hook feel happened. Totally not ready for that. Matt and I fished everything through that shade spot. We spied some larger bass in there, so I decided to clip on a shad square bill crankbait. I cranked it in s-l-o-w-l-y from the other side of the river. When the lure finally ticked bottom a couple times, it suddenly stopped. Bass on! Big one. Fish were cold and fights were never in doubt. Very happy to get another nice one to hand on a day where I had almost given up just 20 minutes earlier. Bass measured 18.25"-18.5".
17.5" buzzbait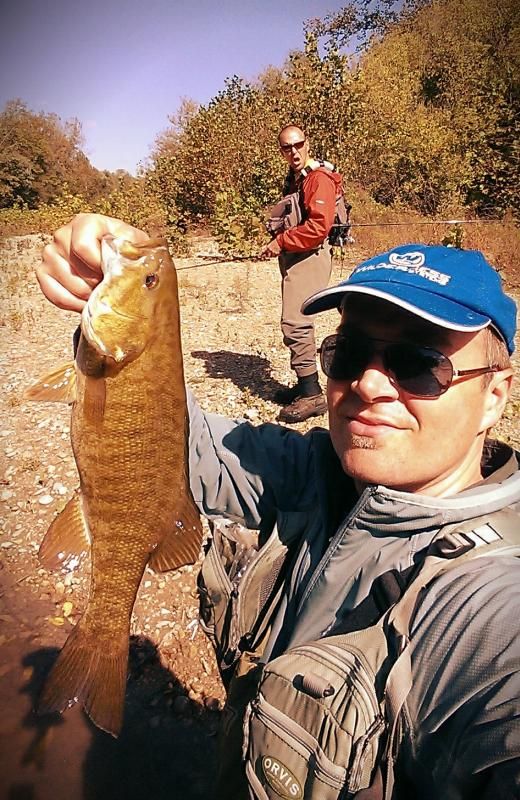 18.25" crankbait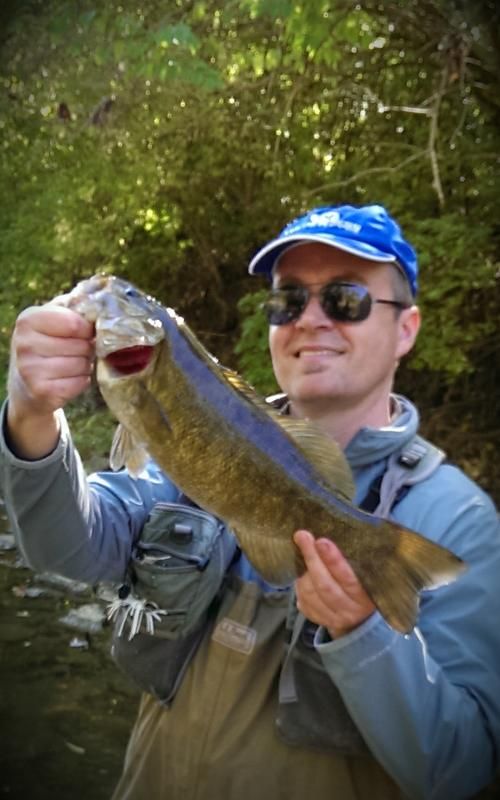 I started adding a bass here or there on the crank. Later I add a 12", Matt a couple spinnerbait dinks, another 15.5"-16" skinny bass nails a wakecrank in full sight of us watching from above. Really cool to see that fish come up and hit. Mostly from there it was slow. Plenty of depth, wood piles, but wood piles that had been moved a ton by the river this Spring. This seems a theme this year along with a early/late bite.
We folded up this 2.8 mile wade in about 7 hours.
MD 12-13 SMB
BT 9 SMB 17.5,18.25, 15.5
Earlier this week, I headed out for a longer one on the day it rained. Creek was muddy, so hit a second. Tiny tube and wake crank got me 5 from 16-17.75" out of one hole in 30 minutes. Added another 16 and went home. All the driving killed my water time.
9SM (17.75", 5-16-16.75")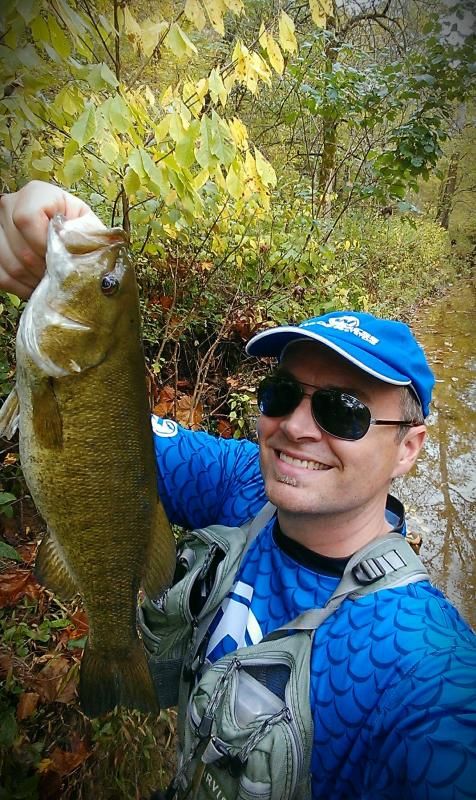 Short wade produced a while back, don't know what day. Chubby.