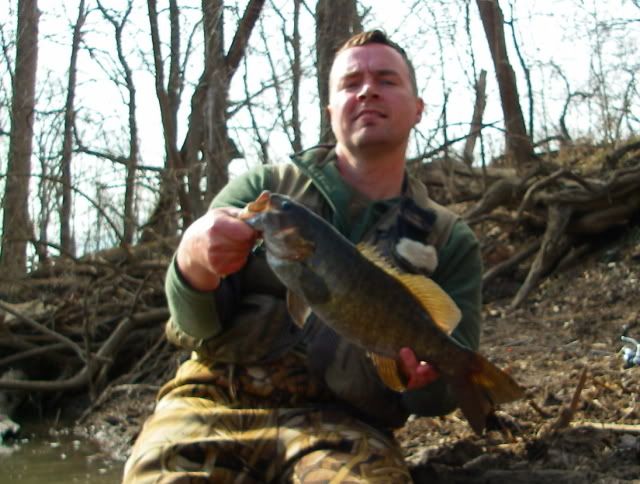 Went out for some more cold water smallie action today. Stream was still up in the 1,000's and green. Temps may be approaching 40. So I brought along my jerkbait box. The bugs have started to come out and were all over my kneck all day. The kind you are constantly squishing on your kneck. Even heard a bee at one point. Saw a mink, we got in a stare down, he left just before I got my camera out.
Plan was float and fly in the same holes that have proven fish, drag smaller tube, and use jerkbait around muddy flats. Started off slow with a couple 12-14"ers on the fly and a dink on the tube. Crossed stream and got a 13"er on the xrap during the pause. Moved on to the pool JB saw me catch some crappies on Saturday. Caught smallies on three straight casts on fly 13-15" (the 15" went airborne!), then an 11" crappie on the next. Slammed 3 more crappie 8-10" then the next dunk was really heavy, a large black fish came near surface and made a run for some branches, I knew it was big. Went 19.5". when I banked her.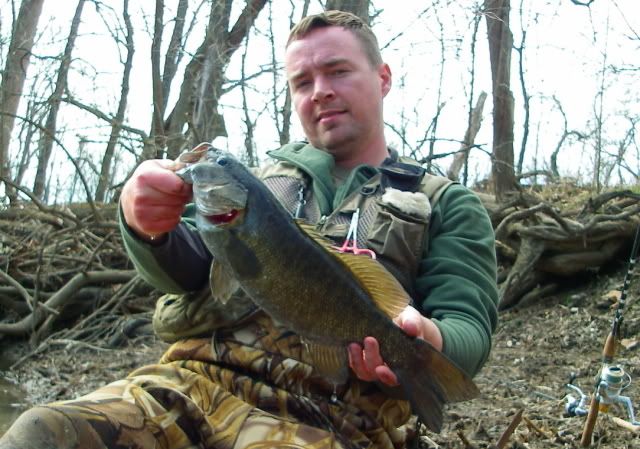 After that I got a 14", a 13" greenie and lost another crappie.
Went back to first spot and got three more 13-14"ers.
4.5 hours 11 SMB (19.5) 1 LMB, 4 nicer crappies, and a Goog.
Beautiful day