6/5
Nate, Mike, and I met up and got on the river about 1:15pm. I had scouted several flows and come up mostly shallow bedrock. Hit another flow before the meet and got 5 in an hour 15 on grubs up to 14".
The three of us waded and threw all kinds of baits, bite got better in the afternoon. Nate threw mostly Sammy 100 and tube. Mike wake crank, tube, R2C, later buzzbait. Fish were small, but there were enough that the action and laughing at each other made it pretty entertaining. Some were ridiculously small- not much bigger than your pinky and hitting large lures. No matter what we threw 6-10" fish hit it.
I lost one in the 16-17" range at my feet on a Zara Spook Jr. Later, nabbed a skinny spawned out 17" as the largest fish on R2C.
Cutting up most of the time, though we caught maybe 10 fish 12" or better combined, it was a really good time.
BT 25 SMB (+5 more in the AM total 30) (17") 2 Rockies
NM 20 SMB 2 Rockies
MC 13 2 Rockies and a Longear sunfish.
In a little less than 8 hours.
One of those strange size class days again. Little fish were chasing baitfish everywhere throughout the day.
-------------------------------------------------------------------------------------------------------------
6/7
Attempted to walk through the woods and then fish upstream from the end of the stretch. Proved impossible. I stopped and fished the first deep bend. First cast with a Sammy 100 "boosh"! barely wagged it twice. 17"er. Few more casts and blow ups later, I bring a 15" smallie to hand. Both spawned out. The fish were in the shade of the cliff on the left sitting at the back of the pool. Fired up to the front of the pool and got another.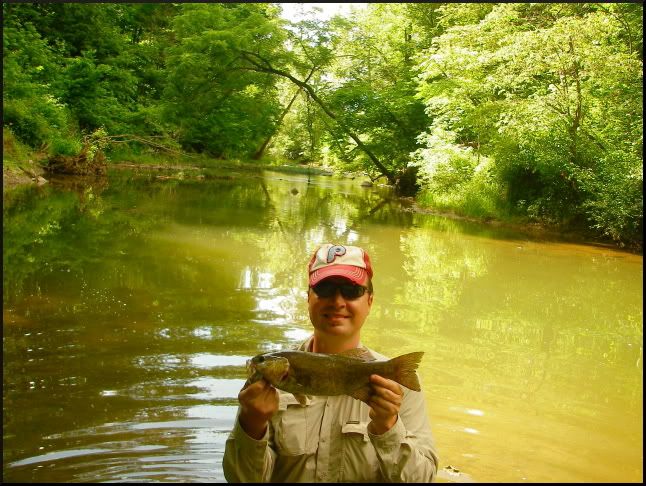 Notice I was able to both put my hat on wrong and button my shirt like a drunk. :) Anyways, this is a right angle bend with upstream to your right and downstream behind me. I was pulling sammy upstream.
Long walk through the woods, arrive at next large pool. Dink on Sammy, then 16"er on a tube. More walk through woods, face back upstream, fire Sammy into and under canopy. 3 more bass to 13". Sammy 100 casts poorly on 10 lbs braid for some reason.
Another fat sow 15" on a shallow run, some more dinks on Sammy time. Got to push it and get to the best hole 2 miles down, picking up some here and there. A bunch of good size fish compete for R2C and a 16" wins. It had no tail. This stream is slow moving and has a little silt, but other wise pretty good habitat. Fish are generally fat and well fed with small tails. Looks like they have rubbed their tale fins nearly away in some cases.
Finally, get to the target hole; throw Sammy 100. Big fish hits, airborne, pulling it upstream is a bad idea...gone. Darn. Second time I have lost a good fish from this pool. Not long later a 15"er is caught on Sammy. 8:40PM. 2 miles through woods and wade. Boogie. Another bass hits a popper on splashdown, then a 13" on a tube as I pause here or there on the way back. Left lots unfished.
21 SMB (17", 2-16, 4-15") 1 Chub in 3.5 hours.