Failing to hook up with Jon and Brett. I floated a couple big pools, and walked a third. Maybe .75 mile float and that far dragging back.
Hit as many quick holes, hopping from bridge to bridge with my kayak in the back. 5 fish in the first hour 14-18" off a long ledge. Fell into a trap of hitting the pool below. Got a dink on the way but it was a huge time sink as I made a bad cast with my last float, spent too much time freeing, then lost the fly in the drink. A special black, brown, red, with copper colored flashaboo. So declothed and swam down after it, gripping it with my teeth like a dolphin. That's a lie. Rolled the sleeves up and grabbed her. 45 minute detour for 1 dink.
Mistake that would cost more fish. Killing time on a hot bite.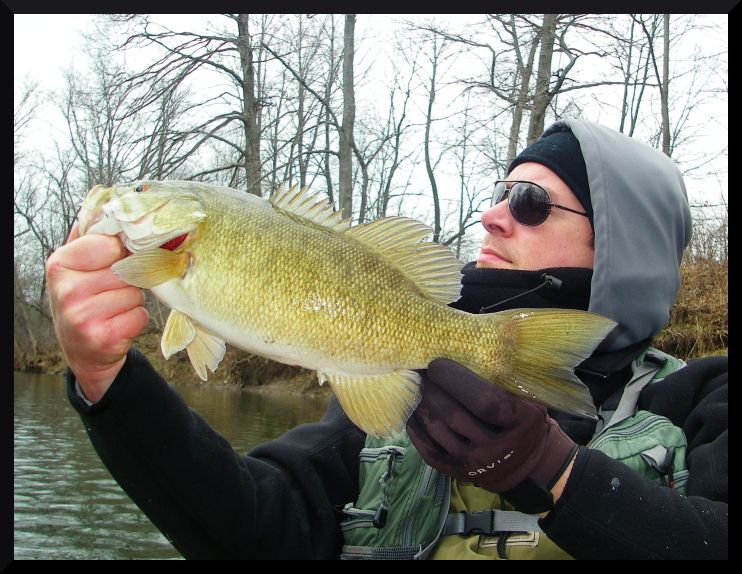 Second spot on foot. 17"er, couple of 14"'s.
Bass were where I thought they'd be. Even saw the 15"er take the fly from above, which was
really
cool. Dark shadow (I think, but not sure) float barely tweeks. He's on.
Visibility was 4'. Really helped me drift along ledges and see target boulders. Got out in 15 minutes as the spot was spent.
The last pool and longest float down to the last pool I pitched over to some slack along a slower bank, float dunked on the dead drift, a 16"er ran all over the place. Target pool actually was a dud. Again. Just a dink, then a 13" off the bank as I was packing it in. Could have been a stellar day if only that pool was on. For a second, thought about hitting one more as it was 5:30 by the time I dragged back. The sun was out briefly. I chose to go see if the lads were done and how they'd done. Looks like they'd just finished up.
12 SMB all on float and fly (18",17",16", 2-15") about 4.5 hours of fishing including my tree mess. Smallmouth were fighting hard for the time of year.