Finally got on the water at about 3:30. Low, low, just a little flow. I walked down through the woods to fish a seldom fished riffle. In 10 casts, I had 3 impact strikes resulting in two 17.5" smallmouth. The third strike was more of a drift of a pencil bait. Snarfed off the surface by a decent smallmouth. Followed back to me by a bass much larger. Naturally, I'll sacrifice a 13"er for a 19"+, so I played the fish into a double hooking. They shook and struggled until I had them almost to shore. The thin pig went airborne 3' from me and the second hook tore loose from her. DAHHH! So close to epic.
Wow, what a great start. I was a little concerned nothing hit when I moved the actual baits. Pools were a waste of time. Near flowing water or forget it. Preferably shade. Sensing a pig bite, I moved with authority. Until I found a dying 17" bass in the shallows. Nothing I did seemed to help, so I left him near current in the deepest water I could find.
I picked some dinks on a small, shallow diving crankbait, but again these were in aggressive feeding areas. Was not shaping up to be a numbers day.
I decided to go with a light pencil bait for less splash in spookier areas and switch to Sammy when I wanted big splash. This worked well. Soon, two more 18"ers and a 16.5" to hand on the Sammy 100. Still just a few lethargic swipes or a larger fish crushing a lure intermittently. 15.75"er destroyed the lure, another one launched in the stratosphere and was lost. Yet another charged impossibly fast at a lay down and was gone.
The sun's drop played games with Mr.Smallmouth's tracking of my walk the dog lures. It played the same trick on me. Depending whether some low angle sun fell on a pool to light it, my bait would be smashed or ignored. Causing quick assumptions as to their disposition.
Finally, I hit a choke point below a major pool. It hasn't produced many fish in the past. I let loose with a knuckleball Sammy cast 10 yards short of my target. I cringed as the lure hit the shallow water much harder than I wished. Three. Dog. Wags. BOOOM!!! Rakka-tack-tack-tack- Ker-splash! Zip-Zip-ZZZZ. *Oh, crap, only the rear hook* *Bulldog her or she's gone* Wowwle-Wowwle-splash. GOTCHA! Celebration pelvis thrust. Snap pic, release.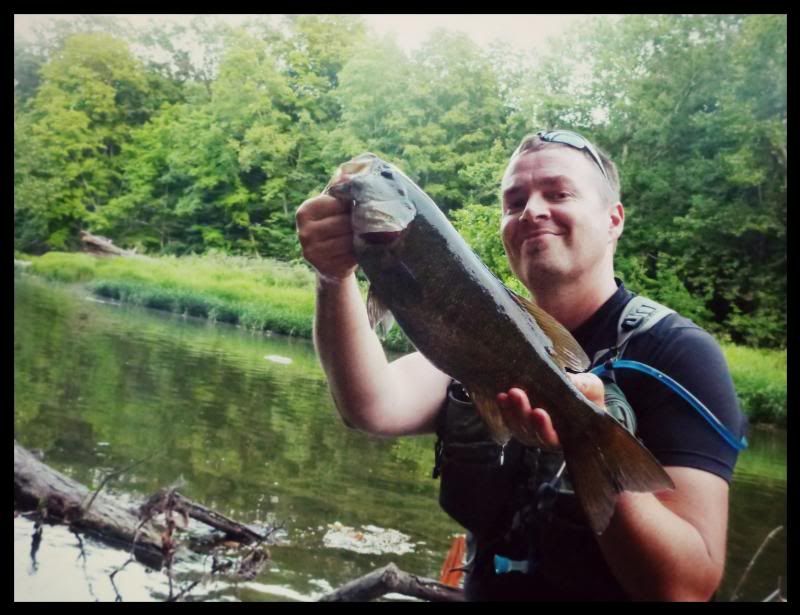 19.5" Jeez, I love catching the largest fish at the end of the day. Pumped. Just an 1" and a jump away from 6-18"+ fish on the day.
I spent insane calories getting back to the car. It was worth it.
5 hours 29 SMB (19.5", 2-18", 2-17.5", 16.5", 15.75")