Thunderstorms in the forecast, I set out on Thursday to extend the 18"er streak to 10 trips. Been waiting for the canoe season to end so I could blast off a long one.Figured the bass were already wet and would probably like the rise in water. When passing over an Indy area feeder, I noticed brown water and lots of standing pools. Uh oh . Hard rains cause runoff that changes the water clarity. if those feeders were dumping into the main creek, it could be a tough day. Ominous, dark skies and heavy rain on the drive out. Left the bike at home. In this case, any bike shuttle doubled the wade length, the roads ran way out of the way. I'd do 4.25 miles up and then turn around and walk back. Or tack on a 12+ mile bike trip. Seemed like one choice really.
Nearly 3' long bike tire that wasn't trash:
All the feeders in the area were flowing mud. I was worried. Take day off to fish muddy water and end the streak fishing low, muddy water? Yick. When I drove over the main flow, angels looked down on the stream, flowing
clear!
So I got parked, shoed and geared up, got moving, planning to throw WTD for pigs get the streak over early. That. Didn't. Happen. I did get 5 bass early on a small WTD, but it quickly became apparent that my 10am start time may have been an hour too late with the rain. A feeder was turning half the creek brown. Leaves were blowing off trees. The pool I'd hoped to 18" on was brown water. Intermittent dumpings finally stopped and the sun came out. Not much for a while. I did finally get above the feeder, incredibly flow was clear enough. I grinned a little. It's on, bitches.
I decide to throw on my 1/8oz 'Wolka Buzz', I've upsized these in recent memory to variable effect. To get extra distance, I thinned the skirt and added part of the body of a senko. Believe it or not that part of a worm really helped cast the lure. On the first cast, a dink answered the call, connecting despite a lack of trailer hooks on hand. Over the next 20 minutes, I caught 18 smallmouth bass, topping out at 15". Amazed so many fish near one riffle and that they wanted the buzzbait so bad. Solid hits! Easy to walk with the river channel mostly empty I power fished for quite a while before I pulled the first 17"er of the day, pictured below. Quickly caught a 16.99, a 15" and lost one in the 16-17" range. Wow. Now things are getting good.
Numbers started to pile up, smallmouth mostly missed in the direct sun and destroyed it in shade covered pools. 35, 40, and nice bass too, some 16"'s and 15"'s, but some 12-14"ers too. At the end of one huge pool, I just abused the 15" 16"ers waiting for meals. For the rest of the pool, maybe 125 yards wide, I would walk up the middle and cast a Sammy 100 to the structure and shade on either side. The smallmouth were now on WTD's as well. Caught 3 or 4 on it until I got up near the bridge with 52. Shade under the bridge, but no smallmouth would be dumb enough to sit right in such a hugely pressure spot? WOOOMF! Missed. I threw across the creek and worked the Sammy over a log and towards the bridge piling when another explosion happened up top. ON! BIG! Finally, a chance at big girl. Swept her into some willows and just knew it was the coveted 18" bass I needed. 18.25" and fat!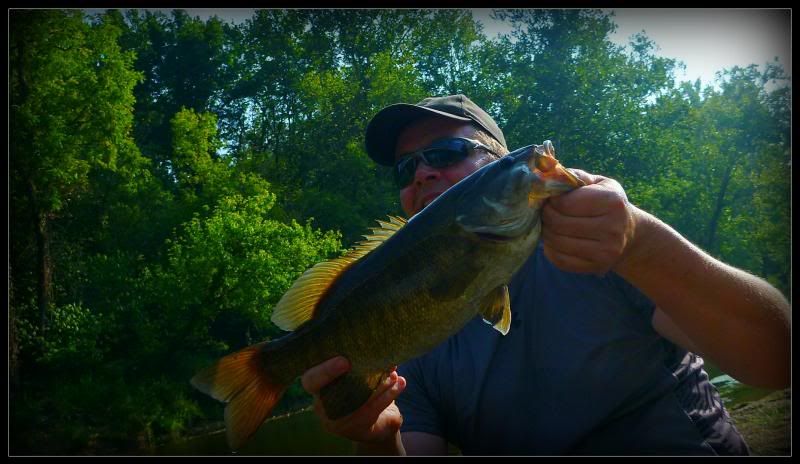 YES! Mission accomplished, but I had yet to see the river above the bridge here so I kept chugging, picking up smallies here and there. Got to a plunge pull at the top of a hill at the end of bedrock flats, was working the buzzbait again when it twirled and caught a leaf. Looked over and saw a big bass still interested in the buzz though. Normally I give up on fouled lures, but this bass came right over and nailed it. Short fight and caught before just under 19".
Waded up a few hundred yards picking good bass from crack in the bedrock or in shade near wood. Another 16.5" and I turned around with 65 bass and started back to the car, throwing a buzz bait below the bridge got answered by another big bass, this one headed for wood really quick, I had to horse her over and to me. 18.5" skinny fighter. I think they have in many cases gotten so skinny because food hasn't been getting flushed to them. Make no mistake these fish wanted food! The slight rise in water levels gave them the perfect opportunity.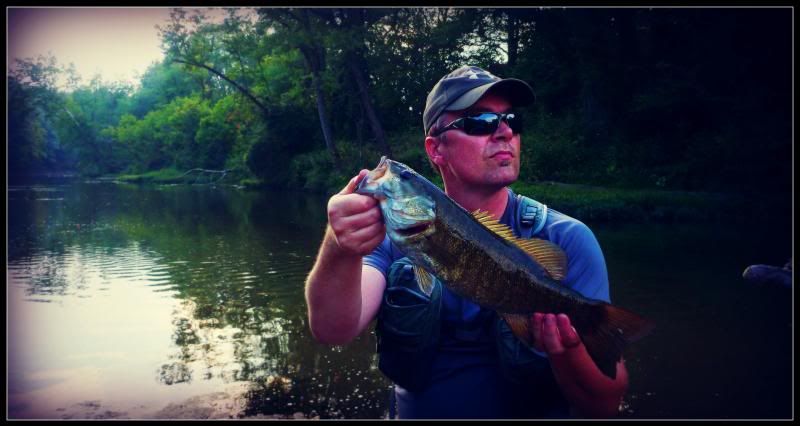 In the faster plunge pools, I started picking bass off wood with a spinnerbait, two 15"ers in a row. Then a couple more fish swimming the spinnerbait in heavy current in place. Still, I headed downstream, another 15" on a buzz, a 17" on an impact strike on a propbait. A few more and another 17" on a Sammy followed by another 15". 77,80, could I hit one hundred? Only thing stopping was time and lack of a trailer hook for some cheap numbers. Got to 90 pulling the Wolka buzz upstream in front of a riffle, Boosh!
When I passed the feeder that was muddying, it was finished dumping rain runoff. The creek had cleared up below as well. It was nearly dark. I had about a mile of ankle deep water to power walk. Got to the car in the pitch black. Awesome.
I waded 8.5 miles in 9 hours. Catching 90 bass: 88 SMB (18.99,18.5", 18.25", 3-17", 16.99", 5-16", 7-15") 1 Spot, 1LMB