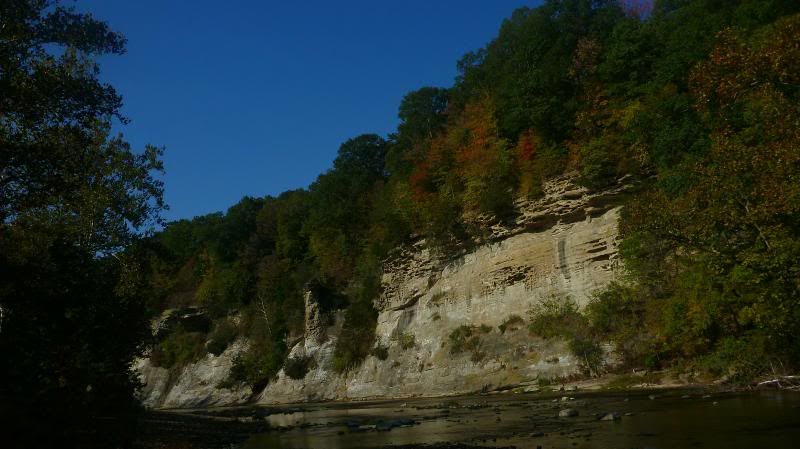 Thought MC was coming, turns out he wants me to take days off to go fishing with him it's so good. He was on call. Dunked my boots alone in water by noon. Walked down part of the way, waded down the rest. Plan was to turn around and fish all that undisturbed water.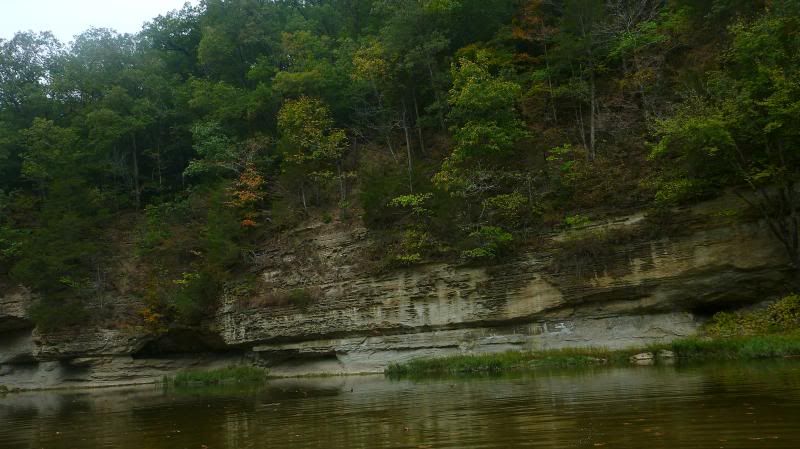 Turns out, the woods didn't last long and the nettles were thick through much of them. I opted to fish on the edge, making a cast here and there. Finally, just fishing down. Creek is on average 50-60 yards wide. I could move without spooking everything. There was a wind meaning no topwater. Leaves fell everywhere. A fish here or there on a senko. Mainly hard to fish going downstream. There were a couple areas cleared by slow current I could throw a Sammy in, the first produced a 16.25" smallmouth. The second, a ridge along a cliff line, at the top of a very large pool produced an explosion and a really nice 19.25" smallmouth bass.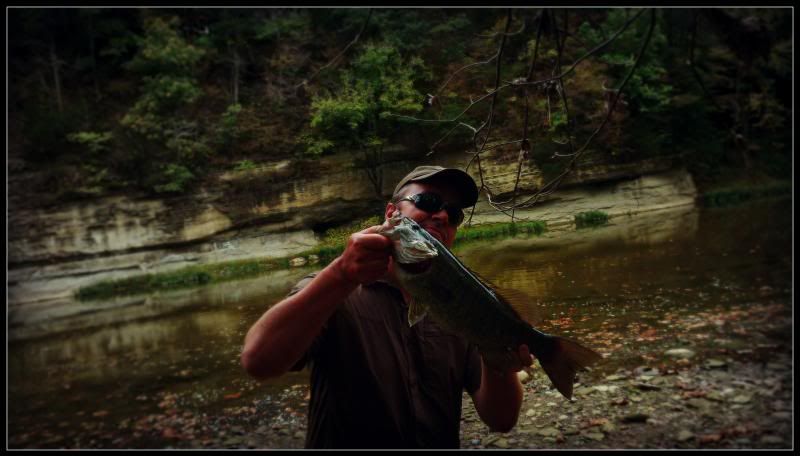 The fish was followed back to me by one about the same size. Moments later, I hooked a 14" largemouth bass that was mugged by a squad of larger smallmouth bass goons. They failed to hook up, but I think I got them on the way back up wading. Continued down. The wind stopped, the skies got gray, it rained a sprinkle for a moment. The wind stopping really made it possible to fish. Soon the leaves were mostly submerged or piled in eddies. GAME ON. I had 7 bass when I turned around. It was 4:45PM. Plan had failed, 3 hours to fish 2.5-3 miles, I had wanted to pick it apart, but now there wouldn't be time. A 16" bass smashed my WTD, then the dinks showed their faces a bit. By the time I got back to that cliff, fishing from the sames side retrieving my lure straight down the strike zone, I nailed a 17" and two more 15"'s.
Here's a fat 17.5" that streaked to the bait before destroying it. Great fight too!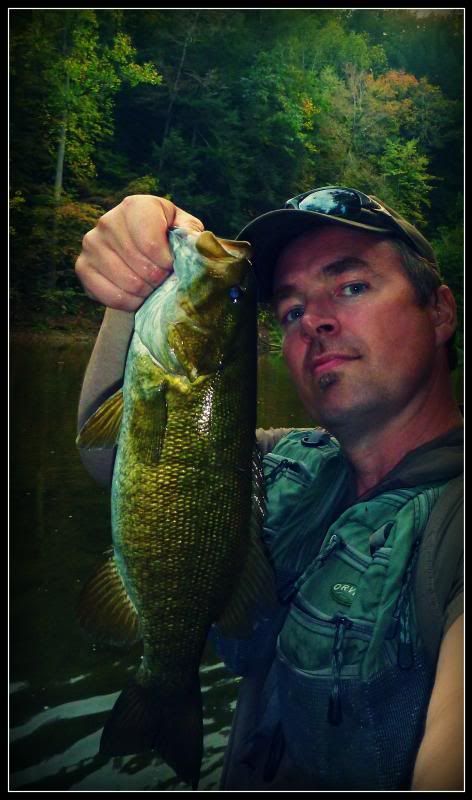 Airmailed another 16" who had been dumb enough to stay in the spot I spooked him in on the way down. Picked a bunch of quick 12-14" bass in quick succession. It was starting to get dark, fish were still biting I got O'Dark thirtied finished with 28.
28 Bass 27SMB (19.25", 17.5", 17", 3-16", 4-15")