Ok, this one's going to have a lot of pics, because ultimately, I can't decide which ones are best! We didn't take any pics of anything under 18" (except 49.5" Triple) , but still a lot of good ones. All new stretch for this one.
Things started out with a couple decent 12-14" smallmouth bass at a shaded choke point on a smoke purple/green tube. I felt it looked like a shad. Whatever, they were on it early, if you could find small enough water to comb.
Perfect Moment #1:
I was throwing the tube over into some deep water near a large stone. Trying to keep it still and deep. I was in the middle of a complaint about fishing a tube after so much topwater mastery. Tube stopped. Set hook. Whoa! Heavy. Immediately knew that was not a bass swimming too slowly, too powerfully. We were standing groin deep in the icy water and what the hell was this thing. Went on 4 ridiculous drag peeling runs. I looked for a place to land the fish and saw a "beach". FLATHEAD. It was 9-12" longer than my 23" mark on my rod.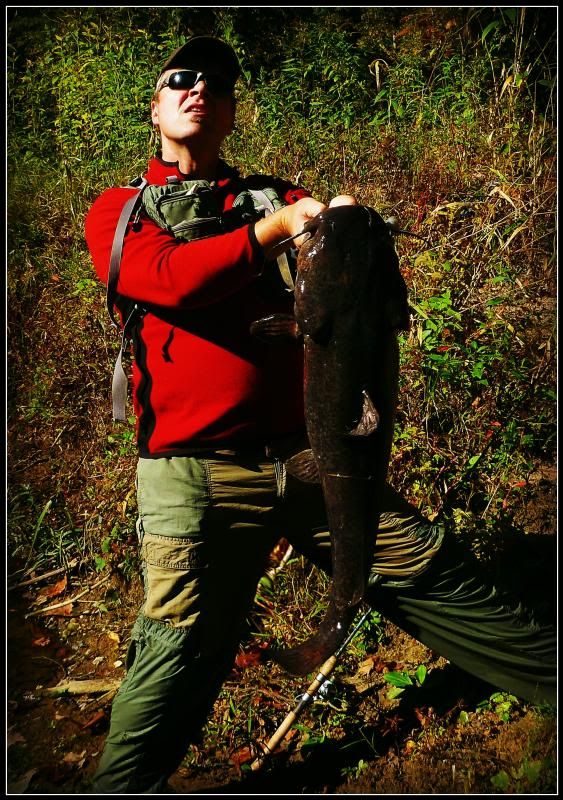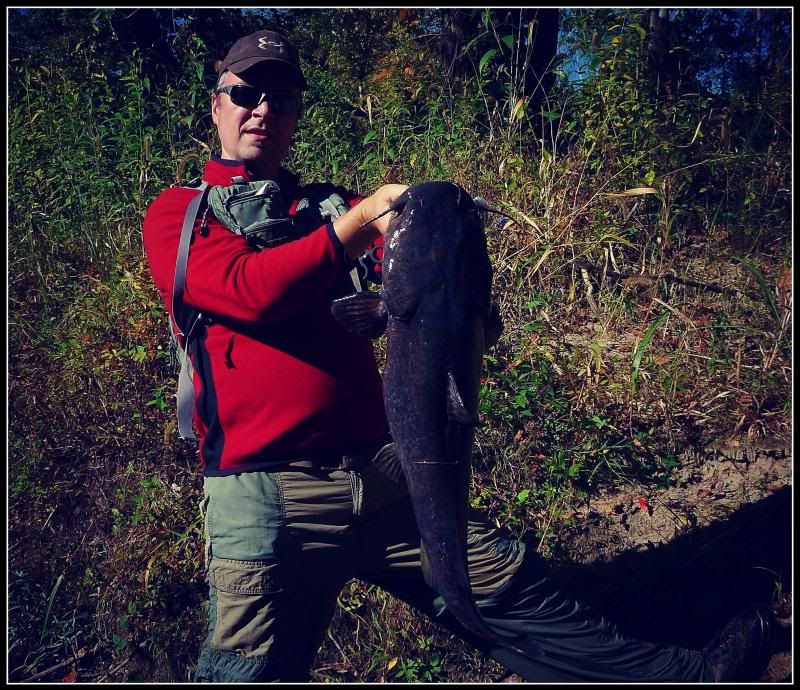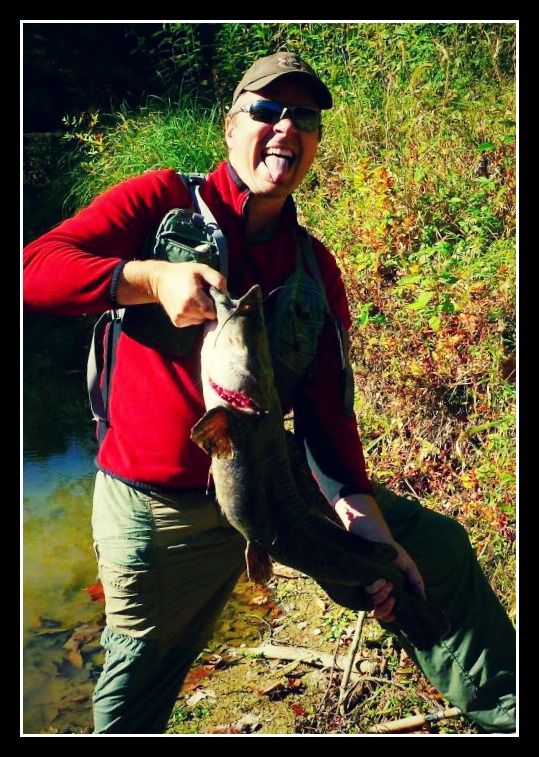 Did I say the water was ice cold? Trees were casting a shadow over quite a few pools. We arrived at a bend where I had a large swing and a miss on a Sammy. Sunlight fell everywhere. We climbed up to a higher vantage point and could see the bass swimming around, or just sitting there in the sun. I tubed a dink from under a rock and spotted what looked like a 16" bass on patrol.
Perfect Moment #2:
I threw behind that fish, maneuvered the tube into position, it spun, as if it could hear something it couldn't see. I budged the bait a foot onto a slanted rock. The fish kept looking. Pause, pause, pause, in place twitch, twitch. The bass rocketed over to the slanted rock, tube disappeared. All in one motion. It got bigger on the way in and measured over 18". Phenomenal to watch that unfold.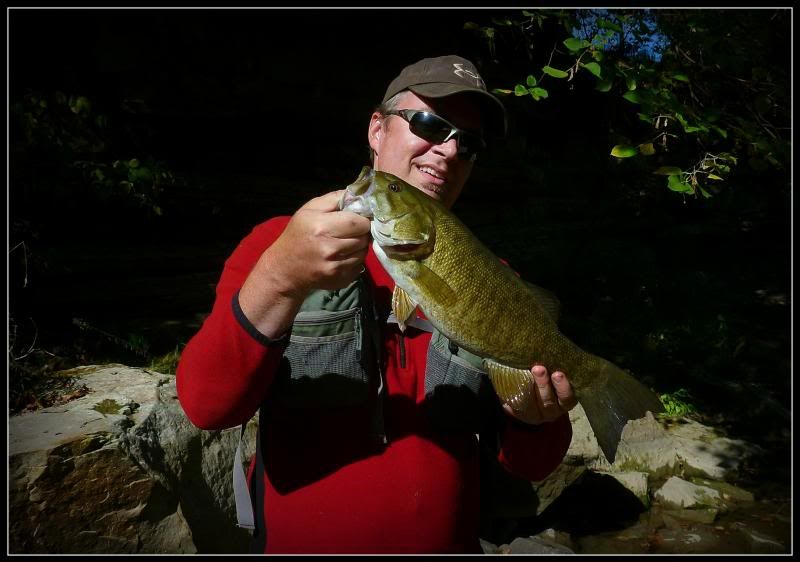 Picked another deep at 15.5" on the tube. We didn't know it then, but that would be the last tube bite of the day.
We moved up and spotted three huge Asian/grass carp in the 36" range. Along some willows I worked a walk the dog with a couple chasers. When the bait fouled I streaked it quickly away, which drew more interest. 16.25" bass to hand, followed by a larger fish which came right in the water willows at my feet after his buddy.
Lots of walking and shallow gravel runs passed. We must have passed a mile mile and a half of nearly unfishable water.
Nearly Perfect Moment #3:
I made a fifty yard bomb cast to a water willow shallow area and overshot into the willow. My resulting shaking pried the Sammy just loose in the water. Immediately smashed. No hookup. I told Mike, "If that would have been a pig, the
angels
are looking down."
Which Brings Us to Perfect Moment #3:
To me, this was one of the coolest moments I've had with Mike in one of hundreds of cool moments. We finally got to the top of a long gravel straight run with no depth. We had not done much casting for a while and lots of trudging. It made a semi swirl in direction to a riffle with a lone, large boulder. Looked like 12-18" of water, fully shaded. Mike throws to the rock with his Sammy 100. His lure quickly gets bit and followed. He yells out there's like 5-6 fish visibly following the lure through about a foot of water. I can't see a thing because of the glare and shadow. First one bass hooks up, then another. He's got his line high, pointing in the shade where he see the bass 40' from shore. While fighting those fish, he has presence of mind to be my artillery observer! I threw a perfect cast into the melee. Whack!
We both land fish. Three all told. The results are 49.5" of smallmouth bass to hand. Two 16"ers and a 17.5" for Mike. Amazeballs!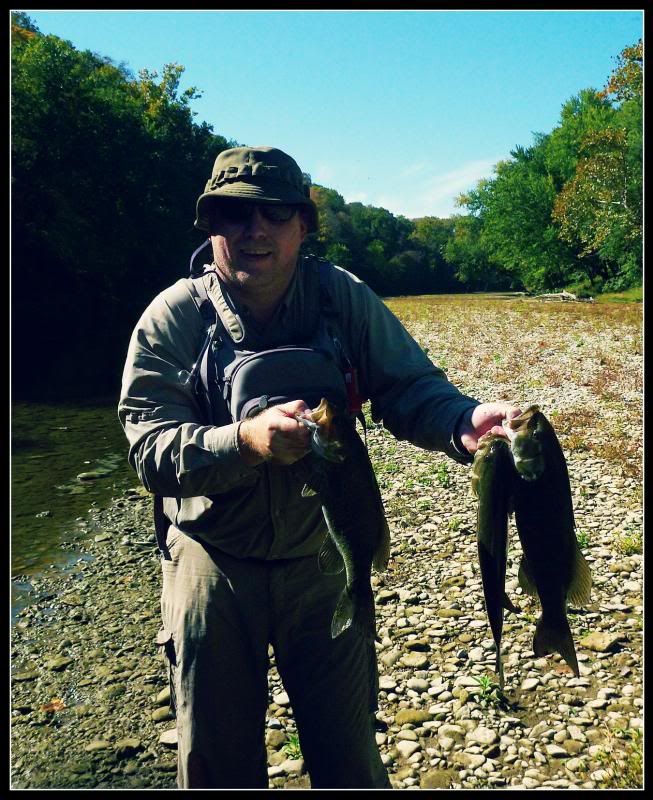 The middle of the day was characterized by lots of fishing very good looking water, but not many fish. We hit one water willow line pool. Mike nails a 15.5" bass, then I get a 17" followed by 6 other fish the same size or larger. They mug my Sammy and one other hooks up, for a second. I throw and nail a 16", but that's it for a while. Until Mike nails a 15" behind a rock after he misses my bait three times.
Things start to heat up around 4PM. We've covered more ground, to ensure we get off the water before dark. Mike and I both catch 15"ers. A large fish whiffs horribly at one riffle. The river has gotten sexy as hell, riffle-pool, riffle-pool. Mike sees a 20"er he nearly steps on.
Perfect Moment #4:
Dead sexy push water crowned by molars of bolder, as if it were a giant maw water pours through. Mike throws to a bolder blocking current above. Woosh! Destroyed. The bass zigs and zags in between the teeth and finally comes to hand on a bed of leaves and river rock. 18"!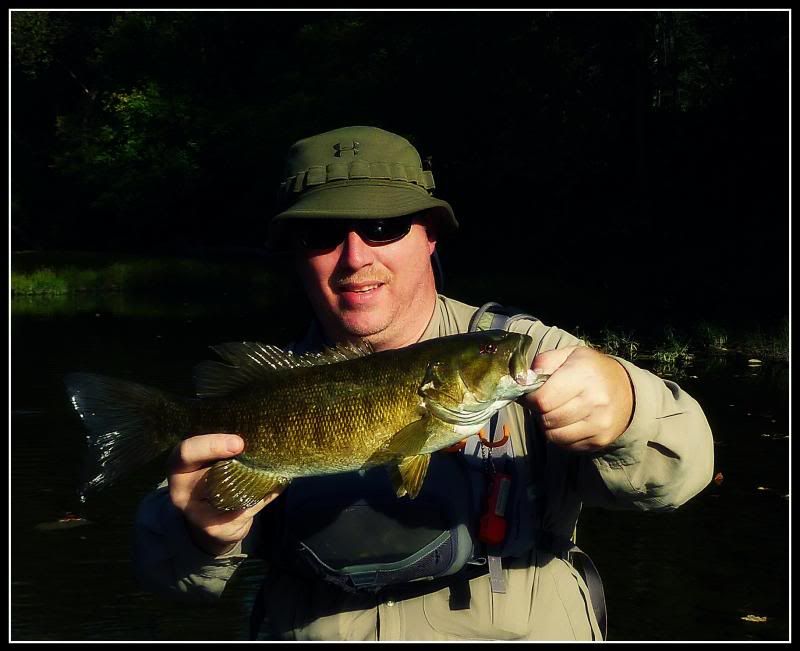 Perfect Moment #5:
We're still in the same pool here, moving up through the middle like a couple of gunslingers drawing on targets to either side of the river. Nothing doing in the mid pool all day. Was almost a complete waste of time. Had to be in sun, near water willows, at the front, or back of pools. Well, we were almost finished with "maw" pool. The front looked like a dud. Glare made it hard to judge what was ahead. I threw to the shallow side near some roots. Surprised by a strike, but it didn't seem too significant. Turned out to be a fighter and largest smallmouth bass of the day at 18.5".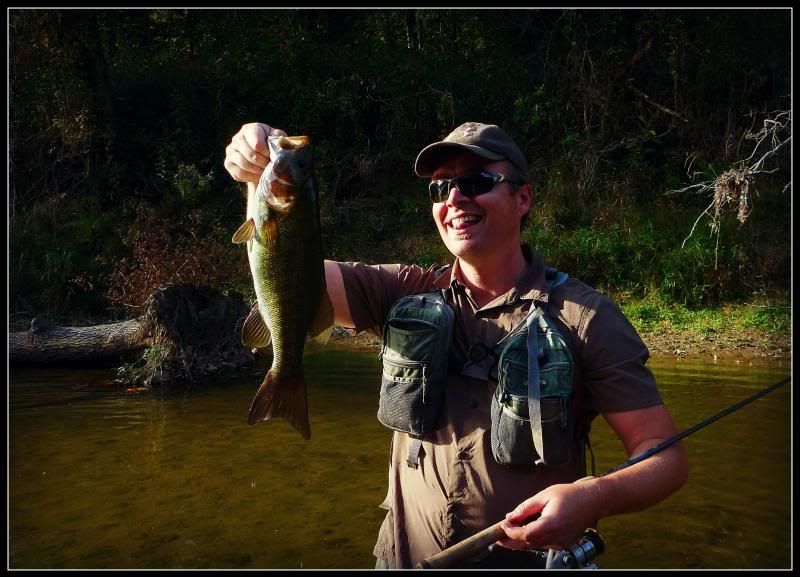 Perfect Moment 6:
Mike plays with a couple pigs, one getting loose at the back of push water after a short hookup. We nab a bunch of 15-16"'s. Quickly. I waste time fishing too much pool, when Mike casts ahead and seems to fighting a fish, swims towards him, to hand at 18" and change! Nice pics!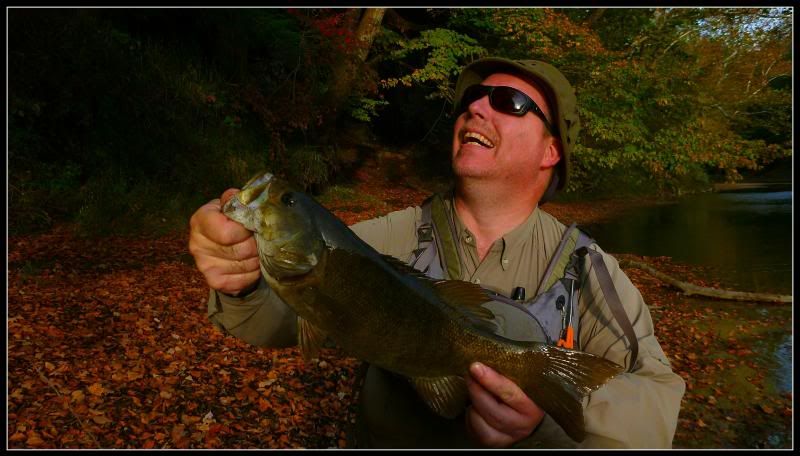 Mike got worn out by our pace, had a couple line issues during the peak of the bite as we rushed to finish the wade before dark. I went on a crazy run that was 4-17-17.75"'s and 3 16"'s in the last hour. Flirted with a couple doubles of my own of bigger bass. The backs and fronts of every riffle. We had maybe 10-12 dinks all day.
Perfect Moment 7:
Managed to get to the bridge just as it was getting dark. Another 20 minutes and we'd have been in the black. 27 bass over 15" on the day over 6+ miles of river. Never did get a huge bass, but heh, can't complain. Still don't believe it.
Perfect Moment 8:
Butt in seat driving home with so many awesome replays.
BT 37 SMB (2-18"-18.5", 17.75", 2-17.25", 2-17", 5-16-16.75", 5-15-15.75") 32"+ Flathead Catfish
MC 15 SMB (2-18-18.25", 17.5", 2-16", 5-15")