Was delighted to get back to Indiana this weekend to see we had been hit by enough rain to fill some streams up a bit. Headed out Sunday with FnF rod. Ice on the car in the AM, maybe 45 F when I started fishing. Wasn't really excited because it looked like crud. The FnF rod ended up dropped back in the car, as I discovered a spinnerbait bite. Two rods is too much for me when clambering over slick rock all day trying to make speed. If they were going to hit a spinnerbait, that was for the best.
Water was dark brown, visibility in the 1' range. First time wearing waders in a long time. I noticed holes in the breathable waders, but they mostly held up today. Headed up above the bridge and tried some FnF, but when I clipped on a spinnerbait and brought it towards myself along a cliff wall and nice bass was suddenly on there. 17.5". A couple casts later, after congrats smoke left over from Mike, a 17"er to hand.
Dis changes things.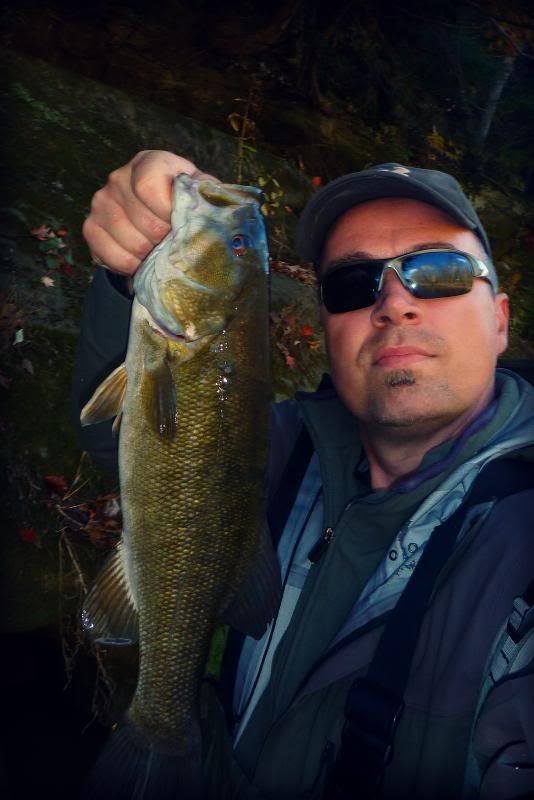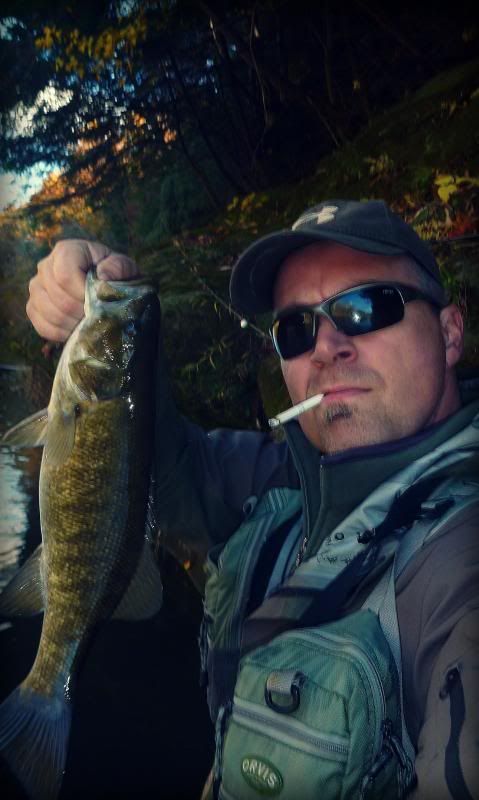 I headed downstream, spied out what I thought would be the wintering hole side of another giant pool. Making short tosses of the spinnerbait, as I headed down. Slow seemed to work. Soon, I had a 16" and a 15" to hand. It took a long while until the next fish, truth be told, today's fishing was like looking for a needle in the proverbial haystack. Fast current, but not fast enough, or cold enough yet to rule out areas. Leaves in the water everywhere. Even the SB would foul on them every other cast, or slide down the snap. Kind of hate them, but, hey, the water was brown, and it was working. At this point, I should have driven to the next bridge and hole hopped. I opted for a wade down, with only one late Fall wade to indicate where bass might be. I did know to skip a couple shallower large pools, this saved some time, but struck out on a couple I know hold some really nice fish.
There really was too much water in the many wide pools I hit to bounce a tube, and too many leaves for a crankbait. I walked down until I found can't miss spots. A 15" came to hand in a side channel, then a dink LMB. Remembered a log I wanted to hit from the Mike wade and made that my destination. At that point, I put a white chatterbait on. It proved to be the ticket, yanked a chunk 17.99" smallmouth from in front of the log and giant boulder. Picked another 13" on the CB and began the long walk back. Just a tiny LMB after that.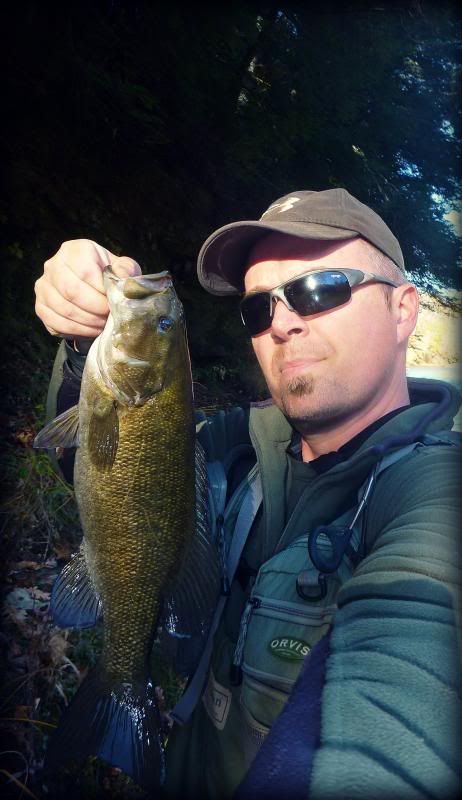 Shadows fell. It got colder
quick
. Thought of heading back up to the first spot to get double digits, instead headed back up my near vertical climb back to the car.
Ok, a lot less maneuverable in waders. Yick!
Found a couple places that will be good wintering holes for sure. If we add more water, I'll hit them in the kayak next. Need to get those bass out of the middle before I come back with FnF. Pools are too big, more cold water will bunch them up and out of their hidey spots.
Nice change of pace today to fish dirty, cold water with vibrating baits after 3 weeks off from fishing.
9 Bass 7-SMB (17.99", 17.5", 17",16", 2-15") 2 dink LMB