Friday Mike C and I traveled up to meet Gary R and Bob R to fish a couple lakes, try out some rivers, smoke a stoggie and meet Jeff Stanner (flippintube).
Since Mike and I got there first, we went for a wade, unfortunately we found a very swampy, weed choked area of the Pigeon river, where we got no bites and saw one three inch smallie. We went driving and found another section of stream that had some gradient. Not too far in the gradient was like looking uphill. The Pigeon has a number of lakes that it runs through that are damned producing current and gradient in some areas and slow swamp in others. Not a river to blind scout, as the Gazateer does no favors and ordinary lower Indiana streams are nothing like this one, as large areas of both the Fawn and Pigeon are choked with grass and lilly pads. To say it was snag haven was an understatement.
My nightmare stream to fish would be one with swift gradient and lots of fresh downed trees, channelized somewhat in the middle, and very, very few eddies of any type. No riffles and waste deep water everywhere. The water was dark but clear stain that with the dark black brown bottom ment visibility or spotting fish was not happening. We fished it three days for 3-5 hours each day looking for that magical stretch. Looked fish everywhere and it really is a great "target practice" river. We went over three different stretches with a fine tooth comb. The precise target practice that was neccesary will make most Indiana streams seem easy to fish from here on out! Accepting what the challenge of the river it was a good time anyhow as we cut up the whole time by the third day.
Tubes produced mostly as well as chatterbaits at times (when I dared) and the final numbers looked something like this: Day 1 BT: SMB 6 3 Googs, MC 3 SMB 4Googs, Day 2: BT 5 SMB, MC 4 SMB Day 3: BT 9 SMB 1Goog, MC 2 SMB, JS 5 SMB 1 Goog (I think).
BT 20 SMB (16, 2 15.5) 5 Googs MC 9 SMB 4 Googs
Here are a couple of shots of a fat 'lake' river smallie- also to give you an idea of the habitat: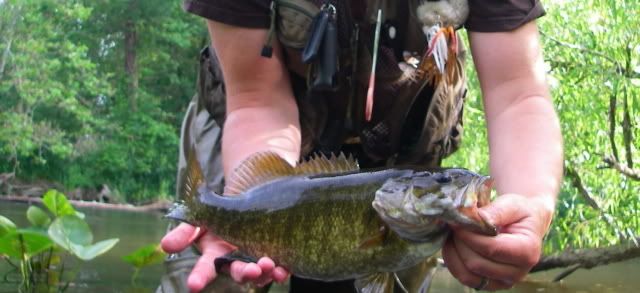 Fishing wasn't great, but the river made us think! It was fun, weather was fantastic.
The four of us met Jeff who is a pretty excellent dude and his chip, Carson. Jeff invited us to fish his father's 110 acre lake sat night and all caught a small handlful of greenies with some smallies thrown in, Gary had one round 16ish and I had a 15.5 on a swimbait. Fishing was off, lake was beautiful and thanks to Jeff for having us over and Gary and Bob for putting up with me . Bob for exchanging horror stories about a paranoid landowner.
Good time guys, we'll do it again, or start putting together a rodeo.