Looked like rain. So what? Fish are wet, I'd be mostly wet. I needed to fish.
Got out for the bike shuttle wade and got fishing just in time for the rain to start. With surface disturbed by rain, I went with a wake crank and Confidence Baits tiny tube. Topwaters just aren't that effective with surface disturbed by rain. I'd come back to it once the rain stopped. Wake produced a 15" at the first riffle, then a 13" on tube and half a dozen small dinks. Another 15.5" walking back up to the bridge on WC. Water looked hot downstream so I waded down a quarter mile, before heading up past a platoon of kayakers. There's no water and they're floating (dragging)? Dink trend would continue the whole day. Small dinks in numbers, anything 12" or better kind of rare.
Rain finally stopped and I went walking the dog with a Sammy 100 for two nice ones just under 18" by a hair. .5" total makes a mediocre day. If they were 18"'s I'd have been happy. Must be like a few hundred fish on this one by now, almost totally white. Finish has flaked off and all that's left are the eyes and some gray on the back.
Anyways, this was like a 5-6 mile wade. Never really warmed up. Travel time is killing me. Fished 6 hours. 1.5 to get there, hour walk bike ride back to the car 1.5 hours home. Got home at 10 with 6 hours of actual fishing.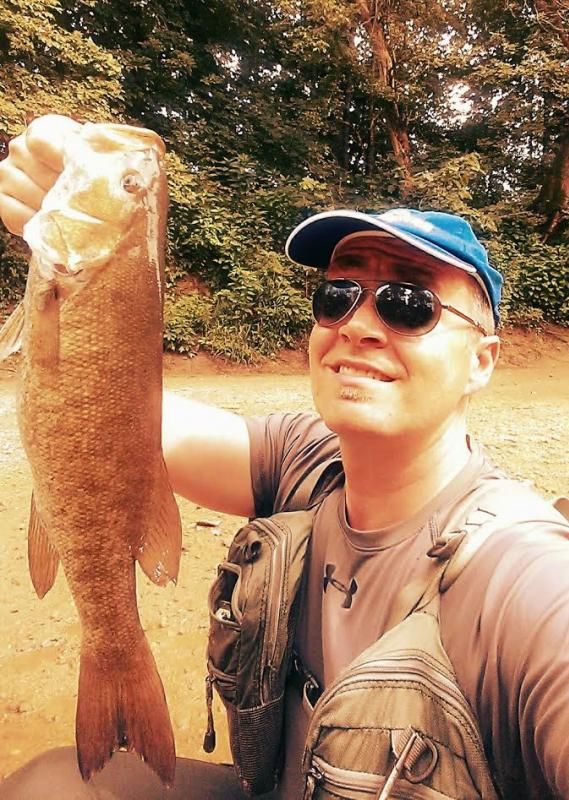 46 SMB (2-17.99", 5-15") 5 Googs 30 or so dinks.