Went for a long kayak float with Gregg, who is a fly fisherman. His first time fishing out of a kayak, but he does own a drift boat. Not a complete novice to floating and fishing smallmouth. I put him in a small, easy to maneuver kayak. I like to do this with most newbs. Easy to get out of danger and back upstream to remove your hangups. Fishing started out slow, but the water looked good. Medium sized river for the state, spring fed, water temps 63F. Day would be sunny.
Soon I found a chunky 14.5" bass on a tube next to a undercut bank. Didn't notice this pattern until later. Bigger fish close to the bank right on roots. Smallmouth were playing it tight, so topwaters were a non factor. Couldn't get them to chase either. I picked fish here and there on the tube. Gregg's fly was having a problem getting down beneath all that wood and fast current. We were on Indiana's fastest river. Characterized by clear water, gravel and scour holes found around wood piles.
After catching a few dinks, My Commander 120 drifted a long a undercut bank and I noticed 2 nice 15-16" smallmouth bass emerge from under the bank. Of course! I was fishing out in no man's land and needed to go slow and low in the slack. Next I spotted a 16" under a log I had floated too close to. It was made up, in my mind, the bass were in shade and close to wood. I quick pitched a tube under some brush and was rewarded by a thump and head shake. Unfortunately the fish cam unbuttoned. Not before I could see it was in the 17" range.
I told Gregg the river widened soon and his fly would have a better chance without the fast choke points. Look for shade at cast to it with kind of a deadstick presentation. For his part, he was putting the flies on the money. Just a different ballgame out there. If you can't get in the scour holes, you aren't getting bit.
At the bottom of this larger pool, the river split into two tails that would come back together at a log pile at the bottom. I fished 4 14-14.75" chunks, who were almost grotesque by Indiana river standards. Then a couple dinks. I was at 20+ SMB without Gregg bringing one to hand. I sent him down to the log pile first, as I thought there would still be some nice ones for him to pick out of the wood piles.
In our state, you have to be able to fish wood. Get down in it, yank bass out. It's often where they hide. Downed trees provide bank protection from erosion, cover, and cause current to scour deeper holes. Smallmouth bass are naturally attracted to them. As I sent Gregg right. I went left, on what I thought was the smaller, more choked side. We left our kayaks behind for each choke point. You don't want to float into the fish and spook them.
So, I'm climbing over limbs and downed trees like a gazelle. (I love to climb on stuff) Suddenly, I spot a nice little scour hole that looks oh, so suspicious! Flip my tube in there and watch the line travel in a direction it shouldn't. Set that hook. I've found a nice one, this time, the fish doesn't shake free. 17.25"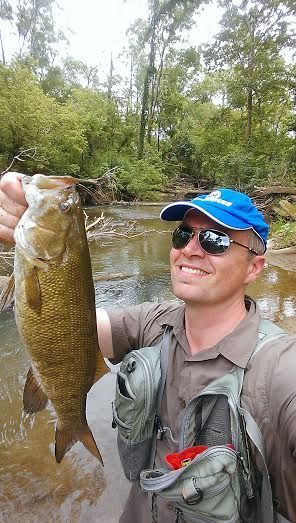 I meet up with Gregg and he hasn't gotten any. We throw a little tube on his fly rod and soon has his first fish.
I pick this nearly 18" smallmouth bass floating next to a huge woodpile. The fish on this river really use the current to fight. Another fat smallmouth.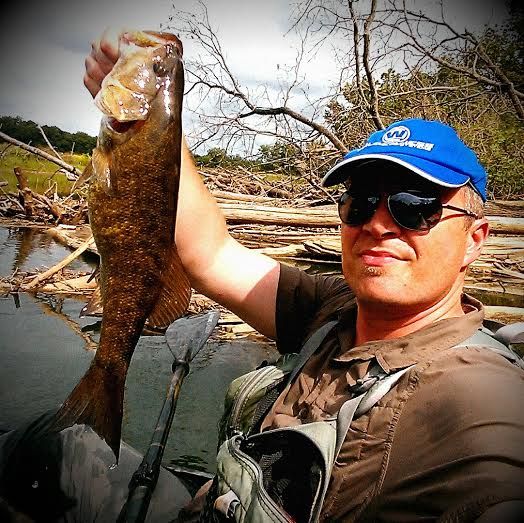 Not long after, the bite becomes a buzzbait bite. Almost. I have two mammoth bass jump completely out of the water at my lure without touching it. Frustrating. Both were 18-20"ish. I seem to be stuck in the 17"'s more than usual this year. Gregg connects on a nice one which he brings to hand in the 17"'s. He added a few more as the river opened up and current lessened.
We get to the take out and loaded up at dark. Pitch black. Gregg loses his camera bag and with it all the shots of my standing in my kayak and the fat, fat, fat 14"ers I was catching.
29 SMB (17.99", 17.25", 2-15") 10- 14-14.5" 2 Creek Chubs 10 hour float. Not fantastic. I got some at the end on a buzzbait, but the hooks seemed dull or something was otherwise off.