After day two's pigs, and personally being on a roll with 18-19" smallmouth (6 in the last three trips, good for Indiana). I had to fish day three. Turns out the others had gone west to look for clean water on Friday and not all packed it in. Most of the guys did get 2 days in. I decided to add a third different stream to the mix. Three streams, three days. Water was stained more than I would have expected. I started out throwing tube and a chartreuese 1.5 square billed crankbait. I was rewarded by several nice fish and a bruiser 17.75"er I picked off a log. Love it when fish are right there on a log like they are supposed to be. Great fight and thick bass.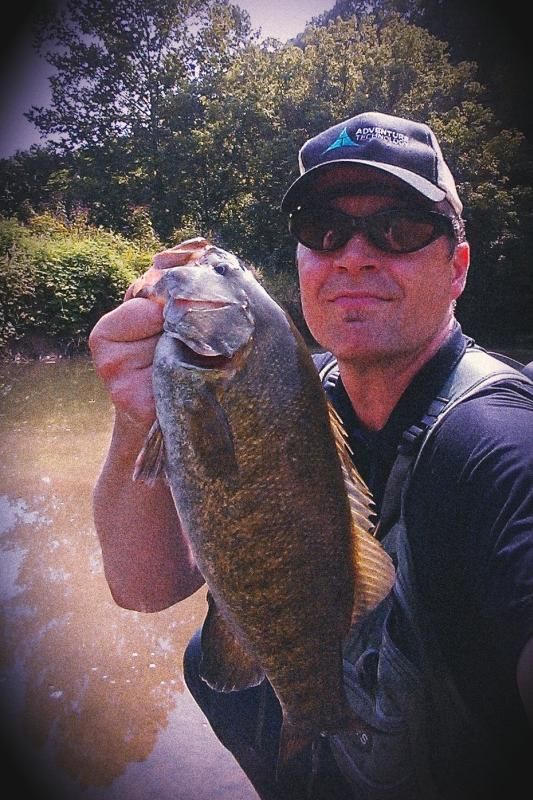 Not ten minutes later, this thick 18" inhales the same crankbait at the niddle of a rocky pool below a riffle.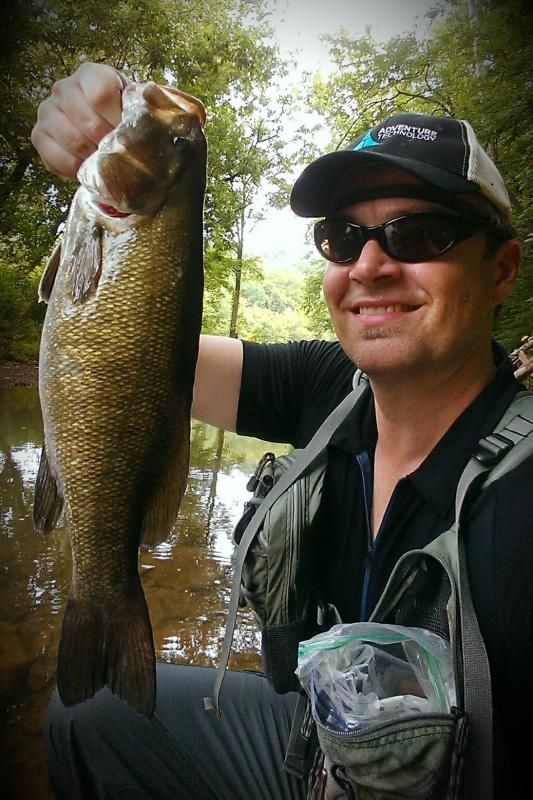 Caught some decent spotted bass as well. The water had cleared up throughout the day and I started throwing a Sammy 100 for the distance casting ability in the clearer water. Several 16" bass later it was turning out to be a crazy day for medium sized smallmouth bass, with 15" and 16"ers at every pool I fished.
Finally hit one amazing spot in the bedrock. First cast with the Sammy got eaten and no less than 8-10 other large smallmouth bass followed it back. When I noticed all those bass and some larger ones in the pack, I shook lose the 16"er on the hook while it was till 20' away. Sat down and had a water. Idea here to get them set back up, so I could pick them off, one by one. This worked. The next bas to hand, a 17.25" bass, then after another rest, this 18' smallmouth bass. All on Walk the Dog lures.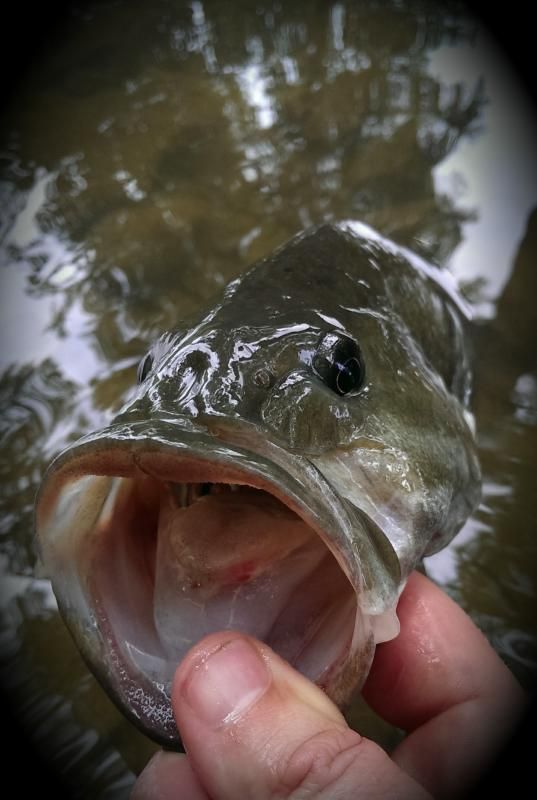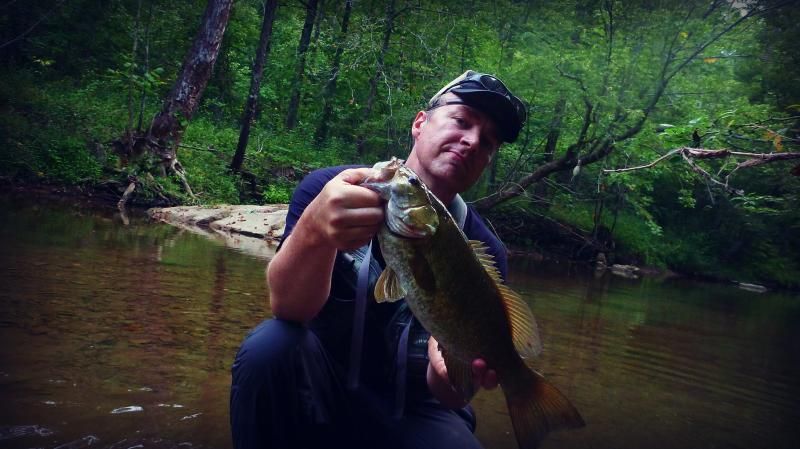 There was a storm brewing, fishing got ridiculous at this point, lots of misses due to needing replacement hooks. I added a bunch of 15"s. The rain started to pour. Whenever it rains, I give up the topwater. I feel the main advantage of topwaters is the noise element they produce. This gets drowned out be the noise of rain.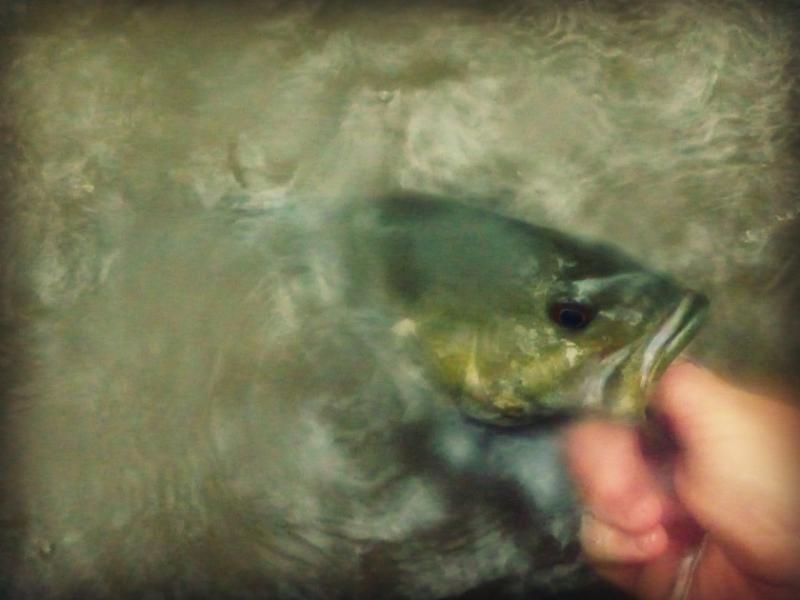 It was quickly becoming stained. I made my way back to the previous multi pig hole and nailed another 17.25" and 16" on the crankbait.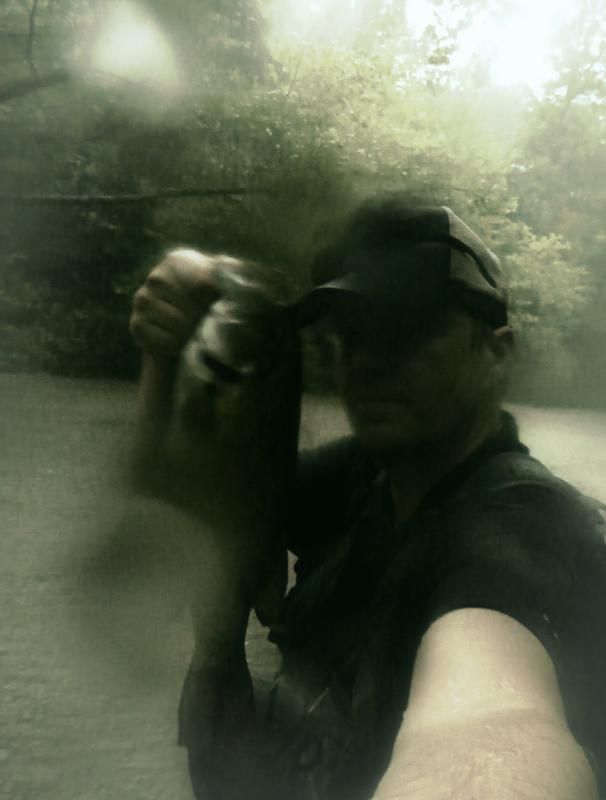 7.5 hours wading 34 bass 6 KY Spotted Bass28SMB (2-18"-18.25", 3-17.25"-17.75", 5-16"-16.5", 6-15") 4 rock bass and 3 Shiners dumb enough to end on a hook.
Crazy wet from the storm. Got kind of cold, but so worth it. Nice