I had to go fishing. HAD TO. Spent all week combing the job market, trying to remotely fill IT positions on the east coast. (Know any Senior Network Engineers in Arlington,VA with Public Trust or better clearance?) Stuck. In. The. House. All. Week. Sandy's been great. I need to be around people or fishing.
So it was that I drove nearly two hours to fish on Tuesday. Mental Health day. It had just rained all weekend, surprisingly the river was only stained and of all things, low. Too low to kayak, so I took out the studded Sims boots and got going. The skies were gray, but I don't care about that. Give me a river and I'll find the bass under any situation. Rain, or
Hurricanes
.
Things start slow. I intended to head downstream to some really great places Mike and I had found euphoria on last Fall. I went upstream for awhile, intending to head back down. I never did. Two giant wide pools later and my wade was looking like a bust. One crappy slap at a Sammy, nothing doing on crankbaits in very likely water. The sets the mind to wander. Had I driven out here on the wrong day? Were all these 70 degree days in August and July shutting them down?
I had a 14" grab my crankbait. The kind where the fish had to have followed it a ways and finally the bait does something it likes, the bass commits. 4' from me. Not exactly the start of a pattern, but I knew they would chase. Water seemed warmer than the air 70's vs upper 60's.
I'm throwing a Lucky Craft Jointed Wake Crank in 1.5 and some white shad pattern. Off to the side. A 16"er slams it and I bring it to hand with a nice fight. Then a dink. Side slot, down from mountain drain valley. I try the Little Tube at the rootwad. Bunk. Nice fish. Another 16"er. This was looking up.
Heading upstream I spot another,"side pocket" below a riffle, below a large pool. Long cast with a wake crank. Some disturbance and then a fierce strike! Looks like a good one, then overpowers and down into the fast water. I see the fish is barely hooked. One of the three rear trebles only. Keep it tight, I finally take the fish into some water willows for a landing. By the way, this is a kind and safe way to land smallmouth bass. One, the willows serve as a kind of net, preventing that hook in hand we all hate. Two, it is far better than rock and sand that rub off the bass's slime layer. 19" and some change.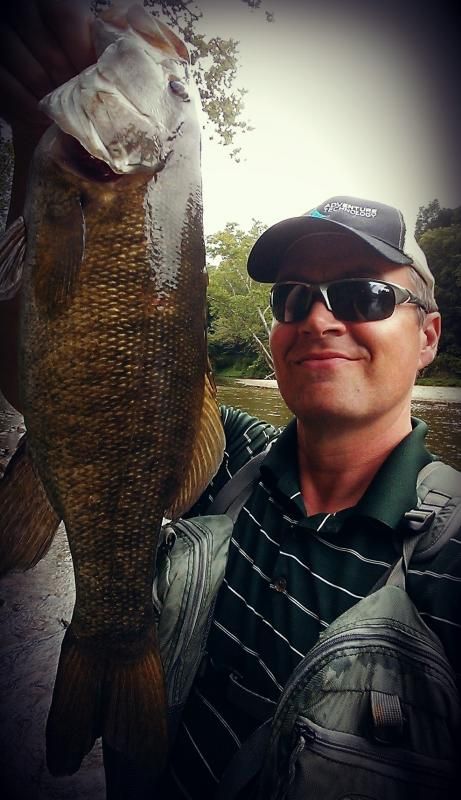 3 fish over 16" already out of 5 bass. Pattern was the third larger fish in side pockets. I kept going a fish here or there on the wake crank. If I burned it and paused it, they would eat it. I added some decent bass here and there. Finally hit another side pocket. Whoosh! Big fish and hell of a fight, pulling drag after getting in current. This bass was missing almost all of the rear fin and still measured 18.5".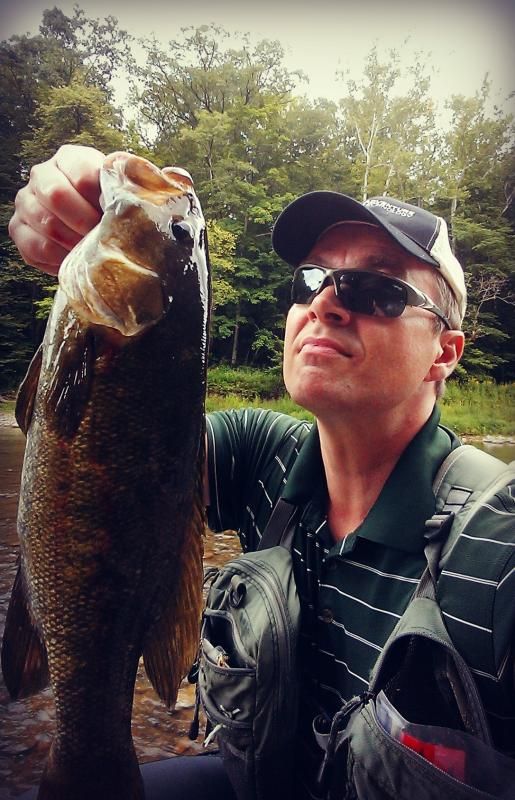 I catch a 14"er next in that side pocket. Move up and pull a 16" from some fast water, literally ripping the WC as fast as I could. next cast has a bigger fish swipe and miss. Again, big fish eating below the large pools. I hit a huge C shaped pool and have another giant swipe and miss at the tail end of a pool. The fish had been sitting in the current break caused by a buried log.
3-4 bass from this large pool, including a couple emphatically on buzzbaits. Nail a 17.5" off a log on the Wake Crank again. An eagle perched above in a 100' sycamore, is jealous.
Grab a couple, or three dinks. Long dry spell for an hour on good water makes me think they are done. On the walk back to C pool. I start catching in the same places. 7 more bass with the highlight this 18.5" smallmouth bass. So satisfying. I made the perfect cast deep under low hanging branches and still got it within 1' of the bank. Fish immediately exploded on the lure and took drag everywhere. Thought it was huge, but turns out was foul hooked. I had just replaced the belly hook on the WC with a fresh Gammakatsu treble. A great reminder to replace hooks often. The only reason this bass came to hand was that insane replacement hook. I fully believe on rotating trebles out with lots of action. Less misses, more catches. This fish was proof.
So, the smallmouth understood I needed a big fish day didn't they? Right when I needed it? I thank them. Always thank them by letting them swim free.
Fished 6 hours and finished with 30 smallies (19", 2-18.5", 17.5", 3-16")