I volunteered to lead an expedition of river survey volunteers this Sunday with an objective of spotting and documenting flood damage from June of this year.
We split up into two groups and headed out for a long wades of 4.8 miles and 3.8 miles respectively. Since I was going with the fly fisherman, we took the shortest of the two. We were looking for heinous logjams, farmfields made unplantable by sand, etc...
The stream was a silty mess, though famous for Smallmouth Bass that grow large. Too many high eroded topsoil banks with farms right up to the creek had taken its toll. Even though the creek was in awful shape, the vegetation that had grown in had made it hard to identify and new damage. We did more fishing than GPSing.
Right off the bat I caught a walleye on a tube. This was my first here and quite a surprise. It took a while for the bass to turn on. The water was very cold, and the habitat very wide and shallow. A total shame. Eventually it warmed up and I caught assorted Spots in the 10-11" range, with an occasional 12" smallmouth and finally a 16"er on baby Sammy. My wade partner was fishing much slower. Not having much success with the flyrod. He didn't have polarized glasses and suffered for it fishing spent pools too long. Good dude, and will make a good smallmouth fisherman.
Predictably, at 530-6pm larger fish got active as the habitat we walked up on got a huge improvement for the better. I hit another 16" on the LC splashtail along with a few others. Had another large fish go airborne for the bait, completely wiffing. At the top of the pool I caught my one and only bass on a tube, a nice 14" fish.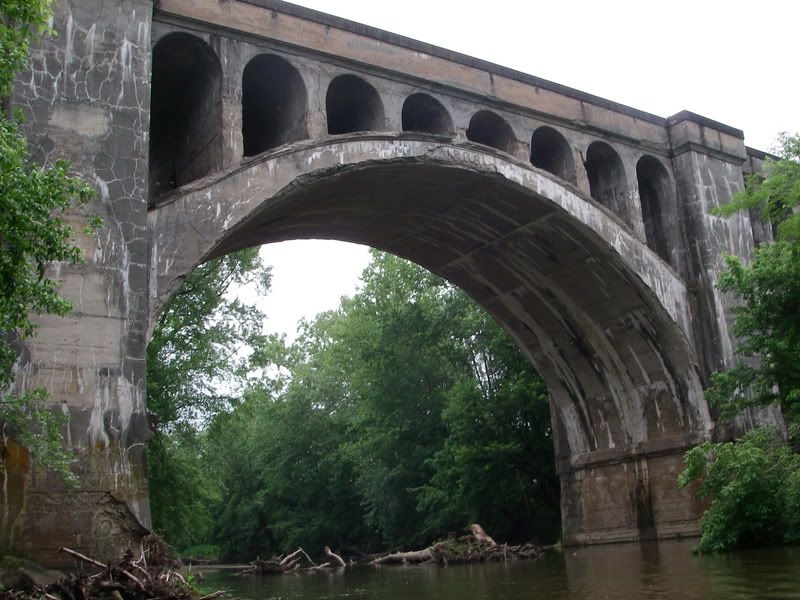 I tossed the Splashtail 90 along a laydown. The stop and go retrieve that had been vital all day worked again. This time it was a very large fish that was hooked up, it jumped, dived, ran and was gone. Didn't feel so good. Don't know what I did wrong. The hooks were still good.
It was nearly dark, so I started my power walk to the bridge where our take out awaited. I live for the "Power March". Until you witness it, you have no idea how effective it can be. Basically, you find the topwater that's working and never stop casting and never stop power walking. Sense of urgency about both making lots of casts, deadly accurate casts, and covering lots of water. You can get away with this because the sun has gone down and the fish are more hungry than they are spooky. The noise the lure makes certainly helps! Sometimes it's a jerk-jerk-retrieve, others burned in works, painfully slow almost noiseless bubbling can be the ticket-you have the previous few hours of observing what worked on the dinks to learn the cadence when the big fish come out from under their cover.
Bubbly water areas are sexy, one such toss got bit pretty quick, resulting in this fish. Delightful. Measured near 19":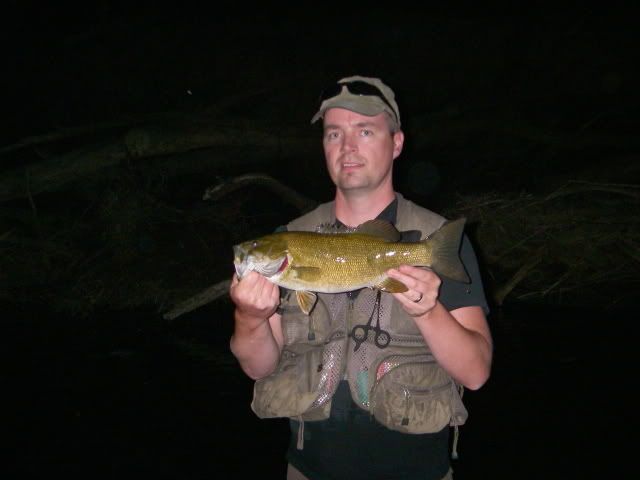 Knowing when to switch gears and put it in overdrive, is a huge thing for both catching more fish and bigger ones. Especially in summer. Smallies become quickly spooked with clearer water, hitting more pools
stealthily
will catch more fish. Many anglers stand right at the creek's edge in full site- I see your foot prints!. By then they've run the risk of spooking the pool. They might get one or two casts before they are wasting time and effort. The only reason I can think for this is they don't like dragging the lure over rocks. I don't dare crunch those rocks so close to the water until I've fished the pool well. I'll cast from 25-30' back on sand bars, keeping my noise further away. remember, it's not just smallmouth down there you have to worry about spooking. Stealth+long casts+Cover lots of ground=success.
25 Bass (19, 2 16) 1 walleye and a sunfish with 8 in the last hour.