Headed out for a day of new streams on my quest to hit 30 Indiana streams this year. I went south of Indianapolis for once. 24, 25,and 26 would fall today as Ike roared into the state.
Started on a silty, wooden stream that feeds the East Fork of the White river. Caught a few tiny spotted bass on various lures before landing a 14" smallmouth bass on a buzzbait. The banks and bottom were almost entirely sand. Made it difficult and tiring to walk very far. I turned around after 3/4 mile and headed back. I started catching larger Kentucky Spotted bass and Smallmouth on the Sammy 100 worked slow. There were a lot of tiny dink bass in the creek. I decided it was a mess, so I bailed after 3 hours. 9 bass of no real quality.
Heading far south, I jumped in on a winding river I knew next to nothing about. The river was about 50' across and had obsidian shale shelves. Looked great except for the stained almost muddy water. Must have rained. I fished for 15 minutes and headed back to the car. At the first riffle, my tube got slammed by a decent fish that turned out to be a 17" freshwater drum or sheaphead. I knew there would be clear water elsewhere.
Drove to the next creek. It was a wide shallow rocky creek with a road along side it. Probably too much. The fish were on the topwater just like the first stream, but they were small and holes were a hundred yards between. I moved fast and eventually hit a 15 and 14.5" off a log on buzzbait. Then 5 more fish 12-14" in another pool as the wind started going nuts. Leaves were landing on the water and branches began to fly about. I kept going because the bass were turning on. A very large tree ahead fell in the creek. I eventually hit a wide deep pool and turned around right at a town. 16 Smallmouth bass, couple really active sunfish. Headed to a new stretch of an old favorite...
When I finally arrived at the mother stream, it was quickly apparent the bass would be active. Whether the larger fish became active there or were non existent in the other small stream I cannot say. I do know what happened next was pretty incredible. Everything I threw was successful. In the next 2.5-3 hours, I caught fish on Buzzbait, Splashtail 90, Sammy 100, Wakebait, spinnerbait, chatterbait...
The smallmouth got bigger the further I walked. I knew the bite was on bigtime at this point, rushed at a gallop to the better holes. As the 40-50 mph winds of Hurricane Ike blew down trees, leaves and branches everywhere. The surface of the river was covered in flotsom and jetsam. It was hard to get the topwater lure to run right. I landed several 11-12"ers, then a 14", 15", 14".
I hit a larger pool, hell broke loose. A large fish blew up on the Lucky Craft Splashtail 90 dual propbait. I was working it like a jerkbait with pronounced pauses smacking the surface. A fish eventually struck home after several tries. As the large brown yellow bass went airborne I could see it was large! What a fight. As the bass neared, another the same size had followed in. After a quick photo shot and measure the Smallmouth went 17.5":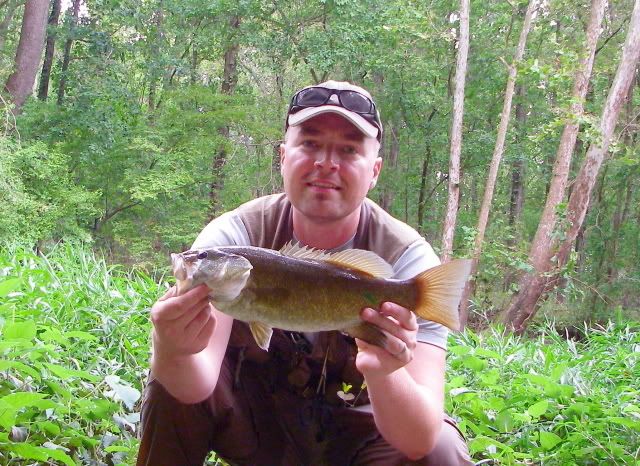 Next cast same story, after another incredible fight I landed this 18" fish.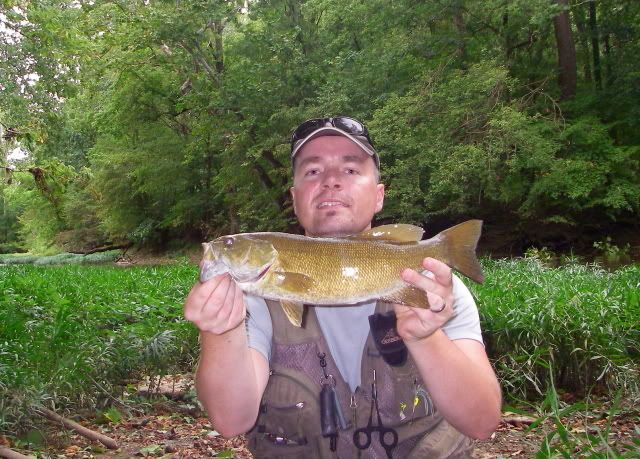 Casting the bait back out quickly it got bit by another 14-15"er that was followed in by three more of equal size. This was getting good! I threw on an old single blade 3/8th oz buzzbait thump! Then it got ridiculous; a huge fat fish exploded out of the water 3' in the air and pulled drag all over the place! Finally got it ashore another plump 18" fish!
Caught a couple more from that pool and moved up busting it hard to get to the next good hole. When I got to a bend in the creek I threw on the Rick Clunn Lucky Craft Wake crankbait 1.5. The bait worked like a charm, as it dove just under the leaves. It got slammed again and again as I landed a 16", 15", 17, and then another 16"er.
I kept going through a long deep pool and it seemed the fishing had died off after the misty drizzle. The wind had finally calmed down.
I mixed it up with a white\chart chatterbait and got a 'THUNK' crazy fight from this nice 17.5"er: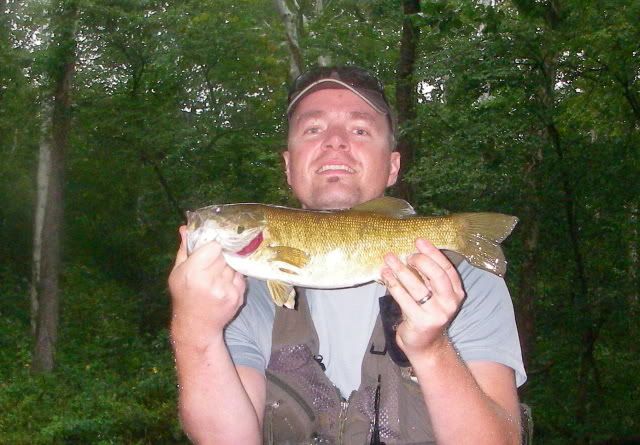 Couple more 12-13" on the turn around, then walked out before dark hit. 29 good fish in 2.5 hours!
10 hours fished 53 Bass 47 SMB (2 18", 2 17.5", 17", 2 16" 3 15") 6 KY Spots, 1 17" Freshwater Drum, 1 Goog and a sunfish on Sammy 65.