Mike and I got on a creek by 7am. He threw a Sammy all day. I threw one 80% of the time.
We were cutting up the whole day smack talking as we had a shootout brewing. Both of us threw plenty of topwater. Mike struck first on sizeable fish with a nice 16" on top.
He caught a nice 17.25", while fighting it I hooked and landed a 16" on top. While holding the fish in water waiting for me to release and get my camera Mike accidentaly let her go! I thought he'd get another because we both already were at about 10 fish 2 hours in.
Weren't many 13-14"'s odd. We either got 15"+ or 12" unders.
We ran into a local property owner that was very nice fishing creekside with a grandson. He said the flathead population was up and they released everything they caught. Nice to hear!
On the moveup, I caught a couple 17"'s and a 16 on 1/8 Buzzbait. As well as one fish on a tube.
We ran into the same people again sitting at a different part of property upstream. I chatted and caught a 17" in front of them on top when Mike told me where to cast.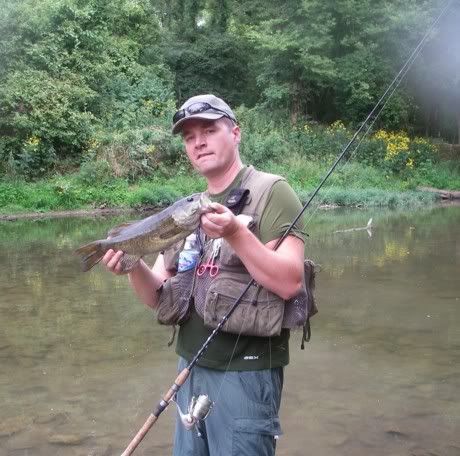 We picked up some 15's here and there, I landed a 16" who swam inbetween my legs an impaled my pants with treble, then another 17.5 for me. I had a 19-16 lead at halftime. Mike forgot to go in for the meeting and caught 5 straight fish from the same boulder area I got my 17.5! He was up by 2!
Mike told me to cast over by a downed log in 18" of water because he saw a minnow get popped (notice a pattern here?). I reared back threw left handed and got bit three wags in, by a dinker who pulled on an angle all the way down the log- some 20ish feet- fish came shooting out of there when it got towards the end suddenly there were two fish on my lure- one going 17"!!!
First, I wasn't going to throw there. The log definately didn't look fishy. I would never have caught the bigger fish if not for the dink, the opposite of my last report and perhaps a bit of justice. Props to Mike for calling two of my shots for me today.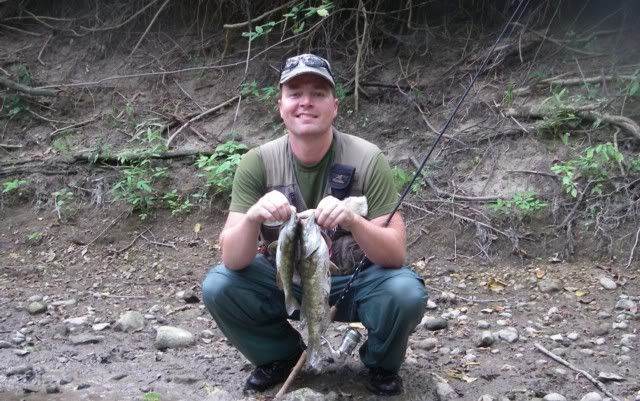 I went on a good run with a prop bait, then we hit some woody slow algae filled water and the bite died off.
Final score in our shootout: BT 33 (17.5, 5 17", 3 16" 3 15) Wool 27 (17.25", 16, 4 15-15.5")
We waded 4.1 miles in 8 hours with the last two hours almost a skunk.