Tried a totally new stretch on a familiar stream. Don't know how I overlooked this one in the past. Too close to civilization?
Got on the water about 6:15am, which was pre light. Proceeded to break the ceramic of my rod tip guide in a tree. Filed it flat and kept moving.
There was goodly amounts of wood on this stretch, picked up the first fish, a 15"er on Sammy while a couple others thought about it.
Moving up I spotted a big boulder sticking out of the water. I heard a voice in my head say, " That's too tacky!" but my arm threw anyway. When the Sammy aproached the current side of the boulder SCHWAMM, a big, fat, powerful fish nailed it. The fight was on, it quickly tried to jump, but hardly came out of the water. It ran towards a tree, my drag zinged and it turned just it time...to go on a drag peeling run downstream. Yes! Finally got the fish turned and beached it. My jaw hit the ground. What a beautiful Smallmouth, easily 4lbs, but shy of 20".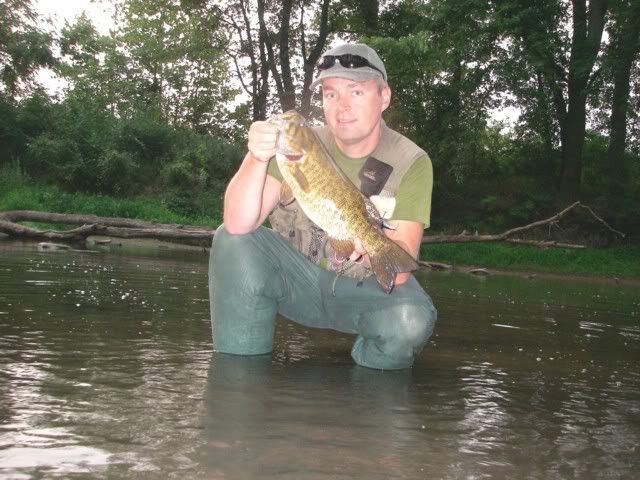 Next pool up, I hit this 17"er on Sammy guessing depth or wood where I could see none. Nice start!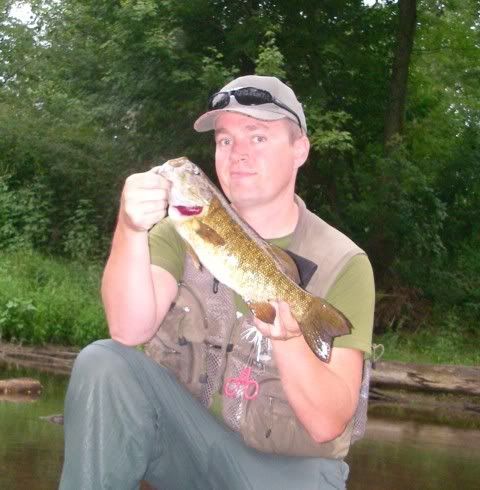 Then for a while I caught 8-12"ers, another 15".
17.5"er on Sammy who bit on the splashdown.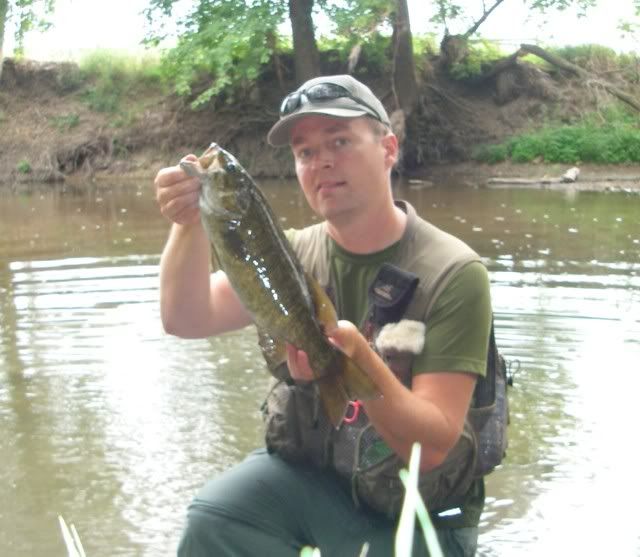 The bites just didn't slow all day long, several times I looked down at the time and was shocked to see how little time had passed. 4 hours in I had 32 Bass! Gotta keep going :) .
Here's a fat Smallie just short of 18" who followed the dog about 20 feet before he got it: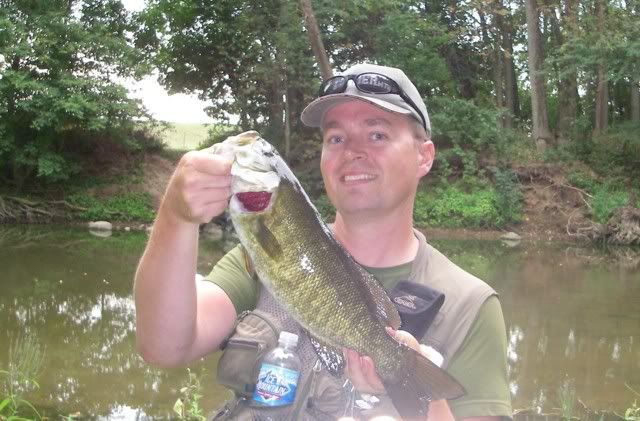 3 or 4 more good ones on WBZ, then this guy on Wolkabuzz (17"):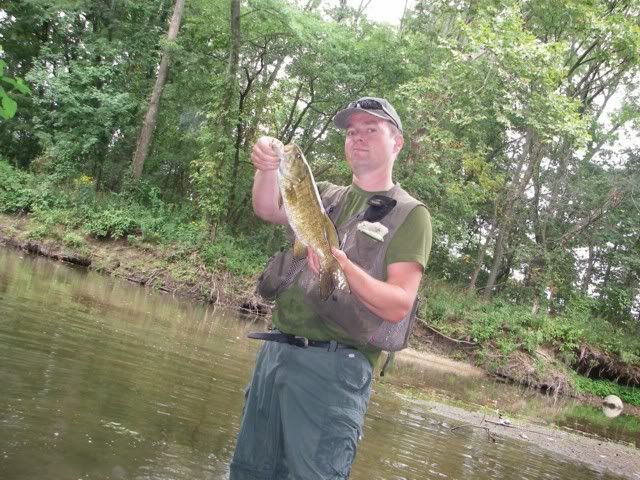 Stuck my hand in stinging wood nettles taking this pic :? :oops: .
Go to a hole where I caught 3 straight 15"s then another 17" fish these fish were going nuts: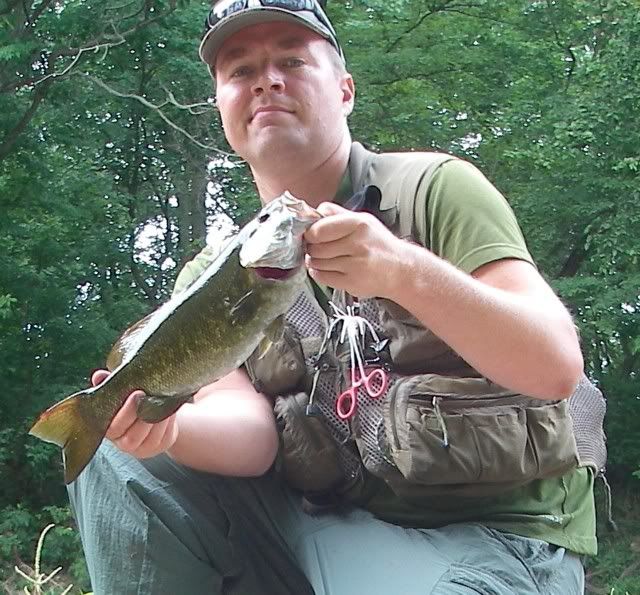 Arrived under a bridge where it was evident the locals party pretty hard. Was just going to skip it when I looked downhill and saw a medium bass, a very large bass, and a smaller bass. Threw on the WBZ- they all went after it- the larger fish knocked the WBZ into the air and the smallest one got it on the landing :roll: :cry: ! I heaved him up bank and the larger of the two bass was still sitting there a foot from shore looking for his food. Tossed a tube out for him, the line took off- another 12"er got to the bait first! At this point, the hawg left and I saw him no more.
Pretty much threw topwater all day. Amazing, Buzzbait or Sammy both worked well. At one point I pulled out a tube and caught a smallie and a Goog.
Another 17" WTD victim: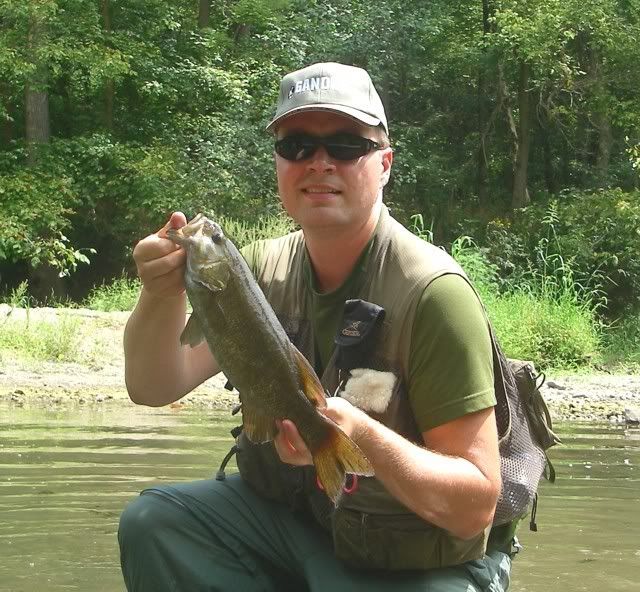 Then it became a matter of beating last Thursday's numbers (allbeit in 4-5 less hours) Slammed 3 or 4 more 15"'s on Wolkabuzz, when I finally got #60- all of 6"!!!!
I'll take it!
Walked back to the car, big smile on face, which is still there. 3.14 miles fishing (7 hour 15 minute) 6.43 mile round trip.
60 Bass: 57 Smallmouth (19"+, 17.99", 17.5", 17.25, 3 17", 11 15-15.5") 3 LMB 12-14", one Goggle eye!