Got out for a wade Thursday, hit a stretch Tim S will recognize. Got an the water by 9:30AM and it was overcast and the water was a bit chilled. Visibility was 12-14" initially then improved when the sun came out around 3pm.
Fishing was slow at first, lost one on prop bait on jump, then a few half interested slaps. Tried throwing everything, at one point I was tossing a jerkbait and jig. Got a LM on prop bait when it hit the water near some weeds. That kept me from turning around 3 hours in.
Caught a 14" on a tube then another on a Sammy when it hit water. No patterns... Fish seemed off.. but then it started to warm...
I was throwing for one of the many downed trees when a good fish came out and nailed a Bluriversmallie WBZ. The fish wrapped the branches and I had to go get it. To my surprise, it was a beauty 17" with dark green and black markings. Here's a photo of the fish, which didn't do it justice.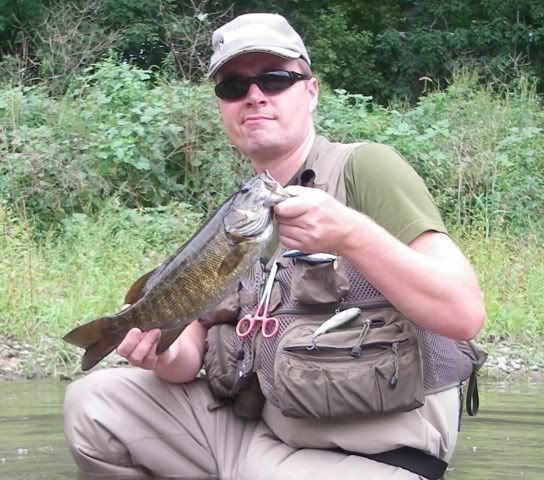 I kept throwing the Wolkabuzz and had some promising results. There was an excellent laydown at a bend and riffle with riprap. caught a couple more on WBz, then a nice fish on Popper called out of the wood. Another solid splash left my popper hung on a log branch. After retrieveing it, I headed upstream again throwing WBZ, fish started cooperating full force. They were hitting all sorts of topwater but none consistently.
By the time I got to my 12th fish I had an 18", 17, and 16.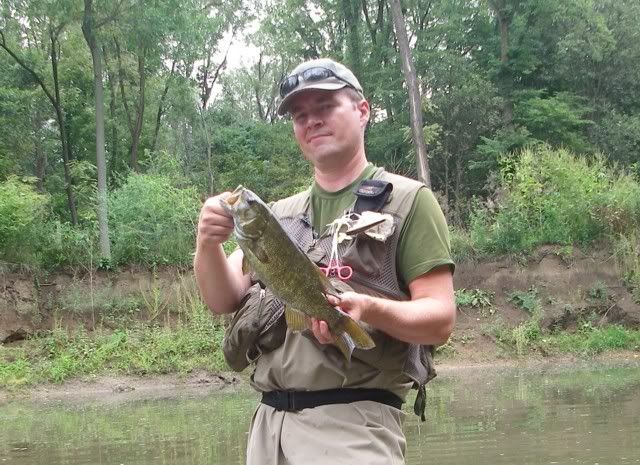 The rest of the day, I alternated between Sammy and WBZ. When a few larger fish didn't get hooks, I replaced the trebles for immediate results. land % went way up. Unfortunately, no more larger smallies.
43 Bass and 2 Googs: 38 SMB (18",17", 16", 2 15") 5 LMB (16"). First three hours were crap, the last 6 pretty excellent.
Fun to get out after a week of sealing driveway and painting house.