JBCook had a birthday yesterday, so naturally got a day fishing as part present. He was half-sick and recovering from wedding hangover when we rolled up on a stream to tag team it. We got on the water around 9am. Fish were hitting popper right away and then JB's fluke.
Then continued to nail super fluke all day for JB, who was in constant danger of losing his last fluke. He worked them like a champ and pulled ahead after getting behind early. We were catching plenty of nice 14-15" fish. JB caught this 18"(fluke) in the middle of a large pool.
Not a few casts later, I landed this nice 18.5"er: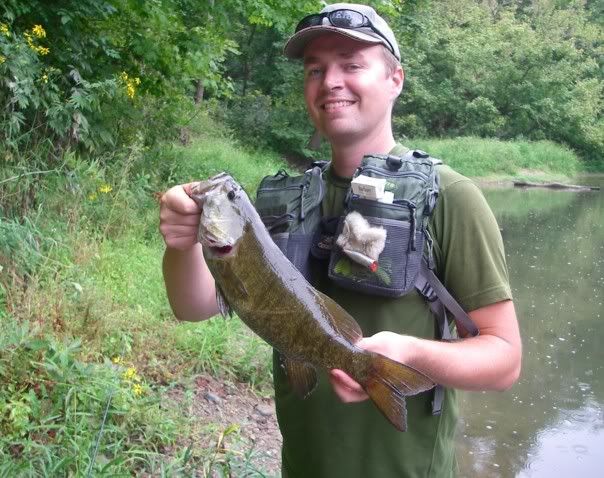 Let the spot calm a minute, then got bit again. The fish was landed but flopping. I grabbed the stick bait firmly when he shook and impaled a treble deep in my right hand. After some debate JB, helped me poke the hook point through my skin and cut the barb and point off. It's amazing how strong the human skin is! Then we backed the hook right out and went on fishing.
Here's an artsy shot for the squeemish:
Jason caught this 19" (fluke)
I caught this 2"er: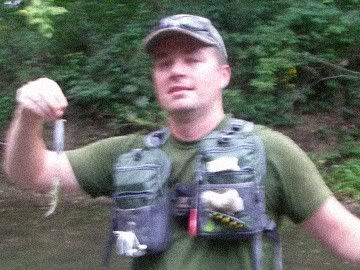 We both lost sammies in trees.
We both did well for size and numbers, but I only pulled close catching 12 (inc 17, 16) on buzzbait on walk back to car when Jason's sickness had gotten worse.
BT 32 (18.5, 17, 4 16, 6-7 15") JB 35+ (19, 18, 4-5 16", mess of 15"ish)
Lots of fun and Happy birthday JB!