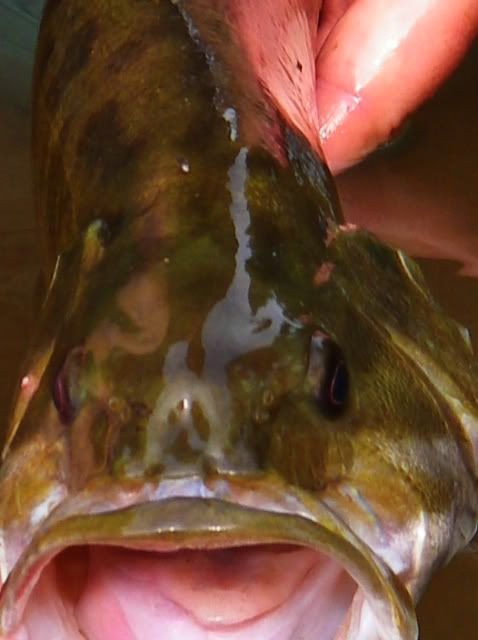 McHammer and I got on a very new stretch of a favorite of mine looking for a sampler platter of the olde browne Haugs.
We got to the water by about 4PM by a covered bridge somewhere.
Jim F gave us the pregame rundown since he had fished the area we wanted to hit before. Mentioned something about hitting a hole before dark.
Got to the bridge there were three other vehicles. A family was picnickin' and swimmin' and a bikini hatch wuz involved ;) . They were... loud.
Went downstream first because it looked like an easy wade. Mike wanted topwater to happen. He caught a couple and I 1 on SPT90. It wasn't really happening most of the day with the topwater action.
As we waddled downstream some yahoos on pool rafts (and I'm being very kind here) were float/walk/yelling/crying/peeing/splashing and slowly catching up with us. They sounded like they wanted confrontation, and I unsafetied the red pepper spray in case it got hand to hand. It didn't, though I beg, people, no more breeding. Please. 6-7 persons on blow ups. In one tube, incomprehensibly, a 5 year old boy and a 2 year old girl with no life vests, looking horrified, crying the whole time unnoticed by their 'parents'.
Now the river had good current in some riffles and lay downs-in a minute those kids could have been over with. Ugggh. :evil: :evil:
We sat and waited them out for about 10. I started slow bouncing a tube and got bit, landed a 13", then a couple more and a goog in the riffle they had just drifted through not long before. After about 20 casts to the same chokepoint, I hit the right spot in the roots of an upturned tree with the tube and all hell broke loose. The fish got in fast current quick and tore all over. When I landed the fish, it went 19" and my largest out of this stream!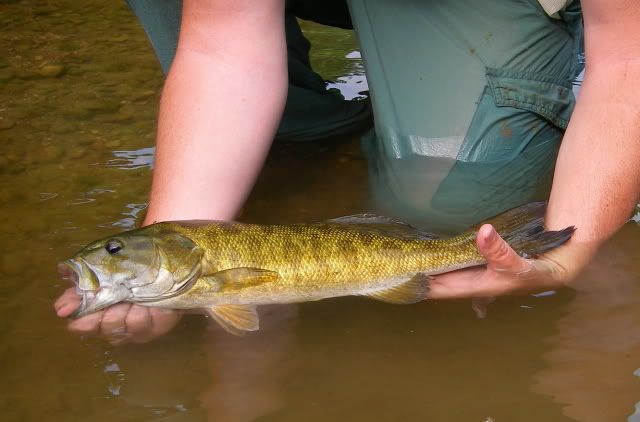 We moved downstream and it got woody then shallow and silted in. Finally we found an eddy created by a point and drain. First cast I caught a 16" that got in current and fought like hell. A few later another went 16.5" again getting in the fast current and running wild. Mike caught a dink. And we decided to walk back up on the adjacent farmland.
Ended up in a cow pasture, where a large black cow followed us for a few hundred yards. It got uncomfortably close and Mike commented how they could be pretty fast if they wanted.
Pretty much threw tubes and picked up a few more 11-12" each. We had a double at one point, then as we headed around "one last bend" I nailed a 17.5 that ripped me apart, then a 15.75 cast after in the growing twig light.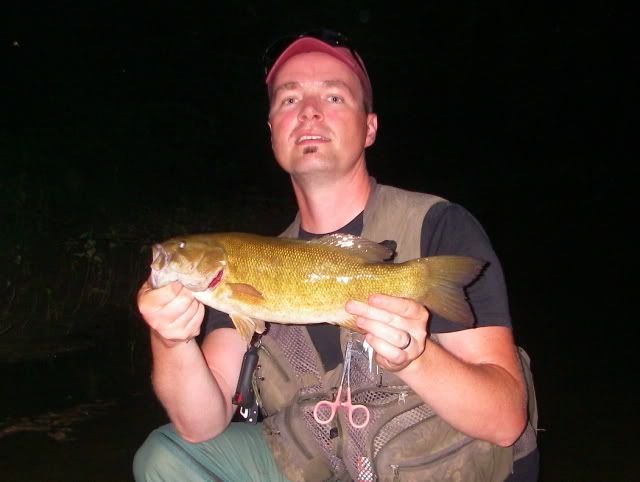 Mike nailed a 15" and it seemed like the SMB were turning on at dark. One more about 11" And Mike got bit by something large that threw off when airborne and looked every bit of 18"
On the walk back in pitch black, a fish slapped at my buzzbait dragging the water behind me as my rod rested over my shoulder in water we just walked through :roll: :roll: .
Fun wade after the people were gone. We fished about 5.5 hours.
BT 15 SMB (19", 17.5", 16.5", 16", 15.75") 1LMB 1 Goggle eye
MC 8 SMB (15)