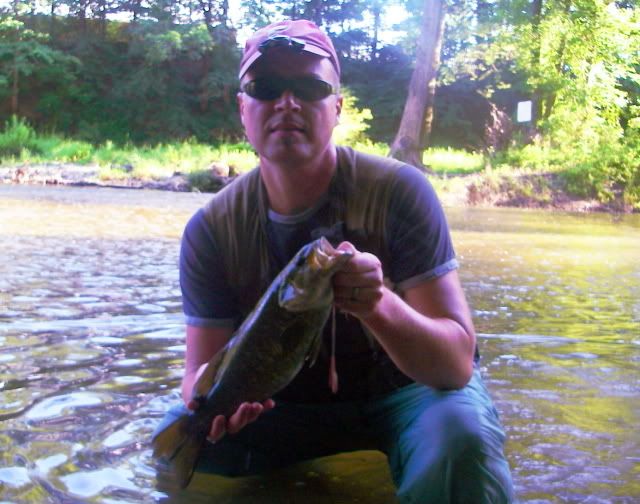 Hit another creek by 6pm today. Sun was high and bright, with visability to 2' stain. Pretty quiet minus one good blowup in the shade near some wood. Didn't see any fish, but did spy Mr.Muskrat nabbing some water willow for an after dinner dessert. He looked funny swimming underwater.
Things were looking bleak with that shiny scalder overhead. I made a cross stream cast to shade as I was wading downstream and fouled my buzzbait on a root. Worked it free and it got destroyed when it hit the water. This fish fought hard and went 17.25". Must have been hungry as it took the hook deep in the gill and bled a bit. Did my best to get him going again. Fingers crossed.
Fish were in shade and smallish other than that fish. Finally, the sun dropped into the tree line and almost predictably the Smallmouth began to wake up. I got a 16.25" on Sammytime at the rear of a large pool, then a 14" on a shallow flat. 15"er fell to Sammy at the back of another pool, then two more to 12" before I threw on a buzzbait to make sure everything in the riffle got a look at my topwater edibles. The first cast at the head of the riffle got slammed by a nice fish that went 16.5". A super large pool had some nice activity in the distance. Didn't feel like getting wet and caught a couple more above that riffle, turned and headed back to the car.
As darkness fell, I threw a tube at a sycamore tree at the head of a choke point. The bait got hit and I could tell a large bass was on. Almost had her landed when a head shake threw my tube. Fish looked 17-18"'s.
Walking back I nabbed another on Buzz at 17" in the pitch black night in 3" of water at the tail end of a large pool in the riffle rock.
Evidence of night feed again. Getting closer to doing a total night wade.
Fun.
17 SMB (17.25, 17, 16.5, 16.25, 15) in 3 hours 45 minutes