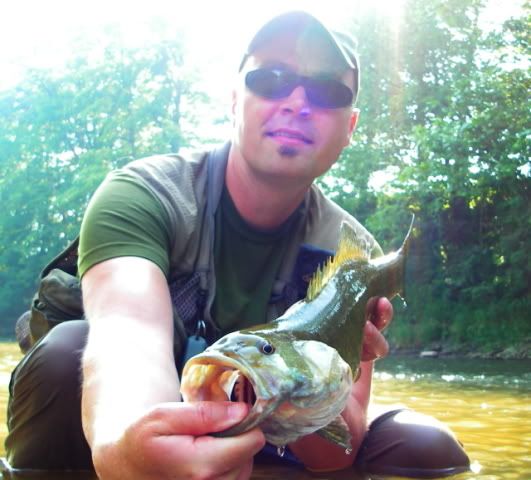 Went for a wade around 6pm. Knew light would be short so I moved quick. Headed for a wide shallow area of stream so I might have a productive topwater day. On the drive to the river, I realized 3/4ths the way I only had my dress shoes along :( .
After debating what to do, I could wear Mike's old waders without boots that I'm holding for AaronV. Or I could just wear my damned dress shoes and wet wade in them.
Guess which one I picked. I just had to get the crackfish pipe hit. No way I was driving back home.
Fishing started out great, smallies were in the current and the water had 2'+ vis with slight stain. Was throwing a LC splash tail around midriver boulders when it got swatted at several times then hooked up with a large bass that went 18". It almost didn't fight at all.
Moved up above this minor riffle and more fish swinging competitively for the prop bait. Today was the first really crazy aggressive [i]destroyer[/i] topwater day for me. The Smallmouth were hitting very, very hard, I hooked up with a 17" soon after. They simply were destroying the surface and I caught fish equally on all three 'go to' topwater baits. Few more to 15", 16" lost a couple on jump about the same size, fish were blasting at the tops and bottoms of pools.
These larger fish are usually not in this area, so I feared my destination pool would be empty. It mostly was and I rushed through it not really trying, desperately trying to hit as many riffles as my dress shoes would allow before darkness. I nailed a 16" at the top of the pool then another 17" above and a 15". Plenty of 12-13"ers in between.
Started walking back as I had gone too far and risked walking in the stream at dark- which I did. On the way back I mostly walked, caught a couple on superslow quiet buzzbait retrieved upstream.
30 Bass in 3.5 hours 29 SMB (18, 2 17, 2 16, 5 15) 1LMB (14") Made 4 casts with tube and swim bait and caught 2 fish, so they might have worked too.
Splashtail did a good job of drawing strikes out of cover aggressively popped and later towards dusk small non aggressive bloops worked. Poppers would have also killed.