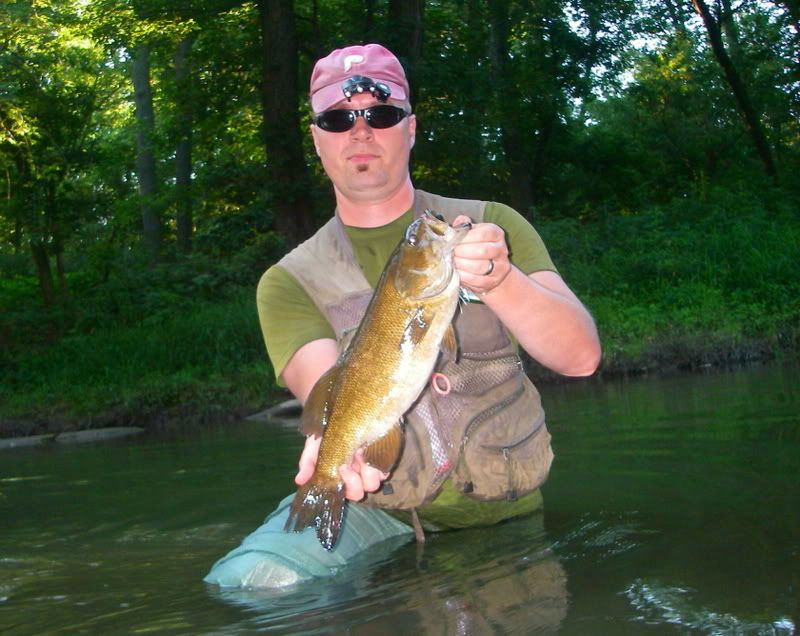 Took a short trip to a stained river somewhere in the state. Beautiful day so I made it there by 6pm. Vis was 12-18". At the put in, a decent SMB tried to nab my tube on the crank back. That was about my only action for two hours. Tubes, cranks, chatterbaits, and buzzbait got nothing. Finally, I got a 10"er on Splashtail 90. Hoping for a dusk bite, I kept going.
I hadn't been to this stretch this year, it was cool seeing it again. The stretch is filled with medium pools that are silty, laydowns and water willows. One side is a high cliff the other mostly a steep bank, when you get out of the medium pools the boulder and gravel pick up. Some natural boulder points are natural choke points. Unfortunately, while the sun was up, the fish weren't active for me.
Finally hit a laydown in an odd place- thought I eyed a carp swim under the log 3/4 stream right parallel to the current. Threw a black tube, when I cranked it fast and stopped it near the front of the laydown based on my only previous viewed activity, my drag went nuts! The fish went under and around trying to rub out that tube jig. I had him hooked solid and wasn't worried for a moment that the 20/6 Suffix would cut. Out she came finally lipped to 18.25".
Set the camera on the log snapped a pic, thought 'finally'.
From there it seemed to turn on somewhat. I couldn't find a pattern where the Smallies were holding consistently. They just turned on where I was at the moment. I got two more in two casts on SPT 90 in some push water, then a 16" LMB a few casts later off a boulder. It started getting dark so I headed back picking up 2 more on SPT 90 including a fish that hit the bait as I stepped over a log and went in up to my neck :( .
7 Bass in 3.5 hours 6SMB (18.25") 1 LMB (16")
I've fished with Sufix 20lbs test 6lbs diameter for about the last 5 times out. Here's how I'd compare it to Power Pro 20/6 so far. Sufix felt harder to break in than old PP formula. It didn't have 'gunk' on the line like old PP (old PP you'd have to overfill because the crud would shed during fishing and the line would get smaller). Sufix was hard to cast until it broke in. Here I mean inaccurate and inconsistent. When it did break in it was pretty smooth holding its color and smoothness longer than old PP. It doesn't 'fray' as quickly as PP (I like the fray). The major difference, and probably the deal breaker for me on Sufix is how easily snagged lures pulled off on my Palomar knot when pulling the rod straight back with hand over the bail. PP bends the hook most of the time, Sufix- the knot fails. Same knot.
I switched to Sufix the week after Mike, Jeff, and I fished the Pigeon. I lost like one tube jig in three days on PP 20/6. Pulling out snag after snag on the heavily wooded river. Then I used Sufix on a wade with Jim and lost 6 tube jigs on a stream that isn't so snaggy- this has continued and I rarely pull free a snagged jig with Sufix- The line doesn't break- the knot seems to slip- which leads me to believe there is something different about the line that doesn't allow tight cinching like PP does. This is only a problem when 'backing out the rod in an attempt to free lures. Sufix has given me no problems fighting fish.