Went for a quick wade about 540pm, ran into another fisherman (fly at my put in), he didn't care which way he went.
Told him I wasn't going to be fishing very slow so he could go behind me and I'd not make a ruckass. Started out throwing a splashtail, had a bunch of misses and 4 fish 14-15 pretty quick, buzzbait got ignored. Decided to throw Sammy and got 5 in a row 13-15", missed a few then got this 18" after another large fish missed Sammy it went airborne 4 times: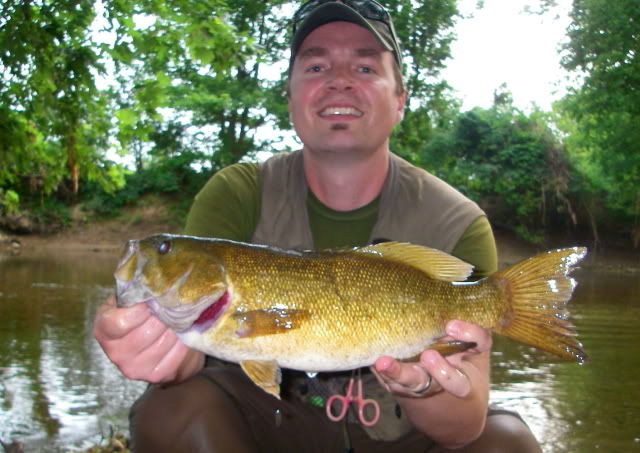 Kept moving quick, with no finesse baits thrown. Landed more than half of the topwater strikes, with Sammy getting most of the fish. Thunder was rolling up and I rushed to my target hole, only to see it was mostly filled in with silt and filled with carp! This one had changed a lot since floods 2008. Lots of missing bank moved lay downs and no fish where some formerly held.
Oh well, made it back to the car before darkness.
17 SMB in 3 hours 15 minutes (18, 3-4 15)
Forgot to add, several times I ran into Owls who initially tried to divebomb my topwaters. Had to scream at them to divert at the last second. That would be a horror, Owl hooking up with some sharp LC trebles. Cool birds.