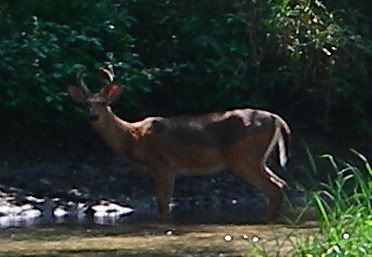 Got on Mecca once again and waded up this time. Stream was winding, well shaded, silty, and filled with all kinds of dead wood/sticks. A disappointment. The first fish was a Creek Chub about 8" on a tube, then a creek chub on Lucky Craft Splashtail 90.
I try to start out throwing topwaters to measure the smallmouth bass' aggressiveness each time out. Then I pick apart cover with various casts from a 3/16th oz 4"tube.
One such cast with a splashtail was slapped at by a good fish. I decided to try a white and chartreuse 3/8oz chatterbait. Bam a fat 15.5"er that fought like mad, then a couple casts later an 13" smallmouth bass. I moved on and picked up a few more on the chatterbait. The appearance of many logjams put a stop to my chatterbait tosses. I picked a few more smallmouth bass 12-14" on a tube.
Picked up fish here and there with topwater and tube. Chubs continued to hop on and off my jig.
I moved through silty deeper pools and finally to a choke point with laydowns parallel to the current. Pulling the Splashtail over the logs it get smashed by a large fish who exploded quickly over the laydowns and towards me. A quick, brutal fight followed. I landed the fat beautiful 17.5" smallmouth bass. What are they eating in there? Later I had another similar fish jump over my splashtail and high into the air.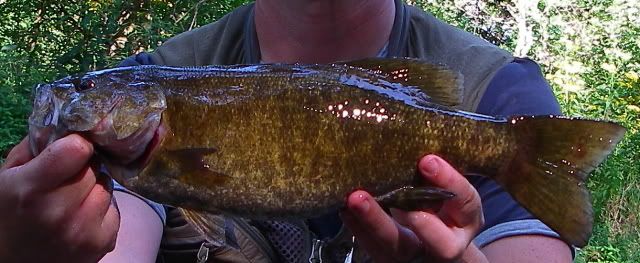 The rest of the day I bank pitched into the wood. About 10 times I had hooked fish dive and pop off. It was a trouble rigging the tube to not snag, but expose enough point to land home. The topwater bite had died by 11am. Creek Chubs kept coming.
Found my bridge and waited for Mike to show, he had his own events wading the stretch below.
2.09 miles waded 20 SMB (17.5", 15.5") 12 Creek Chubs, 3 Rock Bass. Never caught that many chubs fishing with smallmouth lures. Weird things keep happening in 2008. A dozen 8" chubs on 4 " tubes.