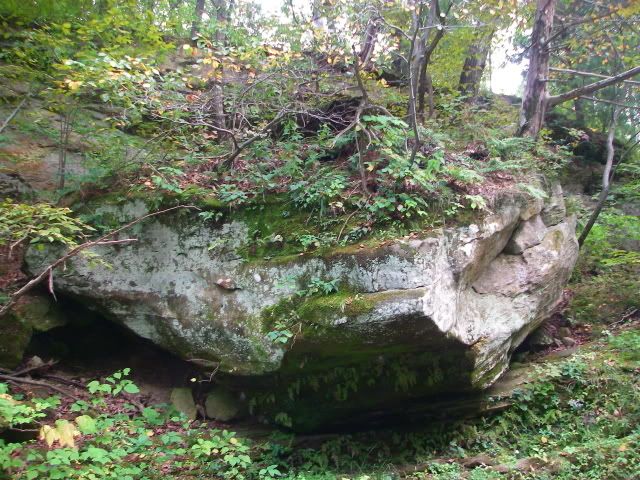 On Sunday I met up with William C. from ISA for the guided trip I had donated last January at Illinois Smallmouth Alliance's Bronzeback Blowout:
http://illinoissmallmouthalliance.com/html/blowout.html
. Bill is 65 and still playing hockey, full of piss and vinegar, and mad about smallmouth bass. It was a pleasure to take him out on a wade. Bill had mentioned how congested and crowded Chicagoland streams can be. I picked a creek that would be scenic and close enough for Bill to return should he so desire. This also added number 27 to my list of Indiana Streams fished in 2008.
The stream I picked would be Big Pine Creek in NW Indiana. Now this goes against my long policy of mentioning stream names on the internet. After fishing Pine a couple times now, anyone reading this is in for some average fishing at best for smallmouth bass. I think it's simply an issue of food. Bill and I both witnessed countless tiny, tiny minnows. Ranging from .5" to about an inch.
Certainly the Smallmouth weren't getting big off those minnows! They would waste away spending energy for small return. We started at sunlight. I threw topwaters and tubes with no luck until about 830am. I caught a couple Ky Spots and dink smallies. By my 8th fish I finally broke 12", with a 14.5"er on a LC Splashtail 90. Bill picked up a fish here and there dinks- as well.
If nothing else, Pine is beautiful and should be visited for that alone. Large carved limestone cliffs. Stream bottom varies from silted sections to carved limestone and lunchbox sized round rock stacked upon each other. There was plenty of gradient throughout the stream.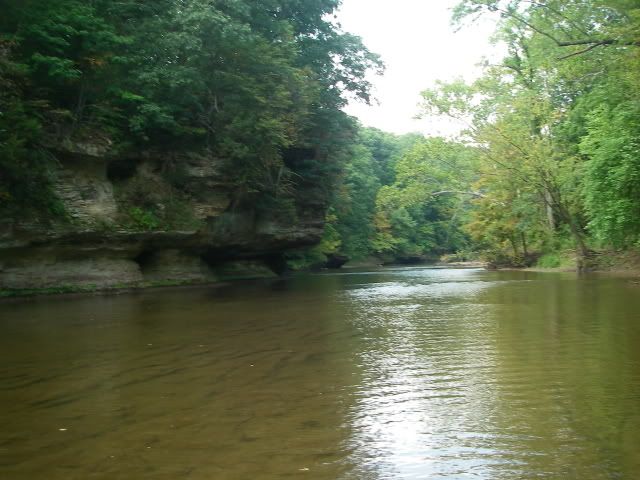 We were fishing another awesome looking riffle pool when Bill was telling a story. I stopped working Sammy 100 to listen and the bait got slammed by the first decent fish of the day, a 15.75" SMB. We discovered a pretty consistent buzzbait bite. I picked up a couple fish at every likely spot most 8-10". We were mounting the numbers, but couldn't manage any decent fish. I got another 15.75"er at a the end of a long pool, we moved up and caught more dinks on buzzbaits. We made it to the bridge and decided to wade further upstream instead of going to another stream. Fateful decision. We headed above the bridge.
Bill stayed slightly behind to fish a large pool. Arrived at the top riffle of what can only be described as a limestone smallie funpark. Various ruts and tubes of water shot everywhere causing confusion about which slot would hold a bass. There was an obvious choke point. A larger fish came agressively out of the water missing the bait. Followed up with a tube and missed again. Bill was busy catching three more dinks below me on a plastic.
We moved up through the bedrock flats with little to cast to. Finally arrived at a large deep pool carved out of limestone. Bill caught another one and I two and a 16" LMB on LC RC wake crankbait. We caught more dinks as we walked upstream, before heading back. On the return at the spiderweb chokepoint, I nabbed a 16.5"er that had tried for my buzzbait before. It fell to the LC splashtail 90. Last fish. 39 for me. Bill had close to 20 0r so. Not bad except for the entire lack of size. I made hundreds of casts for those few good bass.
After I dropped Bill off and we said our sad goodbyes there were three turkeys going for a stroll down the road. I gunned it a little and they fled on foot looking every bit the part of an avian group of Forrest Gumps.Hope William had a good time, probably more walking than he is used to. Sometimes your workout pays off, other times the reward is seeing something new.
Drove to McDonald's to load up on McCrap. Hit the second stream down in some limestone caverns. Pretty little stream. Water was crystal clear and fish were skittish. I walked a half mile with one dink and many fleeing fish to show. Decided to throw a softer, quieter buzzbait based on a previous experience. I thought maybe this wouldn't spook the bass as much. Whether by oncoming dusk, walking into better spots, or throwing that particular presentation- it started.
A 13" on the first cast, followed quickly by a battling yellow 17.5" bass!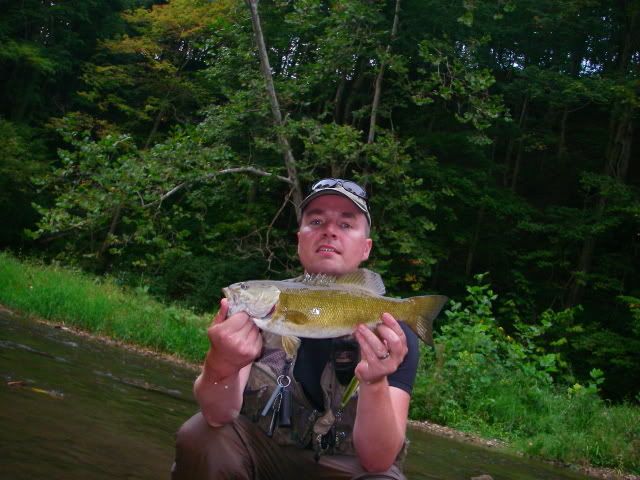 Now this was getting good! Felt a momentary pang that Bill was not along. The next pool produced a couple decent fish. Then another had three swats before I moved up. Out of habit threw to fast water below a riffle, where two sizeable smallmouth wrestled each other for the bait. They had been sitting behind a tiny ledge. They were invisible there until the gurgling provoked them. A quick muscling and I had beached a 19.5" behemoth out of this 25' wide creek!Notice the fin damage, this guy spends alot of time under a rock!!!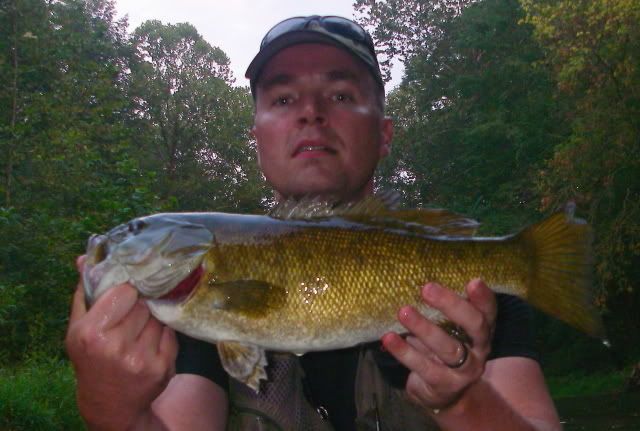 After a few pics I threw back to the 12' wide chokepoint and got slammed by the other fish. It went 16"!
Now I had the fever. It was getting dark fast. I put it in overdrive and got to another excellent bend, it produced another 16"er that fought like crazy. They were destroying that single spin 3/8oz buzzbait. My sense of urgency kicked in as I knew from experience 1 or 2 casts to each pool would reveal the bass. Another large blow up missed target. Up another pool a 15"er connected. It was dark. I was closing in on a mile and a half from the bridge, I turned and headed back. Owls hooted and small eyes peered at me from the grasses. Nervously power walked with my tiny light. Sore today but was so worth it! Dusk/dark it is!
11 hours 49 bass: 2LMB (16"), 4KY, 43 SMB (19.5, 17.5,16.5, 3 16) 1 Goggle eye.
All on topwater- Buzzbaits, Propbait, Sammy, Wakebait.