A buddy and I fished some tributaries of the Wabash River this Saturday. We had set out for one particular creek, we'll call it stream X. Stream X is a long winding creek that runs from Northeast to Southwest.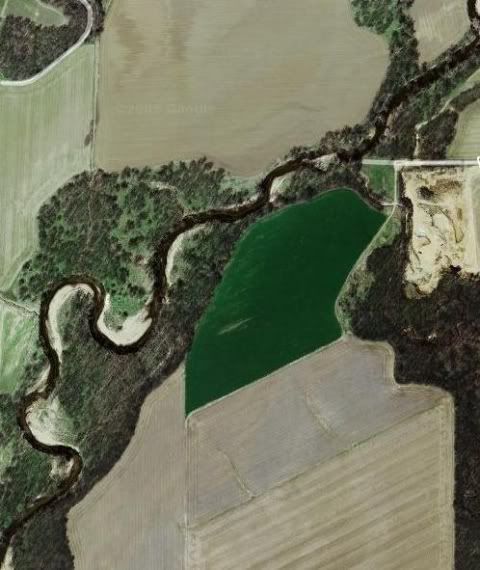 Stream X looked like it was not covered by trees and shade so I wondered about it, considering the poor daytime fishing the last couple of months. I have begun to come up with a theory on river fishing under this type of weather condition. Shade is the answer. Water temps. Lots of farmland adjacent which would probably silt the creek in and make it shallow. All leading to warmer water and lethargic big Smallmouth Bass. From last weekend I knew all was not lost:
little-mecca-for-smallies
The night before I spotted tiny Creek Y: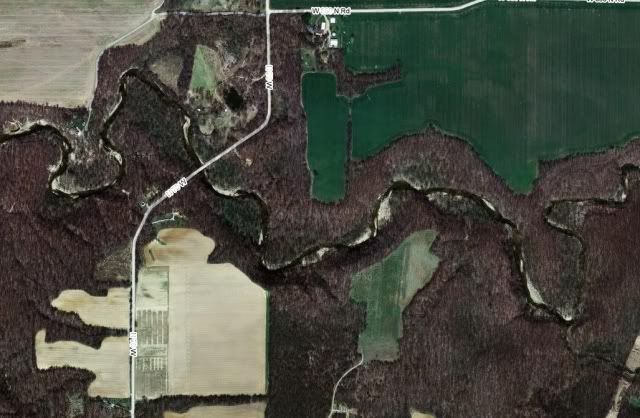 Creek Y runs from east to west into the mighty Wabash. We were excited by all the sexy bends and tree cover right on the water. The bends are important on stream because they create depth, cover and places for riverine creatures to rest from current in eddies. The shade should create cooler water temps that theoretically would keep fish more active throughout the day!
We decided to hit Creek Y first and hit Creek X later in the day. We drove out to the put in and the creek looked excellent if skinny at the bridge. We decided to wade up from the Wabash itself. The Wabash was crystal clear and for a moment, with all the surface activity, we considered fishing the big river. Creek Y was a trickle entering the river, it was silty at the mouth with eroded banks and some wood in the creek- what creek there was. It was all of 8' wide! We walked on a at great pace. At the first 2' deep hole I nailed a long 16" SMB on a tube as Mike was throwing his usual buzzbait. Got bit a few more times than grabbed a 13" SMB out from under the wood.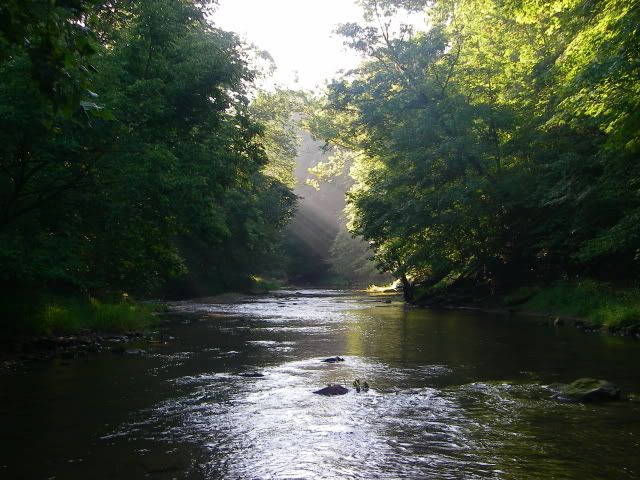 We hit another hole and caught like 5 bass 12-14" with a couple of fat Kentucky Spotted Bass included. One right after the other. We were finding small holes in the 10' wide stream and the fish held under the wood. It got a little ridiculous. I had 11 bass in the first hour and Mike 4. Including a terrifically fat 15.75"er he pulled off a root wad. As we started to see less erosion and more rock the stream changed 180 degrees about a mile up from the mouth. The Ky's were gone and the creek became bedrock, boulder and high beautiful limestone cliffs. It was loaded with SMB when there was any depth or cover.
I started cleaning up with Lucky Craft Splashtail 90 Prop bait. The bass wanted a realistic looking topwater in the crystal clear water. They largely ignored Mike's chart buzzbait all day. Unfortunately, I lost about 4 good fish around 12-15, the worst offense, an 18"er that I muscled the bait from.
I changed out for some fresh Gammies and didn't lose another on the bait.
While still in the caverns my SPT got nailed by this nice fish that measured 19"! A total shock since we hadn't seen a hole the size of a small swimming pool yet!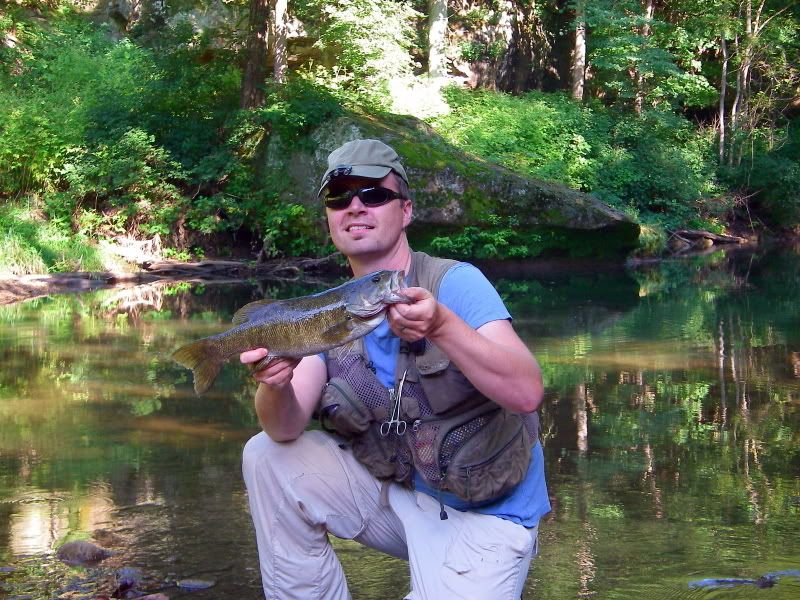 We started to hit some deeper pools here and there. Tube bite had died off by now. The pool had to have fish in it! We got nothing and Mike moved past- I thought crank bait bouncing off the bottom would get them. Tied on a Bandit 200. Several good fish followed it to my feet. I tried again- but faster- Bam, Bam, 2 fish 12-13". Mike threw on a crank and nailed a 16"er- it spat up a 10" water snake! We wanted to continue the crankbait pattern. Deeper pools to run them through became scarce. My limited crank selection may have come back to haunt there.
I lost a couple more on jump with the large billed crank. It just wasn't very useful in 18" of water. We threw Splashtail and learned the fish wanted a fast moving bait.
I hit another about 16.25" on a tube. We turned around and walked back up the roads after climbing out of the valley.
I had 22 Bass (19, 16.25", 16, 2 15") Creek Chub, Goggle eye.
Mike had 11 Bass (16, 15.75) In about 4 hours of fishing!
Walking back to the car Mike incurred sand and rocks in his Chota STL boots. He was in agony. His feet were getting torn up. We should have walked the stream back because we added a mile and a half to our journey. The wade was about 3 miles- but a 7.51 mile round trip!
Photoed this blue tailed (salamander/skink/lizard?) walking cross the road: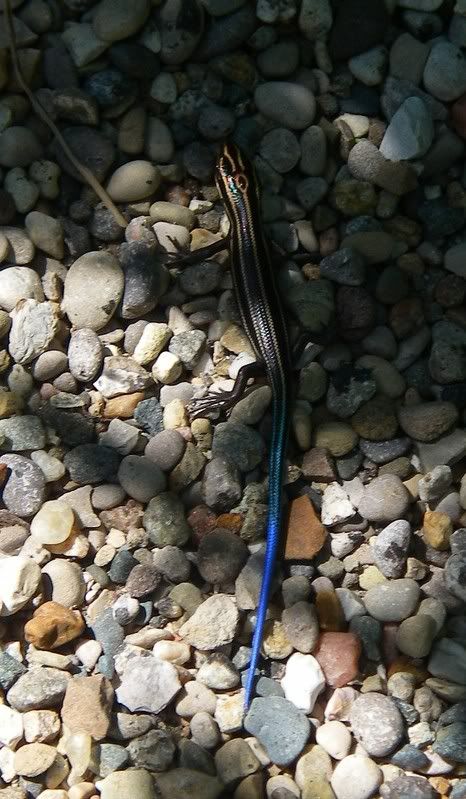 We went and got refreshed, checked for a couple more possible Creek Y's but they seemed skinny or dry. We hit Creek X by 4PM. It was wide, down in a valley of limestone cliffs, but unfortunately mostly silted in. The water was 10 F warmer than Creek X. The fishing was slow. After an hour, we buggered out with Mike 2 me 1 SMB. Add it to the 'list'. We walked about 2.25 miles and got fried by a hot direct sun.
Heading for a wildcard, hoping to hit it by 6PM, we headed for another small creek deep down in a wooded valley. It was bedrock and boulder- but no water. It was quite a walk before we got on any fish or decent water. They did come, we started nabbing them on tubes. I caught a 15" and 14.5" as the largest two. We fished about 2 hours 15 minutes. I got 9 SMB, Mike 5.
We power walked back in the dark for a 2.91 mile round trip.
Small streams certainly do fish different than the larger ones this year. Lots of empty water to skip, sights to see, and if you find them, fish to catch. Today we did a lot of driving and still managed to put about 12+ miles on our legs.
Only about 8-8.5 hours of actual fishing.
BT 32 (19,16.25, 16", 2 15)Chub, Goggle
MC 18 (16, 15.75)