Matt D was in town and after laying out all the options, I wanted to show him my winter honey hole. That didn't come out right.
Anyways, whenever I fish with Matt or Terry W, the fishing always stinks. First let me say, I give Matt and his cool reports on the old ISC, a lot of credit for getting me on to walking up every stream in the state (eventually) and all the credit for my winter fishing addiction. Mad props!
Off we went to hit the creek, on water by 8 or so. Matt was sporting 3 rigged rods and a Mcguivered fishing e'nsemble. We hit a wide stretch mostly unprotected against the sun.
At the first riffle, I got a dink and a 16" on LC Splashtail 90. Just above that riffle another nice fish smashed the SPT90 about 16.5-17", a couple more dink to 12"'s. A 13" fish clobbered the bait, while it was sitting still. Matt was throwing everything including a buzzbait. It was odd that the bass wanted the special noise the SPT makes over the buzzbait.
We moved up and I told Matt, he could use my other SPT if he didn't start find a pattern. I always seem to catch a fish this size in the same spot. Second time in a row, I've caught a 17.5" Smallie in that 40 yard rock garden:
Enticed another 13" out of a deep side pool. At that point, I hooked a brother up with a Splashtail.
It wasn't until we hit that 300 yard long pool that the prop bite died down. Matt was throwing a grub and started to get his dink on a bit. I was throwing a Sammy, when I reached back for a gatorade a 14"fish slammed and hooked itself while the lure was just sitting there.
Uncharacteristically, the next two riffles only had a few dinks in them. Matt Pulled a nice 15" out of the middle of the stream on a 5" grub. It was a while until we caught the next fish, it got crazy slow. We'd get a dink her or there, after breaking I got another 13" on a tube as the topwater bite had vanished.
Flukes didn't work, buzzbaits, etc. we picked scattered fish here and there on tubes, until Prowler got a feisty fish on a tube off a shute: It was 17"+: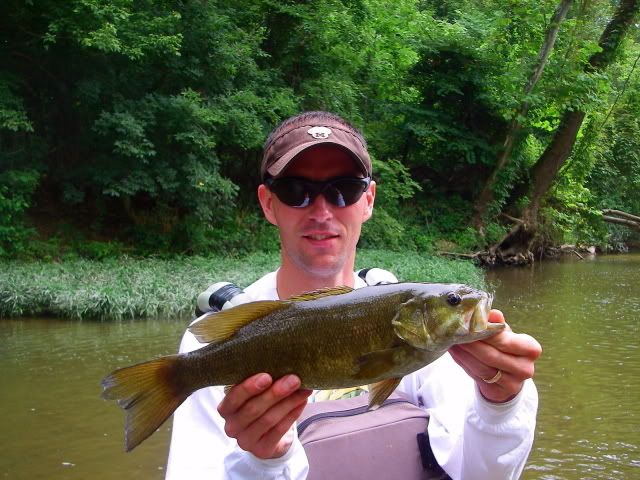 Shortly after that we caught a few more bombcasting and hopping tubes in a large pool. Matt catches a few dinks. I show a Chinese kayaker chick how to catch a fish on a tube and we fast forward to MD tossing a tube at his feet in inches of water when he got bit and spit. I was moving up behind on his left and hitting the eddies and channels.
Gave up on one cast because it was close to the shallow bank, kind of cranked it in. FLASH! My line jumped. A sizable bass had appeared out from under the root hair carpeting the bank! After a short bushwhacking I landed the fish. It was fat and Matt measured it a tad over 18". I didn't know what the hell happened :) . You can see the roots the fish 'emerged' from in the right side of the pic-ridiculous (and explains why we were struggling since 10am: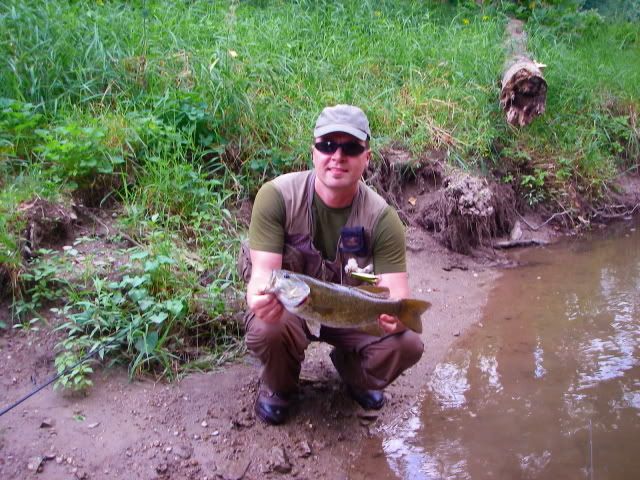 Matt's theory was it was the same mad fish- could be.
We got flagged down by INSA member Gstump on the 2+ mile walk back, Gregg was going to get his fly fish on and kindly gave us a ride!!! Schweeet!
We refueled and headed to a hog stretch, hoping to get some pre-night bite going, It sucked. Matt caught a few on a blcak spinnerbait, tube and grub. I caught one nice 14-15"er on a buzzbait, and a couple more on a tube. We ran into some fishermen with a bucket who thankfully were fishing for catfish.
I walked through a stretch I had fished a few times before. Ended up walkin up to my chest where there had been INCHES of water before- incredible. There were tons of new silt and rock at the head of the pool, partially filling in a once 6-8' deep hole the run above had lost a foot or two of bank and was considerably wider. The floods changed a lot!
My totals for about 12 hours of fishing were a meek 29 SMB (18, 17.5", 17", 16, 2 15) 1 Goog and a readear sunfish (tube)
Though I got out to the big early lead, Matt was starting to make up ground by the end of the day. It was sweet talking shop and cutting up. Didn't get him the 20", I'd hoped. Fun.