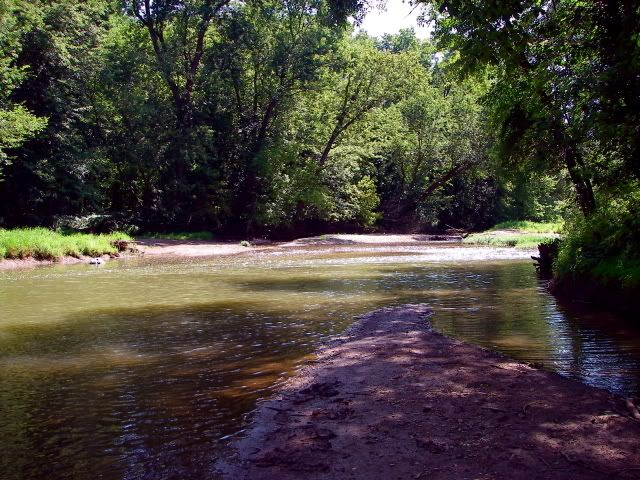 Mike and I hit the water this am and were fishing a medium stream with 18" chalky visibility. We hadn't fished it yet this year, but the best trip last year was 98 SMB mostly 12"-18"+. That day Mike lost a couple pigs so he wanted to return to the pool where he lost the largest of the two. We parked at a roadside farmer's field and got in. It was slow as we threw tubes and buzzbaits.
Mike got a 13"er on a buzzbait and I a couple of dinks and a 12" spot on tubes. We had some action at the push water at the end of a 300 yard long run. Nothing happened in between, not a strike until we hit the head of a pool. The stream was wide and somewhat featureless in many cases. Many areas I could not cast across. We hit the top of the pool at the riffle I was dragging away with a black tube. Trying to keep my retrieve slow and disciplined. The arcing current break line was the target for my tube while Mike got in the Penalty Box for a few curses.
My bait
stopped
. Instinctively, snapped my wrist. Something slow and heavy became a definite large fish speeding deep downstream peeling drag like a carp. The fish didn't jump so I thought Flathead or Carp. After a few impressive runs, I got a look at the Smallmouth and knew it was another 20"+ brown fish. Finally lipped her. We measured her in the 20.25-.5" range. Sometimes it can be hard to stick with slow, methodical, complete coverage, when other techniques are more glorious. Credit this fish to Mike picking the pool and patience to stick with what I thought would work in the face of all that seemingly empty easily moved past water.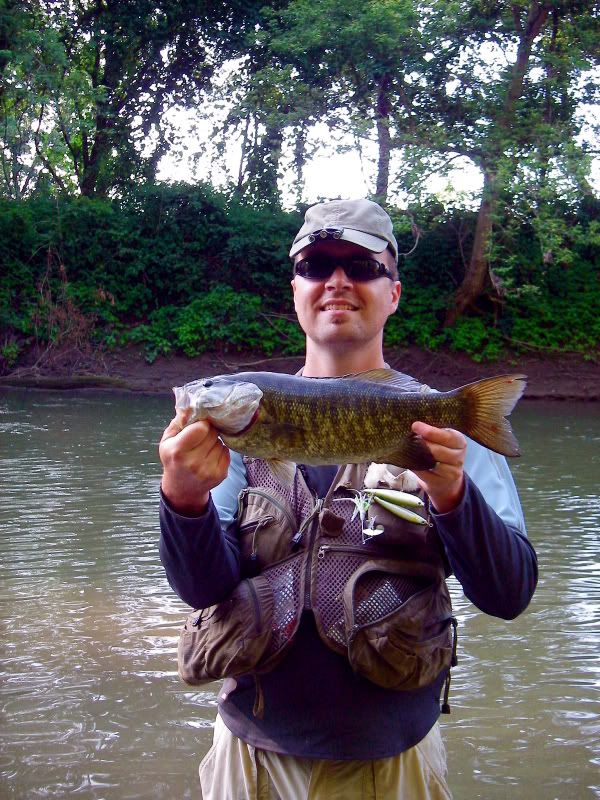 We moved on and the fishing stunk for like 3 hours. I stuck with a tube, landed a 13" Walleye, then Mike got one 15" on black tube. A few minutes later, I landed one 18". (Mike took pic). This was bizarre. I think we have caught 200 bass in the creek and never one walleye until today. Pretty cool to have another species to fish for! Last year was a huge top water bite, so 80%+ of the fish we caught there were on topwater- no wonder we'd yet to catch any Eyes! Mike caught a couple more 12-13"ers and I one. All on tubes laying on the bottom in the shady side of the creek right where SMB should have been. Their bites were quite different from a smallmouth's thunk...hard to explain. At first, I didn't think it was a bite it was so different. It wasn't a rock either.
We found flukes got bit if you ripped them as fast as you could then paused them after Mike had a smallie snap at his tube pulling it out of the water. I caught three this way after Mike's tube got bit on the retrieve. So we then threw on some LC jerks. # of fish hit my bait and failed to get hooked, while Mike faired similarly. Think the pointer was getting hit from above and thus missed the sharp hooks. We picked up some SMB on tubes and occasionally buzzbait.
BT 19 Bass- 16 SMB and 3 KY (20.25", 15) 1 Goog, 3 Walleyes (18")
MC 16 Bass- 11SMB and 5 KY Bass (15, 2 14) 3 Walleyes (15")
A couple good reasons to visit based on today. Fishing was painfully slow. Knowing there are a mess of fish at many spots made it tough when nothing went for our offerings.