Mike dragged me out to a stream after work yesterday. I was kind of jonsing for some fish and anticipation built up. Thought I'd get out by two or three and something held me up. By the time I got out there by 540PM I was ready for [b]ACTION[/b]. Everything went wrong from line problems, to reel binding up, to overcasting into trees :). A couple of good fish missed my baits and I caught about 13 mostly small bass in 4 hours. I was more frothed than my baits. Not very zen. Spoiled brat. :D :mrgreen: Like gollum and the ring, I wanted some smallmouth piggies.
Mike on the other hand, channelled the Chart buzzbait for a pretty nice day. We found small to 14" fish in riffles away from direct sun. We didn't get bit in deeper pools again, symptomatic of topwater froth or lack of fish in those areas I can only guess. Fish weren't on my side, Mike was picking up a few ok bass on stream right while the sunny side (me) was vacant. Finally hit a stretch where there was depth and water willows. I caught some fish and Mike nailed a pig in inches of water the went under a tree in inches of water trying to escape. Took drag on him like crazy and was fun to watch. Jumped at least twice and from 30 yards away looked pretty hefty. When I got there to snap some pics, it was a pretty dark green/black fat smallmouth that measured out to 19.5". VEERRIE NICCCE-AH!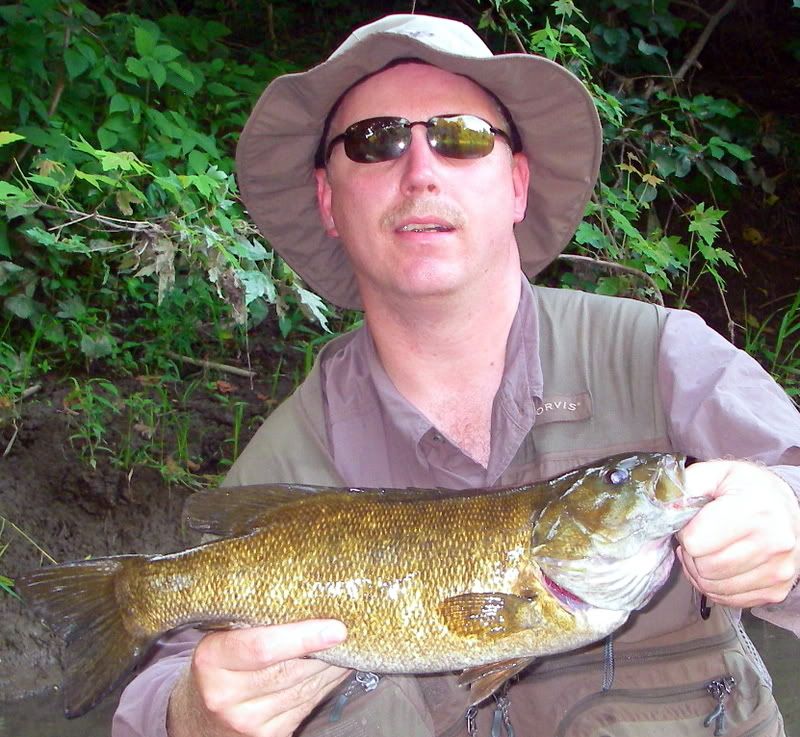 We each caught a decent smallie on the way back in the dark and I suggested hitting the put in riffle as now mayflies were swarming and I just knew the SMB would be in there up from a well populated deep pool.
While the Mousquitoes feasted SMTH were busting surface. I lost a good fish on ChattterB and Mike had several large swats at his Buzzbait as he pulled it out of the water.
Finally, he got slammed a foot from shore and
immediately
pulled a big smallie out of the water. Mike jumped at the impact then tippey toed again when my headlamp shined on the 17-18" bronze flopping on his line. SURPRISE! It was like he pulled the ceolocanth from hell out of his undies. He let it get from shore to the water and tried to scoop it to claim it, but too late. The key to getting bit was a slow quiet retrieve with the buzzbait, something I noticed a few weeks ago. Mike was that close to having two really nice fish in 4 hours.
MC 14(19.5) 1 Goggle
BT 13 (15) most of mine were dinks, maybe 3 that went 12" or more.
I tried the new flash treble on the Splashtail. Caught three dinks on the rear treble . Not the results I was looking for but may help with more accurate strikes/less foul hooking.