I woke up late-7:30 and got out to an old standby. Wasn't really into it, but went there because I thought I'd get to the stream too late where I wanted to go. Parked, geared up, climbed over the guard rail, and went for a dip. Sun was bright and shiny- it was going to be hot. Had a few slaps at Sammy and nothing else for a while.
Ran into 3 kayakers who where apparently power fishing. They had nabbed three smallies at the bridge. I hadn't one bite on finesse, and a few weak slaps at topwater. As it got hot, I finally broke through with a couple of finger length smallies on the techno minnow 2000. That was it! Turned around and headed bank for lunch and a car ride to another stream. I decided to scout something new even if the fishing was bad, I would learn something about the landscape of this great state of ours. On the way back, I got a 13" on the riprap where I started. Meh!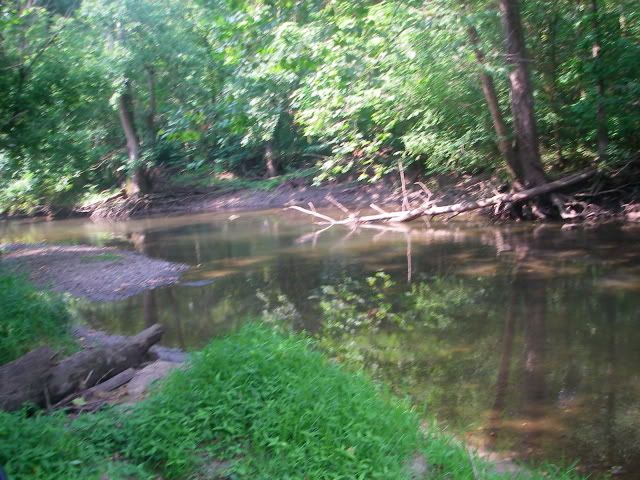 At about 1-130, I arrived at my first hopeful put in. The map showed greenery around the creek and some bendiness. The put in was secluded to say the least. Took a peek and spotted a very skinny flow, with fishes swimming in shaded areas. No litter, no signs of fishing. Just some trash in the creek throughout the day washed in from floods or littering A-holes. Upstream was even skinnier, so I went against my normal doctrine and waded downstream, I would come back up in just a bit.....
The creek was terrifically covered by tree canopy most of the day. I could always count on plenty of shade. I think the various shadows and shine made it hard for the bass to spot me. Because I caught fish from ridiculous short tosses. Maybe they really had never seen what I was throwing. Besides coon tracks, there were zero signs of other fishermen.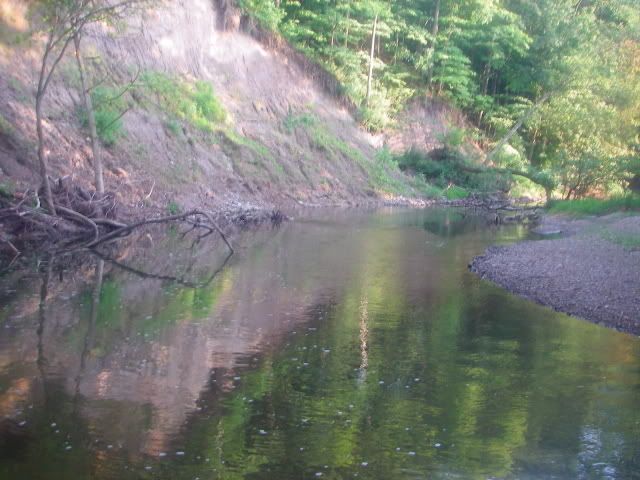 Throwing LC Techo deftly between several obstructions, I had a surprising blow up, that tried to connect three times. I flipped on a tube and got bit. The action exploded on the end of my line, as a decent fish gave it his all and came to hand. The fish was a 15.75" CHUNK. Almost like an Erie fish. In the first hole I found. This continued. Everywhere there was some depth and cover with shade, I'd pick up a fish or a few. Mostly 12-14" Chunky Smallmouth that were supercharged. I lost at least 10 fish on rocket jumps today. The fish were fighting very hard. This made the day very enjoyable.
The stream just kept getting better and better- riffle-pool, riffle-pool, riffle-pool, riffle-pool, riffle-pool, riffle-pool, riffle-pool, riffle-pool. There must have been 50 riffles I walked through today. Each bringing anticipation of a supercharged Smallmouth.
I would throw a topwater ahead of me to test for fish, then maneuver to get a good angle to throw the tube in to clean up. Several big blowups that didn't connect made me rethink this micro flow might not have any hogs.
Sycamore tree root wads tended to have deeper water. I caught many fish off sycamores including some nice 16"'s: Don't normally take pics of 16"'s, but they were chunky.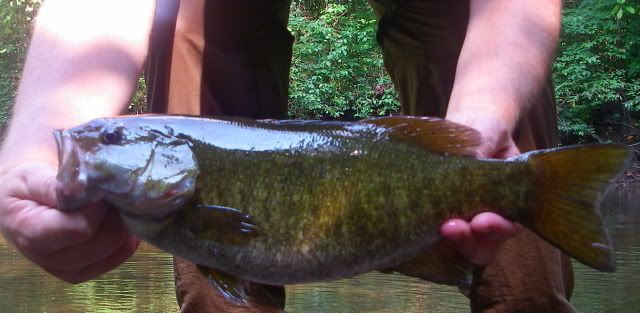 The creek was getting wider opening up with each new feeder that came in. I finally hit a deeper pool with a log jam and hit a pig near current on the green/copper/green tube. The fattest big smallie I have ever caught, it was awesome. The fish kicked my but all over and when I finally lipped the 18.75"er wasn't done and shook free, pre-photo. I got 4-5 more 12-14"ers from there and got addicted to seeing one more pool, then one more pool etc... Such a pretty little creek!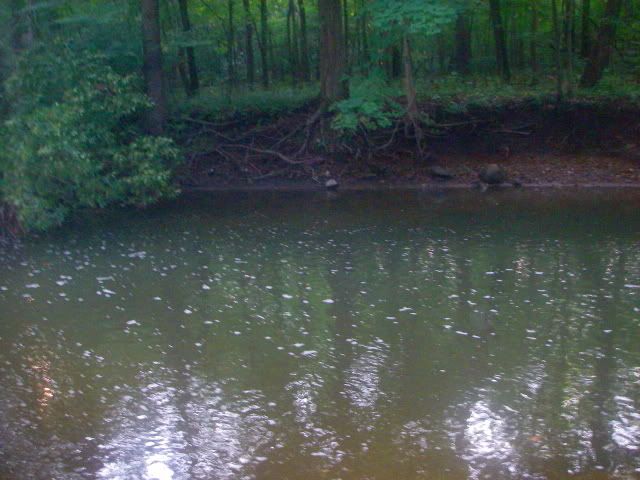 I turned around and started walking back around 7pm. The fishing had died off as I reached a house near the creek ahead. I saw two permanent hand lines staked out. Turned and walked back thinking that was it, the smallies are done. At that point I had 37 SMB and 5 Googs. When I got back upstream I started hitting them again on the way back on that same Gander MT 4" tube: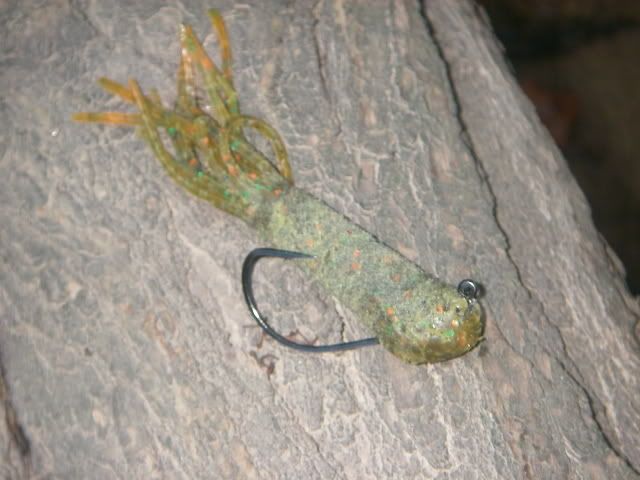 I have to say that GM tubes performed awesome in the first run. A little thinner, so the hookup percentage was excellent and they don't roll easy. I caught a lot of the bass on the way back swimming it and dropping it. 1 tube until I lost it, for 40 fish and it was still going. The plastic is not as soft as some brands, but very durable. The tube was almost white from smallie teeth roughing it up.
I got 4 bass off a Sycamore I caught a 16" and 3 fish before- this time a 17.25"er came to hand: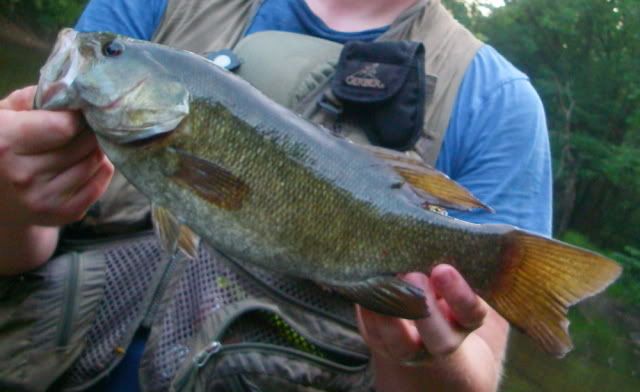 Another 14 SMB total on the way back. The fish hadn't turned off, I had just walked up on a lower population area.
This was a great wade for the action, the exploring, the incredible fights, and the beautiful little creek!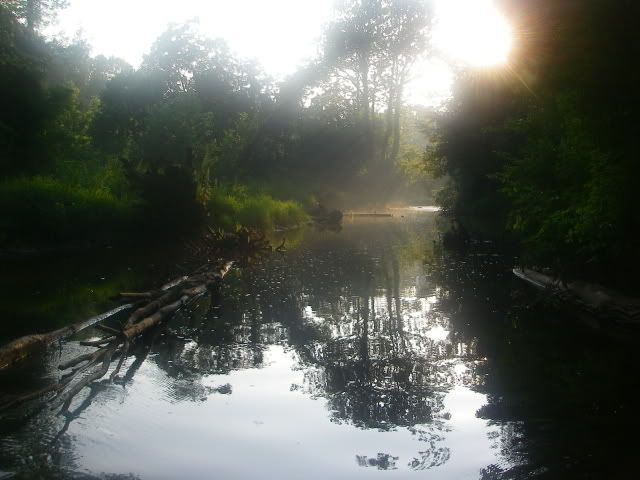 First creek 2 hours 45 minutes, 1.5 miles, 3 SMB
Second creek: 8 hours, 5 miles, 48 SMB (18.75, 17.25, 5 16", 15.75, 2 15) 5 Googs