Once you get the confidence that your system might work occasionaly on a river or creek, it's good to be tested. Sunday was one such day.
I took Nate from
Friends of Sugar Creek
out for his first real trip off the home crik.
Nate was throwing a Zoom 3" tube on a 4/0 or 5/0 hook texposed with 1/16th to 1/8th oz bullet head. As was usual on all my favorite creeks this year, the midday bite was dominated by dinks and dinks only. No matter what we threw for 3.5 hours everything came up dink. Nate had climbed to a crushing 17 dink and one 12" SMB lead to my 6 measly dinks. His 3" tube was getting bit and my 4" almost wholey ignored. My few dinks came on a propbait or buzzbait.
Now I like to say that 4" tube will catch as many fish as 3" tubes, but I never would catch that many 6-8" smb on a 4" tube. I have to say there was no way I was going to start throwing that little tube. I knew the bigger fish would turn on sooner or later. Hopefully sooner!
I was throwing a buzzbait around 5:30 when the larger fish started to come out from their hideouts.
First a 13.5"er, then a dink, 12"er, then a 14.5" at some push. Nate hit a couple dinks and one that looked 14-15" from 30 yards away.
We were at the top of a steep run where the current passed over a depression and ridge before plunging down the run. I had just pulled out Sammy, declaring how despite a couple of amazing days this year, the Sammy bite had been 'off' .Tossed to the top of a hole/rock ledge a good sized bass took multiple swipes and finally hit home after a quick fight, in the 16" range. At the top of what seemed like a featureless silty current seem below a riffle, Sammy got swiped at twice with the second being the charm. It was a large fish 18" that got beached, measured, photo, release!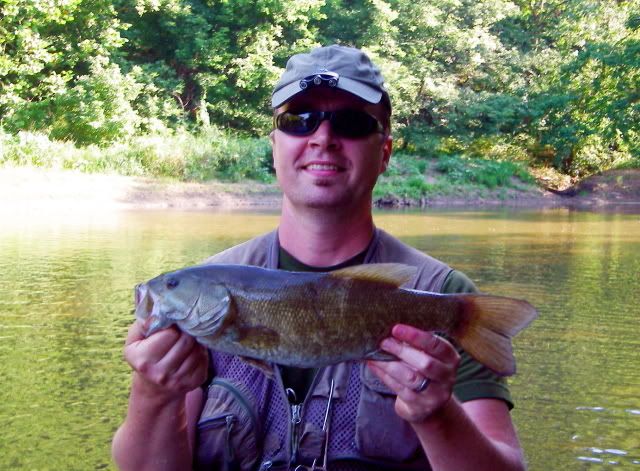 We ran into a couple other guys wading down, so turned back and headed for home.
Nate decided to catch even more dinks and go walleye fishing. Sauger and walleye in a stream I've never caught either.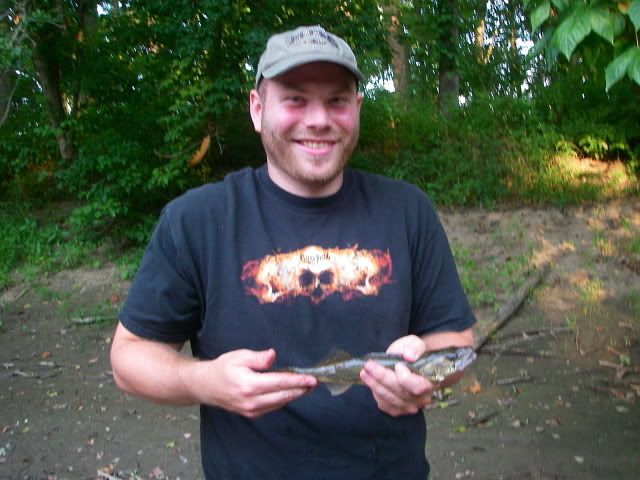 We talked of possible joint events with FOSC and INSA in the future. Here's the sauger. It didn't want it's picture taken.
We fished like 6 hours or so, getting back before dark. No sign of Mayfly hatches, spiderwebs were clean.
I can't honestly say that today was a good side by side comparison of the 4" vs the 3" tube. Even medium sized smallies were mostly non existant today. I know the stretch is filled with them. All things being equal and a good tube bite being on, I was hoping for a convert or at least a good comparison for knowledge's sake.
2 fish out of 30 12" or greater is non refundable IMHO. Nate can definately fish. he's got good patience from LM fishing. Getting in closer to cover and throwing bigger baits would improve his take in terms of weight.
I'll schedule another one at some point to see if I can learn more from the small baits contest.
BT 18 SMB (18, 16)
NT 30 (15) 1 Walleye- 14.5" 1 Sauger